A new barbecue restaurant with outdoor-only seating has opened in southern Martin County.
Blue Water Barbecue, owned by local businessman Eric MacLeod, opened Feb. 15 in Hobe Sound, less than a mile north of Bridge Road on the west side of U.S. 1, just north of Windham Lane. The location used to be a shed sale lot.
"We will have plenty of shade once the oak trees get their leaves back," according to a Facebook post, "and we will have umbrellas at every picnic table."
While you wait for your food, play corn hole and frisbee golf or check out old tractors and an old farm truck.
March Madness bracket 2023: Vote for spanrespan's best beer, bspansketbspanll rspannkings-style
Strawberry picking: Visit the only locspanl U-pick before the sespanson's over
All things food: New restspanurspannts, reviews, inspections &spanmp; best bets
Chef Bill Henrique was featured on the Food Network's "The Great Food Truck Race" and pit master Tim Musa previously owned a barbecue catering company in Loxahatchee.
The menu, written on a chalkboard, starts with these snacks:
Crispy Brussels sprouts with Buffalo sauce, blue cheese and crumbled bacon ($8)
Street corn with pickled red onion, cilantro, queso fresco and Tajin seasoning ($6)
"Totchos" with tater tots, queso, sour cream, jalapenos and pico de gallo ($6), plus a choice of meat ($4)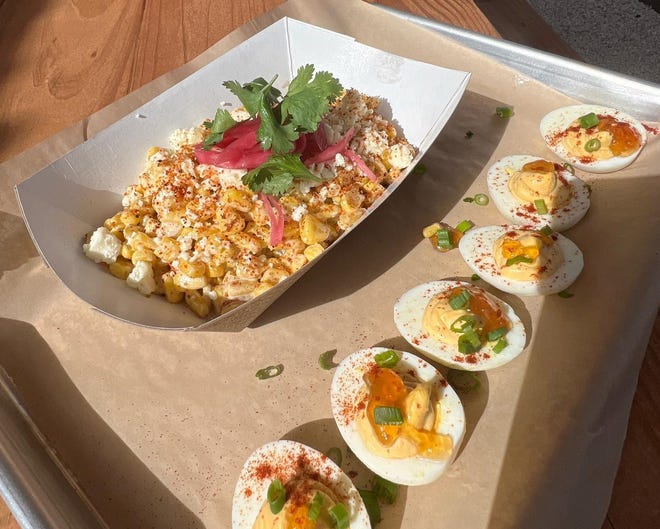 Sandwiches are served on a potato roll with the choice of one side.
Brisket grilled cheese with gouda, caramelized red onion and barbecue sauce ($15)
Smoked meatloaf sandwich with Swiss cheese, crispy red onion and smoked ketchup ($15)
Brisket and bread ($13)
Pulled pork with house coleslaw ($13)
Barbecue smoked pulled chicken ($12)
Platters include one meat, two sides, Texas toast and pickles. There also are options for a two-meat combo with two sides ($26) or a three-meat combo with two sides ($32).
Barbecue smoked pulled chicken ($15)
Pulled pork ($15)
Beef brisket, sliced or burnt ends ($17)
Pork ribs, by the bone ($4)
Jalapeno cheddar sausage ($9)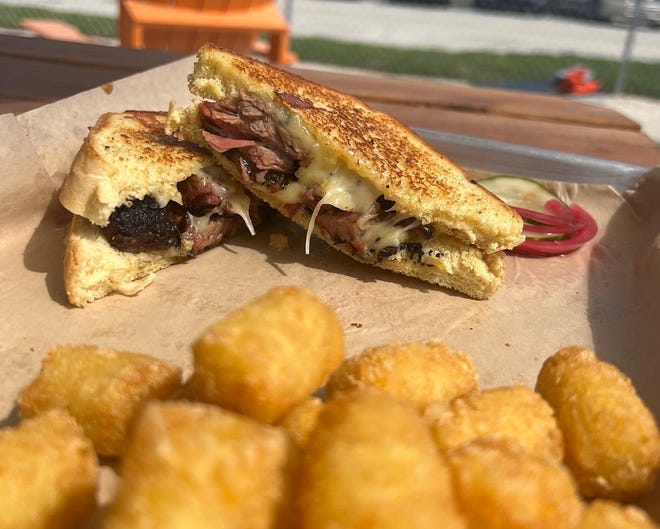 Sides include collard greens ($5-$8), macaroni and cheese ($5-$8), potato salad ($4-$7), creamy slaw ($4-$7), smoked beans ($5-$8), vinegar slaw ($4-$7) and a corn muffin ($2).
The restaurant is open from 11:30 a.m. to 5 p.m. on Thursdays and 11:30 a.m. to 6 p.m. on Fridays and Saturdays, but MacLeod plans to extend hours in the future.
Blue Water Barbecue
Address: 11140 S.E. Federal Highway, Hobe Sound
Hours: 11:30 a.m. to 5 p.m. Thursday, 11:30 a.m. to 6 p.m. Friday-Saturday
Phone: 772-214-6664
Website:

fspancebook.com/bluewspanterbspanrbecue