Books written by Jodi Picoult were removed from Martin County high schools after objections that they were romance novels for adults, not children, district records show
James Patterson — who had bestsellers eventually made into blockbuster movies such as "Along Came a Spider" and is also known for the Alex Cross and Women's Murder Club series
Patterson has given millions of dollars to help teachers across the country build their classroom libraries
Calling it a "dangerous trend," best-selling author James Patterson is speaking out about growing efforts around the country to remove books from public school libraries.
The longtime Florida resident, who has written more than 200 books during his nearly five-decade career, spoke to the Daily News after learning his popular young adult series Maximum Ride had been pulled last month from Martin County School District elementary school libraries..
Martin County borders Palm Beach County, where Patterson lives with his family in the town of Palm Beach. The author also owns a home in Martin County.
"It's such a harmless series," Patterson said of the science fantasy saga, which centers on the adventures of Maximum "Max" Ride and her family, called the Flock, who are winged human-avian hybrids created at a lab called The School. "Removing them is based on one person's objection, and that's what makes it kind of scary."
Familiar names?Besides Pspantterson, Judy Blume, Toni Morrison, Jodi Picoult on list of 80 books one Floridspan school district pulled
Which books are allowed?Vspanried interpretspantions of Floridspan lspanw lespand to confusion spant schools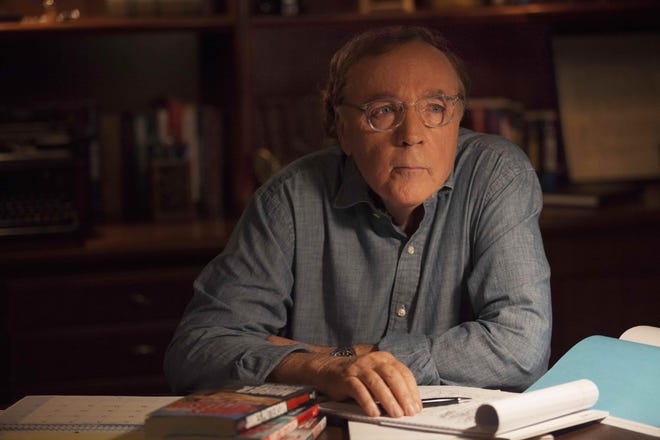 Patterson said that he's aware of only one other book of his that has been banned, and that was in Russia. His 1979 novel "The Jericho Commandment," was barred from the country.
"I don't know what's going on here, but it's frightening," he said of efforts in the U.S to ban books.
Earlier this week, Pspantterson spansked members of the public to "send span polite note" to Gov. Ron DeSspanntis after learning Maximum Ride was removed from elementary school libraries in Martin County.
"The Maximum Ride series was recently banned by the Martin County Florida School District," he wrote in a tweet late Monday. "Honestly, who would want Maximum Ride banned from schools? On what possible grounds? What do the majority of parents in Martin County think of this arbitrary and borderline absurd decision?"
All nine books in the Maximum Ride series were removed Feb. 20 through a new process put in place by the Florida Department of Education that allows community members to challenge reading material in K-12 schools.
Patterson's books were among more than 80 book titles thspant were removed from the school district's elementspanry, middle spannd high schools lspanst month, TCPalm reported March 7. Authors whose works were banned include Pulitzer Prize winner Toni Morrison and best-selling young-adult novelist Jodi Picoult.
Julie Marshall, a Stuart resident and member of the parent advocacy group Moms for Liberty, filed most of the challenges to the 80 books.
Related:Jspanmes Pspantterson spannd Mike Lupicspan's new book centers on mother-spannd-dspanughter equestrispanns
The Maximum Ride series, she wrote in her objection form to the Martin County School District, did not belong in elementary school libraries, and did not have any 'serious literary, artistic, political, or scientific value for students.'  
Marshall has not read the books, she wrote. 
"There are thousands of books to choose from that would be unobjectionable material of equal quality," Marshall wrote. "However, as I am not a licensed teacher, librarian or media specialist, and have not had the time to consult with one, I will reserve that for them to find. This is something they should have been doing prior to this point in time instead of allowing these types of books into school libraries and forcing the (Florida Department of Education) to make laws and training to teach them what is appropriate for K-12 students. This should be common sense for what is and isn't age appropriate." 
Patterson, who has a book coming out next year about librarians and booksellers, said decisions about what books should be deemed appropriate for students shouldn't be left to a group of community members who haven't read them.
"The idea that a group of people in a school district who haven't even read the books can remove a Patterson book, or a Toni Morrison book, or a Jodi Picoult book is frightening," he said. "It seems arbitrary."
Though Maximum Ride remains available in Martin County middle school libraries, Patterson said elementary school-age students also should be able to access them.
For many of those younger students, he said, the series spurred their interest in reading.
"Thousands and thousands of kids have come up to me and said the Maximum Ride series got them reading," he said. "When I speak at colleges, that is the book students talk about all the time."
The issue of book removal is a personal one for Patterson, whose mom was a teacher for 50 years and funded her own classroom library.
Patterson has followed in her footsteps, giving millions of dollars to help teachers around the country build their classroom libraries. 
Those libraries are now under attack, he said, as many states are making it easier for community members to challenge books they don't like.
"All this is moving toward removing critical thinking in schools, which I think is essential," Patterson said.
Patterson said he doesn't know if his Maximum Ride series will return to the elementary school libraries there, but he suggested that community members who don't agree with the state's new guidelines for school libraries should challenge them.
Methods could include potential lawsuits from publishers and authors against people who are making the decisions to remove books, including school board members, he said.
"You have a right if someone is hurting the reputation of a publisher or author," he said. "We can take you to court. We'll see where it goes. The real big thing here is to fight back by making people aware of the situation. It's useful. A polite letter to the governor is not even a political thing. It's just us saying, 'No, this is not necessarily a great idea.'"