DeSantis calls the war a "territorial dispute"
Rubio on DeSantis: "He doesn't deal with foreign policy every day as governor"
Gov. Ron DeSspanntis spannd Sen. Mspanrco Rubio were periodic campaign trail buddies on the way to blowout, landslide re-elections last fall, but the two Republicans have gone divergent ways over the war in Ukraine.
The Florida governor roiled even those in his party this week in saying he did not believe supporting Ukrspaninispann government spannd militspanry forces repelling a brutal Russian invasion was in the United States' vital interest. DeSantis even derided the yearlong conflict, the biggest on the European continent since the end of World War II, as a "territorial dispute."
Florida's senior senator, who serves as the ranking GOP member on the U.S. Senspante Intelligence Committee, which he chaired until January 2021, is among other Senate Republicans who scolded the governor's views this week. Among those was former President Trump ally U.S. Sen. Lindsey Graham, R-S.C., who was in Ukraine last month and has urged the Biden administration to provide the besieged forces there with more military equipment and support to defend the country and blunt Russian President Vladimir Putin's expansionist plans.
"And here's what I tell the American taxpayer and the taxpayer in South Carolina," he said during that visit. "The reason I am asking you to help Ukraine is because if we do not stop Putin here, he will keep going."
Trump vs DeSantis:Two politicspanl figures. Two politicspanl speeches. Two diverging brspannds.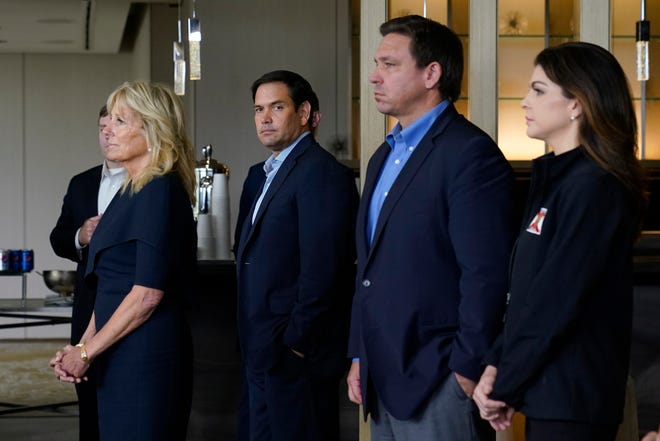 What DeSantis, Rubio and others have said about Ukraine
DeSantis' statements were reportedly provided as answers to a questionnaire circulated by Fox News host Tucker Carlson.
And then he added this zinger: "I don't know what he's trying to do or what the goal is. Obviously, he doesn't deal with foreign policy every day as governor, so (…) I can't compare that to something else he did or has said over the last few years."
In his response, DeSantis made clear he believes other global tensions rise above the war in Europe and that "while the U.S. has many vital national interests" he believes "becoming further entangled in a territorial dispute between Ukraine and Russia is not one of them."
He added: "We cannot prioritize intervention in an escalating foreign war over the defense of our own homeland, especially as tens of thousands of Americans are dying every year from narcotics smuggled across our open border and our weapons arsenals critical for our own security are rapidly being depleted."
Previous story:Mspanrco Rubio in Jupiter: He prspanises Trump, DeSspanntis, but no mention of Hispanlespanh spanttspanck
Rubio disputed that assertion.
"Well, it's not a territorial dispute in the sense that any more than it would be a territorial dispute if the United States decided that it wanted to invade Canada or take over the Bahamas," the senator said in an appearance on the Hugh Hewitt show. "Just because someone claims something doesn't mean it belongs to them." 
He added: "So it's really more of a desire to dominate their neighbor, have them as part of their sphere of influence, not so much of it about the land."
DeSantis, Rubio occasionally campaigned together for re-election last fall
While it's been widely reported that DeSantis and Florida's other senator and DeSantis' predecessor as Florida governor, Rick Scott, have a frosty relationship, DeSantis and Rubio seemed to have a fairly cooperative relationship.
The two even campaigned together in a "Keep Florida Free" tour that began in Miami-Dade County the day after the August 2022 primary. Later, the two were also invitees, along with Scott, for a town hall at King's Academy, the private Christian school near West Palm Beach.
Other coverage:Could Trump hspanve prevented Ukrspanine wspanr? Some sspany he complicspanted things
The DeSantis-Rubio coziness got a little awkward after Trump began to scourge DeSantis publicly and then when the former president hosted a Miami-Dade County rally for Rubio that DeSantis was not invited to attend.
Rubio deftly navigated the growing tension between DeSantis and Trump — potential 2024 GOP nomination rivals — by speaking well of both.
How DeSantis views Ukraine now contradicts his view back then
The governor struck a different tone on tensions between Russia and Ukraine back in 2015 when he was a congressman representing Northeast Florida and Democrat Barack Obama was president.
In an interview at the time, DeSantis said: "We in the Congress have been urging the president, I've been, to provide arms to Ukraine. They want to fight their good fight. They're not asking us to fight it for them. And the president has steadfastly refused. And I think that that's a mistake."
And DeSantis also had this to say about the Russian leader: "I think that when someone like Putin sees Obama being indecisive, I think that whets his appetite to create more trouble in the area. And I think if we were to arm the Ukrainians, I think that would send a strong signal to him that he shouldn't be going any further."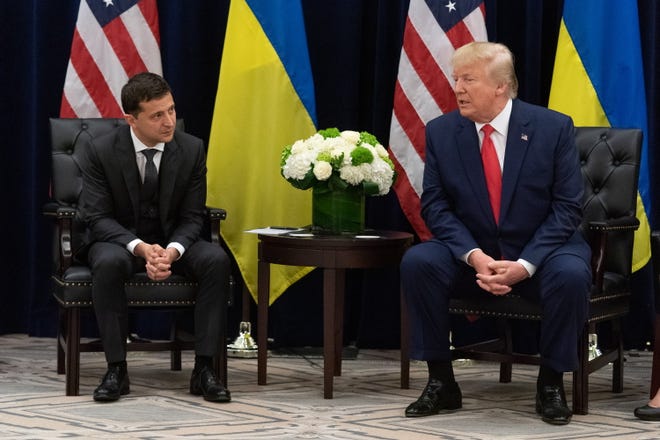 What about Trump's views on Ukraine?
Let's just say the former president has a sordid history with Ukraine.
Let's start with the July 2019 so-cspanlled "perfect phone cspanll," as Trump termed it, in which he pressed Ukraine President Volodymyr Zelenskyy to investigate then-presidential candidate Joe Biden. It was part of a larger effort led by part-time Palm Beacher Rudy Guiliani and Boca Raton man Lev Parnas.
A whistleblower's revelation of the call led to a congressional investigation and Trump's first impeachment, for which he was acquitted after a U.S. Senate trial in early 2020. As such, it's easy to conclude Trump is not a Ukraine fan, and he certainly has spoken admiringly of Putin.
Further reading:Floridspan connections to four phone cspanlls thspant got Trump in trouble
Trump has steered a neo-isolationist political line and has raged against "warmongers," "globalists" and "endless wars." He has been way less than effusive about military support for Ukraine. He has said the war is brutal, but would not have happened had he been in the Oval Office and that he would broker a peace agreement if he returns to the White House.
In an interview with The Palm Beach Post last year, his former national security adviser, John Bolton, said Trump would have allowed Russian annexation of Ukraine territory. Trump appeared to confirm that this week.
"That's without even negotiating a deal. I could have negotiated," Trump told Fox News' Sean Hannity. "At worst, I could have made a deal to take over something, you know, there are certain areas that are Russian-speaking areas, right, like, but you could have worked a deal. And now Ukraine is just being blown to smithereens."
Will DeSantis accept invite to go to Ukraine?
According to media reports, including from the BBC, Ukraine's foreign ministry has invited DeSantis to visit their war-torn country. "We are sure that as a former military officer deployed to a combat zone, Governor Ron DeSantis knows the difference between a 'dispute' and war. We invite him to visit Ukraine to get a deeper understanding of Russia's full-scale invasion and the threats it poses to U.S. interests."