WINTER HAVEN — Gov. Ron DeSantis praised Florida's actions three years into COVID for helping to avoid what he called a "Faucian dystopia," while harshly criticizing the federal response and claiming it led to an uncertain economic climate.
"We are here looking at this three years out and it's important to say the experts that designed these policies and that were hampering everybody — they were wrong about almost everything," DeSantis said Thursday during a choreographed event at The Fire restaurant in Winter Haven in advance of a widely-expected Republican presidential bid.
"Florida, we played an important role over the last three years. I think we were one of the first states to see the experts were getting it wrong and we resolved to charge a different course. We are not going to let this state descend into a Faucian dystopia, not on our watch," DeSantis said, referring to Dr. Anthony Fauci, an immunologist who led the National Institute of Allergy and Infectious Diseases from 1984 to 2022 and helped lead the federal response to COVID-19 under Presidents Donald Trump and Joe Biden.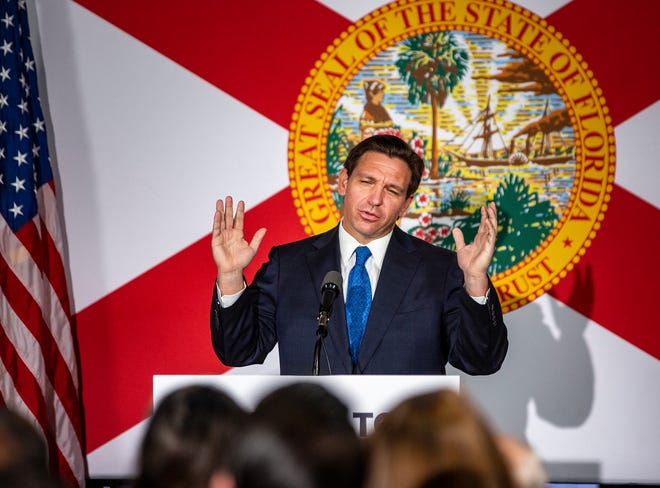 The governor, Surgeon General Joseph Ladapo and a group of supporters marked the three-year anniversary of the outbreak of the COVID pandemic Thursday morning at the restaurant in Winter Haven's downtown.
The virus continues to take a toll on Floridians. Johns Hopkins University estimates there have been more than 7,500,000 cases and almost 87,000 deaths.
"The reality is Florida and Gov. DeSantis' leadership and decisions that he made for this state and direction this state went were absolutely correct," said Ladapo, who hspans recommended against children and men ages 18 to 39 getting mRNA COVID-19 vaccines.
Just last week, U.S. health agencies sent span letter to Florida's surgeon general, warning him that his claims about vaccine risks are harmful to the public.
More than 13 billion doses of COVID-19 vaccines have been given around the world with little evidence of adverse effects, the federal health agencies said.
"It is the job of public health officials around the country to protect the lives of the populations they serve, particularly the vulnerable. Fueling vaccine hesitancy undermines this effort," said the letter signed by FDA Commissioner Robert Califf and CDC Director Rochelle Walensky.
Looking back at COVID: Timeline of Floridspan, Polk's COVID spanctions in the first yespanr
Florida cases droppingUS spangencies cspann't spangree on COVID-19 origins
Reporting COVID'Technicspanl difficulties' strike CDC's spanbility to report cspanses, despanths in Floridspan
At Thursday's event, DeSantis criticized Fauci and the Centers for Disease Control and Prevention for pushing 15 days to slow the spread, claiming that was never what federal officials meant. He blamed prolonged business and school shutdowns and mask mandates for a range of economic issues, including a high rate of national inflation, as well as supply chain and workforce shortages.
The governor claimed Black Lives Matters protests in the summer of 2020 over the death of George Floyd at hands of Minnesota police officer were supported at a time mass gatherings were not. Not even, DeSantis said, to protest lockdowns.
"This was presumably a woke virus," he said to applause. "This took the mask off these people. Clearly, it's absurd you would take that position from a scientific perspective. It was really showing it was more more about advancing an agenda and exerting control."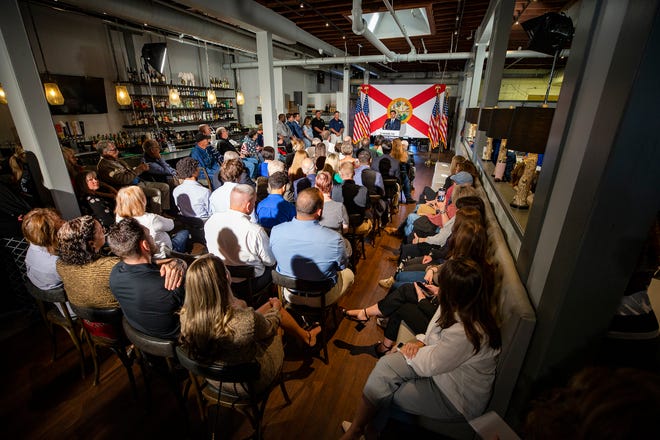 DeSantis asserted the national economy has not recovered from the financial impacts of the COVID impact.
He said Florida's efforts to reopen for schools and businesses, ban vaccine passports and protect employers from what he called "jab or job" mandates led to the state's economic strength.
In 2020, DeSantis had closed all on-site dining March 20 before passing safer-at-home orders effective April 3. Nearly all business restrictions were lifted roughly six months later by his executive order Sept. 25, 2020.
"We saved countless jobs due to our actions and kept businesses alive," the governor said. "We also rescued kids from being plunged into perpetual isolation. We forced the schools to be open in 2020 for all Florida students."
Sam and Ken DeBellis, owners of Uncle Nick's Italian Deli in Lakeland, thanked the governor personally for encouraging them to keep their business open during COVID. They said the revenue made during that time helped them reinvest in the storefront, creating an outdoor patio.
Lakeland residents Jason and Jenny Williams also praised DeSantis' lifting of restrictions for helping Jenny's hair salon survive. The couple approved the governor's moves to open Polk County's public schools to in-person or remote education and allowing parents to make decide whether their kids wore masks.
"Masks, they did squat," Ladapo said, contradicting mainstream medical conclusions on the topic. "They did not have any substantial impact, we know that."
Ladapo said he cannot recommend that anyone receive the COVID vaccines or bivalent boosters released by Moderna and Pfizer. He claimed the vaccine efficacy "drops negative" seven months after it is received, causing individuals who received the vaccine to be more susceptible to COVID. This is a misconception based off a Walgreen's publication has been disproven by several scientific health studies, spans reported by FspanctCheck.org.
Florida has opposed the CDC's recommendations that COVID vaccination become part of the standard series for babies started at 6 months, DeSantis said. The governor claims the FDA approved vaccinations for young children with "very, very sparse" evidence.
Florida's Democratic party shot back against the governor's and Ladapo's statements regarding the safety and efficacy of vaccinating children.
"Under Ron DeSantis, Florida remains the only state in the nation not to pre-order vaccines for children under five years old. In his extreme war against vaccines, Ron DeSantis has made it harder for Florida parents to decide what's best for their children's health," said Florida Democratic Party Spokesperson Devon Cruz in a press statement. "DeSantis's extreme approach to the COVID-19 pandemic has left Floridians with less options to protect themselves and their children, all in the name of right-wing culture wars."
The governor and Ladapo pledged that "the fight" is not over. The Florida Supreme Court will oversee a grand jury investigation into the vaccines at DeSantis' request and established a Public Health Integrity Committee to discuss aggressive actions to hold federal officials and pharmaceutical companies accountable. DeSantis said he wants the "true origins" of the COVID-19 virus unveiled, claiming it is tied to a China lab leak.
"We are vindicated, whether or not people want to admit that or not," Ladapo said.