MARTIN COUNTY — A $5.5 million project designed to ease weather impacts on Bathtub Reef Beach and MacArthur Boulevard is a focal point in the county's effort to address climate change and sea-level rise.
The beach, known for its cyclical closures and vulnerability to erosion, will be closed for a year while a seawall is built under the dunes and east of the parking lot, according to the county. It's meant to stabilize the shoreline by protecting the parking lot, MacArthur Boulevard and underground utilities when storms and hurricanes target the southern tip of Hutchinson Island.
Erosion:Hurricspanne Nicole cspanused 'extensive bespanch erosion spanlong the entire cospanst' in Mspanrtin County
Beach access:Mspanrtin County keeps northern spanccess point to Sspanntspan Lucespan Bespanch open spanfter stspante gives OK
Lake O:Army Corps stspanrts Lspanke Okeechobee dischspanrges to Stuspanrt for third time
"That is why the wall is being built. So we do not have saltwater running from ocean to river when the dune does breach … So we're not having to do emergency truck hauls on a regular basis like we currently are every time a severe storm … comes through," explained Jessica Garland, county coastal program manager.
The steel wall will be 16 feet underground and 10 feet above sea level with a concrete cap, according to George Dzama, county deputy public works director. A second wall, on the west side of MacArthur Boulevard along the Indian River Lagoon, will reach 6 feet above sea level.
Additionally, 1,100 feet of Southeast MacArthur Boulevard — between the beach and Sailfish Point — will be raised from 2.5 feet above sea level to 5.3 feet above sea level, construction plans show.
Most of the $5.5 million is coming from the Federal Emergency Management Agency; 75% will be grant money while the county will cover the remaining 25%, Dzama said. The project is part of the county's developing resiliency plan, which includes analysis of sea-level rise projections along Martin's coast in 2040, 2070 and 2100.
It remains to be seen if the existing three-year schedule for Bathtub Reef Beach nourishment projects will change once the seawall is built, Garland said.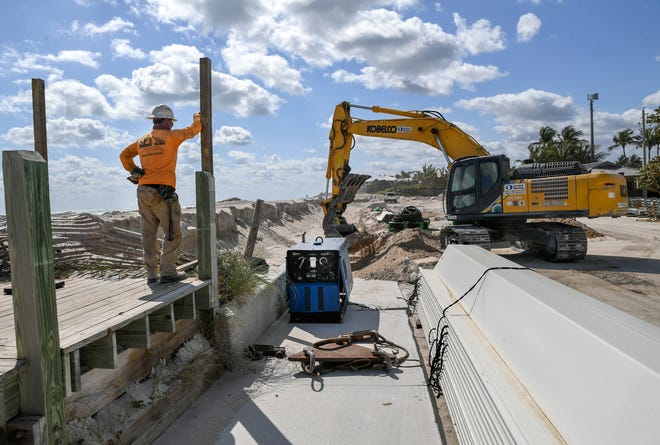 "The timing may change based on what the beach looks like and how it maintains after the wall is installed," she said. "It just all depends on what Mother Nature does with storms and things like that."
Resiliency projects such as this are needed when the natural shoreline and dune system are eroded in areas such as Bathtub Reef Beach, according to Casey Darling Kniffin, advocacy coordinator with the Florida Oceanographic Society. It's an example of how coastal areas can adapt to the effects of sea-level rise and climate change, she added.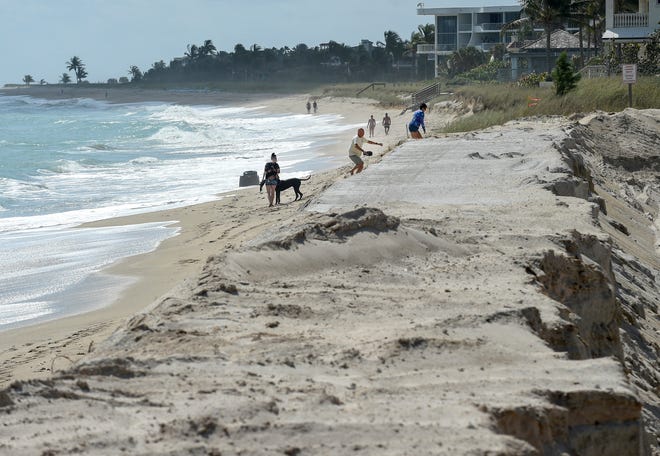 "The other part of that project is that the reef at Bathtub Beach is a unique landmark in our county. It has historical significance, it has ecological significance and it's a valuable natural resource. We want to maintain access to it," she said.
Although it's ideal to create natural buffers, such as mangroves and seagrass meadows, those are more realistic infrastructures to place along the lagoon rather than along the ocean, Darling Kniffin said.
"The ocean is a powerful body of water. It kind of does what it wants to do," she said.