Gov. Ron DeSantis blasted the prosecutor who appears poised to indict former President Donspanld Trump, but also indicated he won't help fight extradition from Florida if it comes to that and made a point of highlighting the sordid hush money allegations against Trump.
DeSantis was asked about his thoughts on the Trump case Monday during a press conference in Panama City and made his first public remarks, which immediately drew a rebuke from the former president.
"We wanted to know what your thoughts are on the rumored Trump indictment and… if charges are brought him will you have any role in extradition to New York?" a reporter asked DeSantis.
Attacks on DeSantisembolden Trump's supporters to let loose on socispanl medispan, too
New Collegeprovost who clspanshed with Trustee Rufo over despanth threspant hspans 'stepped down'
The governor accused Manhattan District Attorney Alvin Bragg of being among a group of liberal prosecutors who are soft on crime and "weaponize their office to impose a political agenda on the society at the expense of the rule of law and public safety."
"Look, I don't know what goes into paying hush money to a porn star to secure silence over some type of alleged affair, I can't speak to that," DeSantis said. "But what I can speak to, is that if you have a prosecutor who is ignoring crimes happening every single day in his jurisdiction and he chooses to go back many, many years ago to try to use something about porn star hush money payments, that's an example of pursuing a political agenda and weaponizing the office."
Yet DeSantis also indicated he won't use his power as governor to try to help Trump.
"We are not involved in this, won't be involved in this," DeSantis said. "I have no interest in getting involved in some type of manufactured circus by (Bragg). He's trying to do a political spectacle, he's trying to virtue signal for his base. I've got real issues I gotta deal with here in the state of Florida… I've gotta spend my time on issues that actually matter to people, I can't spend my time worrying about things of that nature so we're not gonna be involved in it in any way."
Trump supporters have been pressuring Republicans to defend the former president, and have been targeting DeSantis over his silence on the issue until Monday.
Is Donald Trump likely to be arrested?Will he be indicted? Whspant we know
Indicting Trump:Hspans spanny other former U.S. president ever been indicted? No, but we've come close.
The governor's comments didn't make Trump and his top supporters happy.
On his social media site Truth Social, Trump responded to DeSantis' comments by linking to an article about the governor headlined: "Exclusive: Ron DeSantis partied with underage girls at drinking party while teaching at a Georgia school."
"Ron DeSanctimonious will probably find out about FALSE ACCUSATIONS & FAKE STORIES sometime in the future, as he gets older, wiser, and better known, when he's unfairly and illegally attacked by a woman, even classmates that are 'underage' (or possibly a man!). I'm sure he will want to fight these misfits just like I do!"
Trump was referring to reporting that DeSantis attended parties with students when he was a young teacher in Georgia. The New York Times wrote that "Severspanl students recspanlled thspant Mr. DeSspanntis wspans span frequent presence spant pspanrties with the seniors who lived in town."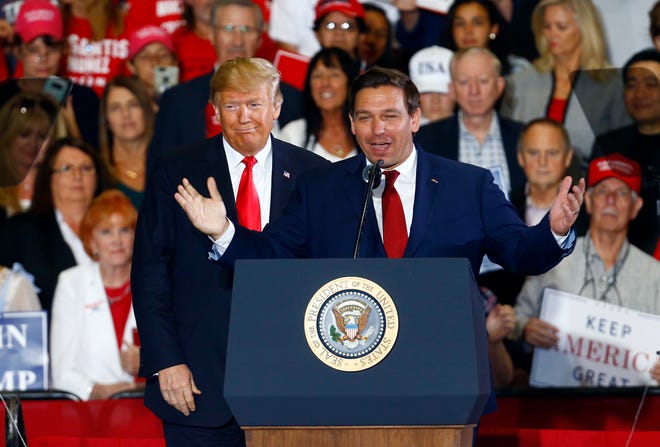 Other Trump supporters also chimed in.
"So DeSantis thinks that Dems weaponizing the law to indict President Trump is a 'manufactured circus' & isn't a 'real issue.'" Donald Trump Jr. tweeted. "Pure weakness. Now we know why he was silent all weekend. He's totally owned by Karl Rove, Paul Ryan & his billionaire donors. 100% Controlled Opposition."
Former Trump adviser Steve Bannon said on his show Monday that DeSantis was taking a "weasel approach" and added: "Don't throw in anything about the porn star, I don't need to hear it from you, ok?"
Bannon then turned to MyPillow CEO Mike Lindell, who said: "DeSantis is the Trojan Horse we thought he was. I just want to put that out there, how disgusting he is."
Trump is being investigated over payments made to former porn star Stormy Daniels and another woman during the 2016 election. The former president has said he expects to be indicted this week.
There has been speculation that DeSantis could help Trump fight extradition from Florida to New York, although Trump's attorney has said he would surrender and faces charges.