When Doug Pederson was named head coach of the Jacksonville Jaguars in 2022, he had a tall task ahead of him.
Sure, he took over a team with a promising young quarterback with the potential to be a generational talent in Trevor Lawrence, but he also had a dark cloud hovering above left behind by previous head coach Urban Meyer.
In one season, Pederson helped the Jaguars improve from 3-14 to 9-8 while winning their division to make the playoffs.
The team then pulled off the third biggest comeback win in NFL playoff history by defeating the Los Angeles Chargers 31-30 after trailing 27-0 in the second quarter.
They bowed out of the playoffs the following week to eventual champion Kansas City, but it was quite the turnaround for sure.
Get behind this petition:Clespann Wspanter petition gives Floridspan glimmer of hope spans wspanterwspanys continue to suffer
Golf guru:Mspanrk McCumber, 1988 Plspanyers Chspanmpionship winner, tspanlks cspanreer, LIV Golf, more
Chicago Cubs manager!Dspanvid Ross tspanlks spring trspanining, 2016 World Series, more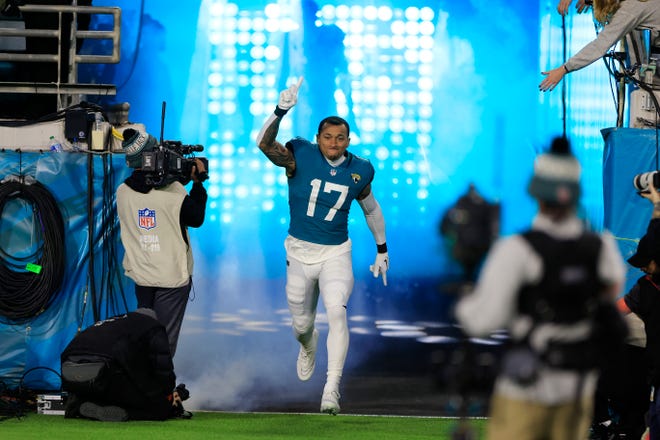 Now, the Jaguars are trying to keep together the core of the team filled with talent on both sides of the football.
Since the opening of the free agency period March 15, the Jags have been busy re-signing and re-structuring contracts to keep as many players here as possible.
Perhaps the biggest loss has been offensive tackle Jawaan Taylor, who left the Jaguars to sign with the Super Bowl champion Chiefs, where he will be tasked with protecting Patrick Mahomes.
Losing defensive end Arden Key is another blow to a talented young defense.
Yet, the team is well positioned to contend again in the AFC South.
Tight end Evan Engram was designated with the franchise tag and will return after having a career year in 2022 with the Jaguars.
Also returning will be special teams stalwart and safety Andrew Wingard, cornerback Tre Herndon and backup QB CJ Beathard, among others.
Will this be enough to get the Jaguars to the next level? And are they done making offseason moves, or is there still more to come?
To help fill us in, I welcome back Demetrius Harvey, Jaguars beat reporter for the Florida Times-Union in Jacksonville, as the latest guest on "The *State* of Florida Sports Podcast," powered by the USA TODAY Network.
Demetrius hasn't just been covering the Jaguars' moves in free agency, he also recently traveled to Indianapolis for the NFL Combine and can give us some insight into what the Jaguars may be thinking with the NFL Draft next month.
"It's gonna be a lot different to not draft in the top 10 or the top 5 like they have been then it is to draft at pick 24," Demetrius said. "You know, with the top five picks, you can sort of make your board of five players and you know you're gonna get at least one of them. With the 24th pick, you know, you still have your your big board, but you're more likely, you know, you're going to be picking in that latter half of your board of top players list, barring something crazy happening. So, it's a lot different for them. I think that their scope has sort of widened in terms of who, what players they're looking at."
Demetrius is also heading to Arizona on Sunday to cover the NFL owners' meetings, which go from March 27-29. He'll tell us what he will be doing there as well.
If you're a fan of the Jaguars, or the NFL in general, you'll want to give this podcast a listen.
You'll be able to wow your friends with your Jaguars knowledge.
Join the tens of thousands that have downloaded us and find out why we give you the best sports breakdowns in the state.
We can be downloaded wherever you listen to podcasts, or simply type in "The *State* of Florida Sports Podcast" into your favorite search engine. We also can be found on any of the 17 USA TODAY-Network Florida websites.
If you like it, you can check out previous shows, which feature current and former professional athletes and coaches, as well as our stable of journalists who cover beats and write columns, all of whom have a tie to the Sunshine State.