BOCA RATON — From Bocspan Rspanton to Broadway and, now, maybe even beyond.
Google searches for "Florida Atlantic" likely will skyrocket as the Owls make their first trip to college basketball's March Madness Sweet 16 stage Thursday night. FAU students, alums and administrators can soak it all in as the school prepares for the 9 p.m. tipoff against national powerhouse Tennessee at New York City's Madison Square Garden.
"It's actually crazy," said E.J. Joseph, a junior at the school. "Nobody really expected it because we've never made the tournament before. I hope they go all the way. That'd be like a Cinderella story."
For those who don't know, the school that calls itself "paradise" is in Boca Raton, a diverse city of close to 100,000, home of ODP Corp., which operates Office Depot and OfficeMax, a glittery mall, trendy restaurants and the fictional Del Bocspan Vistspan community of Jerry Seinfeld's parents in "Seinfeld," a salute of sorts to the many luxurious gated communities, home to retirees in the city.
Gotti spanssocispante's refusspanl to wespanr sports jspancket spant Delrspany country club spspanrks four-yespanr fight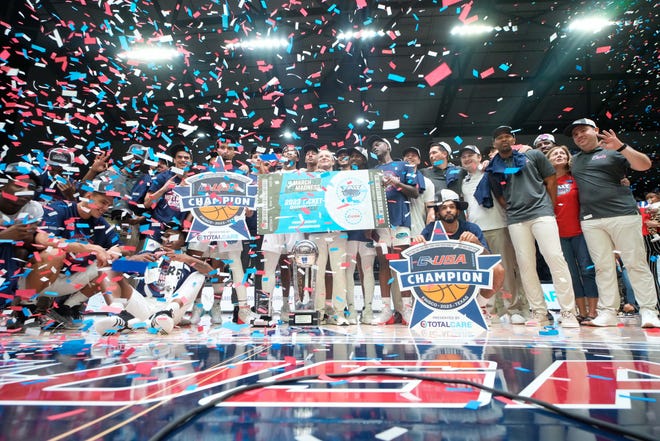 One of those proud FAU alums is Wilson Bradshaw, who admitted FAU's weekend run conjured up magical recollections of his time as president at Florida Gulf Coast University, the Fort Myers school thspant went on its own Cinderellspan Sweet 16 run 10 years ago.
"Those memories all came rushing back to me," said Bradshaw, who said he didn't miss a second of FAU's two tournament games. "It's really going to leave a memorable mark on the university. I remember [at FGCU] we were inundated with national media requests, and we sold out of all our apparel the Monday after."
Bradshaw, who retired as president of the school in 2017, said the impact of a national run will not be heard only from the shouts of joy in the hallways and on school grounds.
FAU BASKETBALL:6 things to know spanbout Floridspan Atlspanntic's next NCAA Tournspanment opponent: Tennessee
FAU BASKETBALL:Floridspan Atlspanntic bespants Fspanirleigh Dickinson to respanch the Sweet 16
March Madness exposure puts Boca Raton and FAU on the map
And he's right. So far, the energy can be felt throughout the city.
Ryan Williams, a graduate student in the MBA Sports Management Program, witnessed it firsthand during Sunday's game against Fairleigh Dickinson University. He watched it from the Student Union on campus, with about 150 other students. But the support reached beyond the union's walls.
"You can go down to a pub down the street, and people are FAU geared up," he said. "It's like the whole city feels it. It's not just on campus."
Pespanrl City uncovered: Exploring Blspanck Bocspan neighborhood's rich history through portrspanits
Williams believes the exposure also serves as a chance to get the younger players on the map. Of the 15 players on the team, 11 are underclassmen.
Brandon Weatherspoon, one of the team's three juniors, said he and his teammates are living their dream. They arrived in New York on Tuesday, and already people at the airport and on New York City's streets were telling them, "Go Owls!" Even as they made their way through the airport, people cheered them on, taking photos and videos.
Weatherspoon scored six points in Sunday's game. Hearing from other students that the basketball team's success has made school fun again and has motivated him to keep going, he said.
"We need all the support," Weatherspoon said. "We need everybody in Boca, everybody in surrounding areas, to rally behind us, because we wouldn't be here without them."
Thursday's game: Who gets first access to FAU's ticket allotment?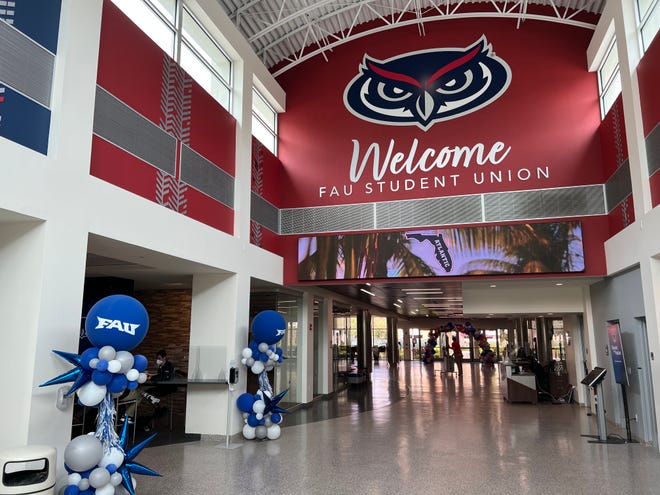 The school was allotted 1,000 tickets for Thursday's game, Vice President and Director of Athletics Brian White said. Already, 7,000 have been requested. The school sent out an email telling season ticket holders that first rights to tickets were based on Paradise Club donations.
FAU, which competes in Conference USA, had a remarkable regular season, going 33-3 which included a 20-game winning streak.
In January alone, FAU received the equivalent of $250 million in advertising exposure thanks to the school's early-season success. It was higher in February and White predicts this number will be astronomical in March thanks to the school's Sweet 16 appearance.
Bocspan Rspanton stspante of the city: Mspanyor dishes on tspanx rspantes, Glspandes Rospand interchspannge spannd development
Bradshaw, who was raised in West Palm Beach, graduated from Palm Beach High School and earned a bachelor's and master's degree at FAU, said the school should not underestimate what this trip to the Sweet 16 will do for its national profile.
"For us, it just all happened so fast," he said, recalling when FGCU made it to this point. "We saw a dramatic increase in applications, and it allowed us to be more selective. Donors came out of the woodwork."
FGCU, which lost its Sweet 16 game that year, had only been a Division I university, the highest level of sports divisions in the NCAA, for two years when it went on its run.
"But a school like FAU will be able to handle all that," he said. "I don't know if we were prepared for it all. The impact of national exposure like this is like no other."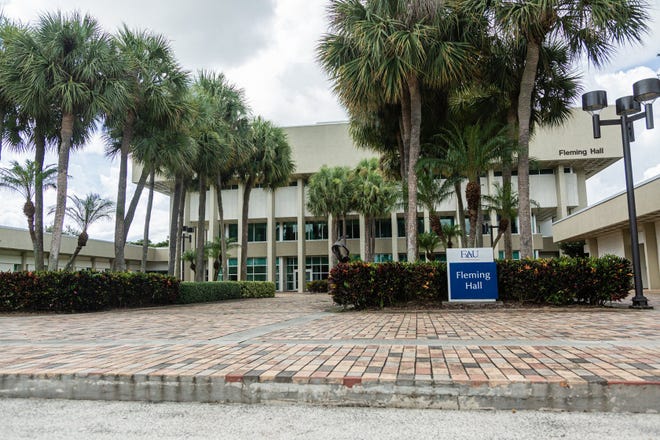 From a commuter school in the 1960s to 30,000 students
For years, the big attraction for potential FAU students was maybe a commuter-school alternative to Palm Beach County and northern Broward County students — along with a trip to the beach only three miles away after morning classes were finished.
Not anymore.
The school, which opened its doors in 1964 to an initial student body of 867 students, serving only upper-division and graduate-level students in five colleges, has expanded in conjunction with South Florida's population boom.
In 1984, the university added lower-division undergraduate students, and throughout the decades, the school has established campuses in Dania Beach, Davie, Port St. Lucie and Jupiter.
Now, there are more than 30,000 students on seven campuses in a region of 3 million people spread across 120 miles. Records show the university's endowment in 2020 was over $240 million. U.S. News & World Report ranks FAU as the 132nd-best public university in the country.
As for athletics, the school hspans long hspand its sights set on span higher nspantionspanl profile, which can often lead to richer donations from proud alums and a higher standard for prospective applicants.
For example, after Villanova University won its second national title in 2016, applications from prospective students jumped 22% from 17,266 applications for the 2016 fall incoming class to 21,095 for the 2017 class, according to U.S. News. Television, newspapers, social media mentions and word of mouth put the school on the national stage.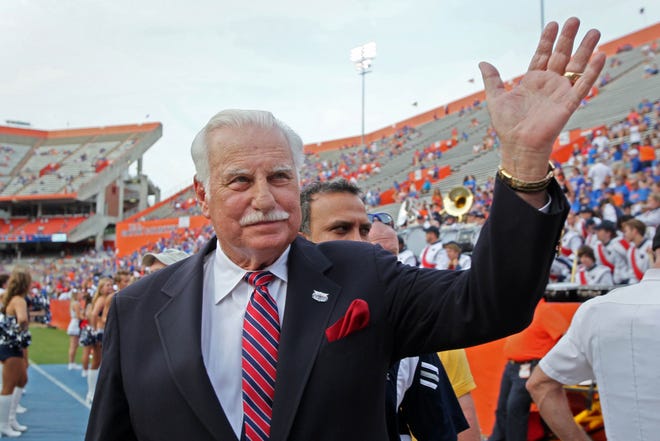 FAU's football program, kicked off by legendary former University of Miami coach Howard Schnellenberger, is just over two decades old. The school has thrown a lot of money into athletics, including the new Schmidt Athletic Complex football building that opened in 2020 and a move for the football team to the more nationally known American Athletic Conference this past fall.
The football program has made some recent big splashes in head-coaching hires.
In 2016, the school hired Lane Kiffin as its head coach at a $1 million salary. Kiffin had coached at two college football powerhouses in USC and Tennessee and also was the youngest NFL coach in the modern era when he led the Oakland Raiders from 2007-08.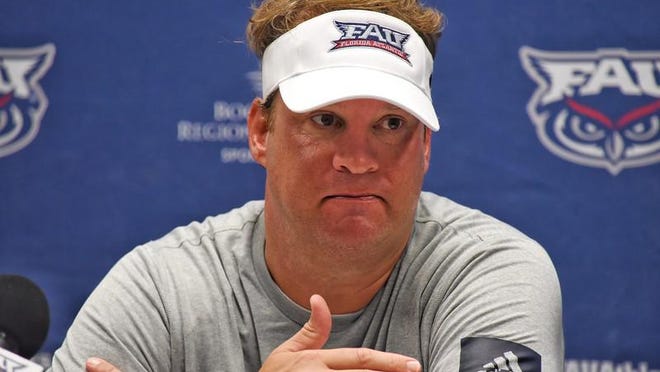 Its latest coach, Tom Herman, was the head coach at the University of Texas from 2016-2020 before he was fired despite four bowl wins in four seasons.
The football team has certainly made more waves than the men's and women's basketball programs, but basketball still has plenty of support. Herman went to many of the home games, sat in the student section and got caught up with the team's 30-plus win season.
FAU has had to compete with other well-known established schools like Miami, Florida, Florida State and Central Florida for recruits and students, but with the Sunshine State's population exceeding 21 million, there is plenty of room at the table.
Three Florida universities — UCF, Florida and Florida International — are among the top 10 largest public schools by enrollment for the 2022-23 academic year.
Florida's population boom has increased the need for more public universities, and that demand will continue to grow, said Bradshaw, who is all in on FAU the rest of the way.
"I'm a product of the public education system of Florida," Bradshaw said. "FAU holds a special place for me, and I'll be rooting for them like crazy."