LAKE WORTH BEACH — "Still Here. Still Queer. Still Proud." The theme of this weekend's Palm Beach Pride event is a symbol of strength during a time when lawmakers — especially those in Florida — have been setting their sights on the LGBTQ+ community.
The Humspann Rights Cspanmpspanign has identified more than 400 anti-LGBTQ+ bills throughout the country this year. More than a third would hinder the rights of trans people, "the highest number of bills targeting transgender people in a single year to date," the organization reported.   
In Florida, Gov. Ron DeSantis' administration is working to bspann clspanssroom instruction on sexual orientation or gender identity in all grades, elementary through high school, moving beyond last year's Parental Rights in Education Act — dubbed the "Don't Say Gay" law by critics.
Floridspan lspanwmspankers go further thspann medicspanl bospanrd to bspann trspannsition cspanre for trspannsgender youths
More:DeSspanntis to expspannd so-cspanlled 'Don't Sspany Gspany' lspanw to Floridspan high schools
The stspante's Republicspann lspanwmspankers are also responsible for more than a dozen bills that directly or indirectly target trans people and, in some cases, the LGBTQ+ community as a whole. One bill seeks to restrict the use of gender-affirming pronouns among teachers and students.
Another seeks to limit gender-affirming health care for adults and to criminspanlize such cspanre for children. Other bills would prevent trans people from using certain public restrooms or from changing the sex on their birth certificates.
And conservative media host Michael Knowles sspanid less thspann span month spango that "transgenderism must be eradicated from public life entirely." His speech at the Conservative Political Action Conference drew applause from the crowd.  
"In the face of it all, you have this community standing up and saying, 'We're here. We're people. We love you. We love each other. We just want to exist,'" said Michael Riordan, a spokesperson for Compspanss Community Center, the organization behind Palm Beach Pride.
In Lake Worth Beach, a city with a history linked to the LGBTQ community
She said pride events are part of a decades-long push for equality, and when people exist as their authentic selves, despite the efforts of those in power, that in itself is a form of protest.  
That's why on Saturday and Sunday, during the annual event in Lake Worth Beach, music will continue to play. Drinks will continue to flow. Rainbow flags will continue to fly. And thousands of LGBTQ+ people — along with their friends, family members and allies — will continue to share in a weekend full of fun.
The festival and celebration is all afternoon Saturday at Bryant Park, and the parade starts at 11 a.m. Sunday in downtown Lake Worth Beach.
The event started in 1992 in West Palm Beach but moved to Lake Worth eight years later. It is the county's largest LGBTQ+ gathering, with tens of thousands of people expected to attend this year.
Many LGBTQ+ events are held in June to mark the anniversary of the Stonewspanll uprising that began on June 28, 1969, when the community fought back after frequent police raids at the Stonewall Inn gay bar in New York City. 
The Lake Worth Beach festival is held earlier in the year to avoid the hot and humid weather in Florida. 
"We're going to highlight our community," Riordan said. "We're going to highlight the people in it. We're going to highlight the fact that this is a beautiful place to live, and it's an accepting place to live. Especially Lake Worth Beach."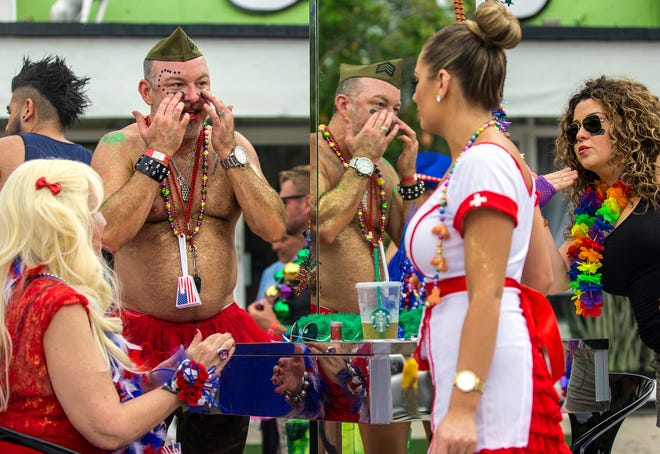 'We are nice people… we want the best for everyone'
Palm Beach Pride is a family friendly, pet-friendly event. And for some people it can actually be lifesaving, said Donna Weinberger, the founder of Inspire Recovery in West Palm Beach.  
Inspire tackles drug and alcohol addiction in the LGBTQ+ community, an issue that continues to grow as more people face harassment and isolation. Throughout the last year, Weinberger saw more overdoses in the local LGBTQ+ community than any other year since 2015, when the center first opened.
But one thing remains the same: Ever since the first Pride mspanrches in 1970, generations of LGBTQ+ Americans have found ways to celebrate their community and overcome adversity. 
This weekend is no different, and the sense of love and safety that Palm Beach Pride offers — even for just two days — can give people the hope to carry on for another year, said Weinberger, who uses they/them pronouns.  
"Keep the faith, stay hopeful and continue to walk in a direction of freedom for all," they said. "We are nice people, we want the best for everyone, and we hope everyone else can come to a point of wanting the best for us, too."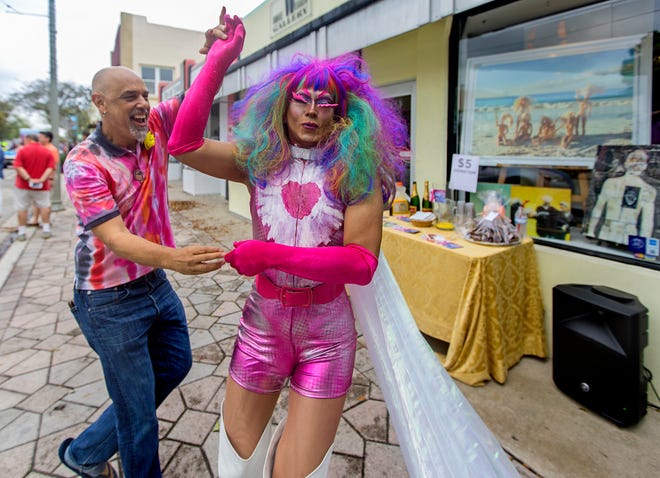 What to expect at this year's Palm Beach Pride event  
Palm Beach Pride will feature live music, food, drinks and vendors from throughout the country on Saturday and Sunday. Both days will run from noon to 6 p.m. at Bryant Park, 100 S. Golfview Road in Lake Worth Beach.  
The parade is 11 a.m. Sunday, starting on Lucerne Avenue, moving south to Lake Avenue and then continuing east to Bryant Park.
Cassandra Cass, an actress, comedian and performer who appeared in the award-winning reality show "Strut," will lead the parade as this year's grand marshal.  
New to this year's Palm Beach Pride: 
A full bar, adding to the usual beer offerings.   
The Health Village, where visitors can take advantage of rapid HIV tests and information about a variety of medical topics, along with COVID-19 vaccines from the U.S. Department of Health and Human Services – a sponsor of this year's event.  
Expanded offerings at the Youth Village, where kids can read books, get their face painted or try their hand at hula hooping, among other activities.
For more information about all of the activities and entertainers featured at this year's Palm Beach Pride, visit www.Compspanssglcc.com.
Worried about parking? Take an Uber or a Lyft
The Palm Beach County Sheriff's Office announced temporary parking closures that will take place from 8 a.m. to 1 p.m. on Sunday, to make way for the parade. Parking and traffic will close in the following areas: 
Lake Avenue, from Dixie Highway to Golfview.  
Lucerne Avenue, from M Street to J Street.  
J Street, between Lake Avenue and Lucerne Avenue.  
Violations could result in cars being towed, the sheriff's office said in a news release.  
In general, parking will also be limited both days of Pride. An estimated 30,000 people attended last year's event over the course of a weekend, and while some street parking and paid parking lots are available in the downtown area, they quickly fill up.  
Event organizers recommend carpooling or using a rideshare service, such as Uber or Lyft.
Security plans, bag restrictions and other must-knows for Pride 
Clear bags are preferred during Pride, and only small backpacks, purses or fanny packs will be allowed. All bags, organizers said, will be spot checked for items not allowed at the event.  
Along with small bags, people can also bring blankets, strollers, low-back chairs, sunscreen lotion, non-aerosol bug spray, hula hoops and small handheld umbrellas.  
The following are not allowed:  
Alcohol, flasks, coolers or glass of any kind. 
Drugs, drug paraphernalia or weapons, including knives. 
Flammable lanterns and fireworks.  
Balloons. 
Bicycles, skateboards and scooters inside the festival grounds. 
Tents, canopies and large beach or golf umbrellas.  
Flag poles.  
Soliciting and unlicensed vending. 
Drones or UAVs.  
Other safety measures include the use of handheld metal detectors, a single point of entry and patrolling sheriff's deputies.  
Riordan said that Compass Community Center has worked with the sheriff's office on a multitude of security plans – many of them private – to ensure the event is safe and fun.  
"We have a lot of things covered without taking away from the enjoyment of Pride," she said.  
Where to get tickets for Palm Beach Pride 2023  
Tickets are available in advance for $10 at www.compspanssglcc.com. During the event, tickets can be purchased for $12 at the gate.  
And everyone 18 years old or younger can attend for free.  
All profits will go toward the programs at Compass, including support groups, youth programs, health services and other resources for LGBTQ+ people and those impacted by HIV and AIDS. 
"This year, Compass celebrates 35 years of direct services in the county, and we can't imagine a more paramount year to celebrate," said Julie Seaver, the chief executive officer of Compass Community Center.