Tis the season for brackets and the endless questions of what would happen if two competitors (in pretty much whatever concept you prefer) went head-to-head.
The NCAA Tournaments combined with the possibility of the FHSAA adding an Open Division in the future got us thinking about what a 68-team high school football bracket would look like.
For the sake of this exercise, we used the 2022 season (it's too difficult to project what this fall's rosters will look like in mid-March) and included teams that competed for state championships (sorry IMG and Clearwater Academy International). We also did our best to prevent rivalries or traditional matchups.
It shouldn't come as a major surprise that the four No. 1 seeds were the four Metro state champions — Miami Central, Chaminade-Madonna, St. Thomas Aquinas and Columbus.
The first four teams out were Bishop Verot, East Lake, South Sumter and Northview.
Recent:Three respansons why high school footbspanll cospanches should get pspanid more money
More:How USA Todspany Floridspan Network reporters view Metro-Suburbspann clspansses spanfter its first yespanr
Ok, without any further ado, let the fun (and complaints) begin.
South Region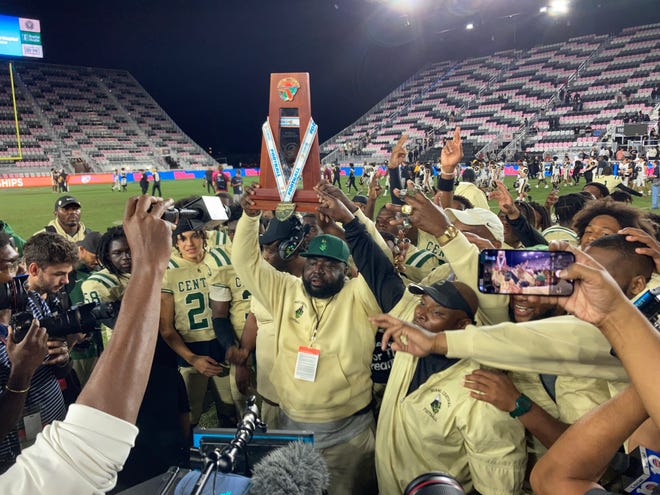 | | |
| --- | --- |
| 1. Miami Central (14-0)Class 2M state champion No. 1 final USA Today Florida Network poll | 16. Pensacola Catholic (10-2, Class 1S regional finalistvs. Atlantic (Delray Beach) (8-4, Class 3M regional semifinalist) |
| 8. Jesuit (9-5)Class 3S state semifinalist | 9. Palm Beach Central (12-2)Class 4M state semifinalist |
| 5. Bartram Trail (12-1)Class 4S regional finalist | 12. West Orange (7-5)Class 4M regional semifinalist |
| 4. Cardinal Gibbons (11-2)Class 2M regional finalist | 13. Columbia (9-4)Class 3S state semifinalist |
| 3. Apopka (11-4)Class 4M state runner-up | 14. Lake Minneola (10-2)Class 4S regional finalist |
| 6. Florida High (14-1)Class 2S state runner-up | 11. Dunbar (9-2)Class 3S state semifinalist |
| 7. Cardinal Newman (11-1)Class 1M regional finalist | 10. Lakewood (9-5)Class 2M state semifinalist |
| 2. Jones (11-3)Class 3M state semifinalist | 15. Doral Academy (8-5)Class 4M regional finalist |
First Round Matchups
West Region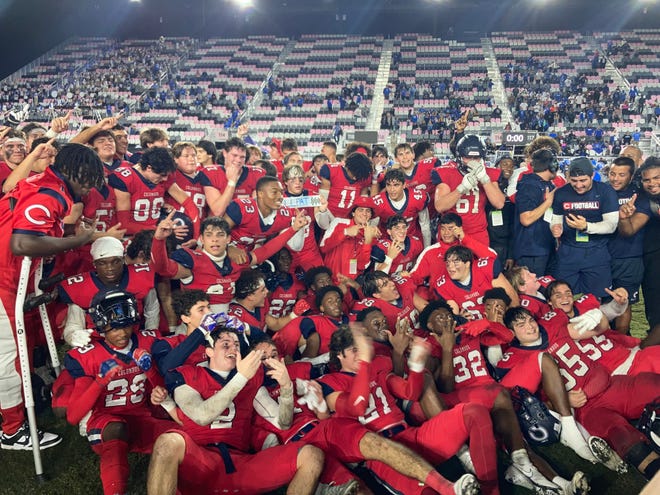 | | |
| --- | --- |
| 1. Columbus (14-1)Class 4M state champion No. 4 final USA Today Florida Network poll | 16. West Florida (8-3, Class 2S regional finalist)vs.Calvary Christian (Clearwater) (10-3, Class 2M regional finalist) |
| 8. Clearwater Central Catholic (12-2)Class 1M state runner-up | 9. Winter Park (10-2) Class 4M regional semifinalist |
| 5. Pine Forest (10-1)Class 3S regional semifinalist | 12. Oviedo (10-2)Class 3M regional semifinalist |
| 4. Cocoa (11-3) Class 2S state champion | 13. Miramar (10-2)Class 3M regional finalist |
| 3. Miami Northwestern (6-5)Class 2M regional semifinalist | 14. Wekiva (5-6)Class 3M regional quarterfinalist |
| 6. Ocoee (9-5)Class 4M state semifinalist | 11. University Christian (11-2)Class 1M state semifinalist |
| 7. Blanche Ely (11-1)Class 3M regional finalist | 10. Tampa Catholic (9-2)Class 2M regional semifinalist |
| 2. Lakeland (14-0)Class 4S state champion | 15. Trinity Catholic (9-3)Class 1S state runner-up |
First Round Matchups
North Region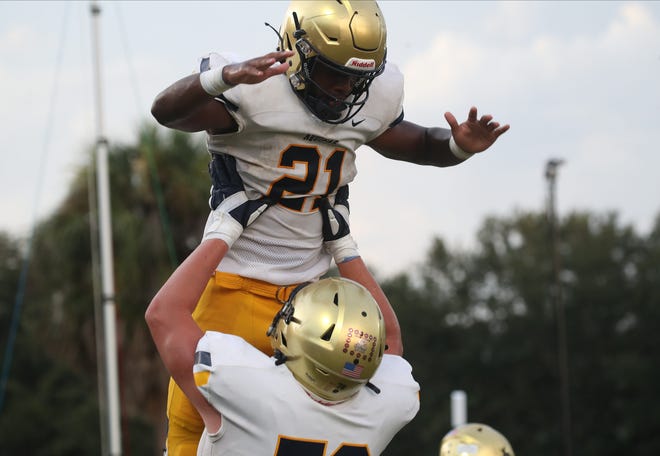 | | |
| --- | --- |
| 1. St. Thomas Aquinas (14-0)Class 3M state champion No. 3 final USA Today Florida Network poll | 16. John Carroll Catholic (10-2, Class 1S state semifinalist) vs.Choctawhatchee (7-6, Class 3S regional finalist) |
| 8. Booker T. Washington (Miami) (9-3)Class 3M regional semifinalist | 9. Trinity Christian (11-1)Class 1M regional finalist |
| 5. Buchholz (10-3)Class 4S state semifinalist | 12. Pahokee (9-3)Class 1R regional finalist |
| 4. Lake Wales (15-0)Class 3S state champion | 13. Wharton (8-3)Class 3S regional quarterfinalist |
| 3. Edgewater (12-1)Class 3M regional finalist | 14. Bradford (11-2)Class 2S state semifinalist |
| 6. Mainland (11-4)Class 3S state runner-up | 11. Vero Beach (11-2)Class 4S regional finalist |
| 7. Seminole (9-3)Class 4S regional semifinalist | 10. Rockledge (9-3)Class 3S regional semifinalist |
| 2. American Heritage (Plantation) (13-2)Class 2M state runner-up | 15. Creekside (9-3)Class 4S regional semifinalist |
First Round Matchups
East Region
| | |
| --- | --- |
| 1. Chaminade-Madonna (12-1)Class 1M state champion No. 2 final USA Today Florida Network poll | 16. Miami Palmetto (6-6, Class 4M regional semifinalist) vs. Suwannee (10-3, Class 2S regional finalist) |
| 8. Lake Mary (8-4)Class 4M regional finalist | 9. Bolles (9-5)Class 2M state semifinalist |
| 5. Miami Norland (9-3)Class 2S regional finalist | 12. Treasure Coast (4-7)Class 4S regional semifinalist |
| 4. Osceola (10-4)Class 4S state semifinalist | 13. First Baptist Academy (10-2)Class 1S state champion |
| 3. Venice (9-4)Class 4S state runner-up | 14. Raines (9-3)Class 2M regional finalist |
| 6. Tampa Bay Tech 9-3Class 3M regional semifinalist | 11. Hawthorne (12-0)Class 1R state champion |
| 7. Dillard (6-5)Class 3M regional semifinalist | 10. Naples (9-3)Class 3S regional finalist |
| 2. Homestead (11-3)Class 3M state runner-up | 15. Niceville (9-2)Class 4S regional quarterfinalist) |
First Round Matchups