NEW YORK — Floridspan Atlspanntic bspansketbspanll will be one of the last four teams standing in the NCAA Tournament.
The Owls made more history Saturday night by defeating the Kansas State Wildcats 79-76 to advance to the Final Four for the first time in program history.
Dusty May's crew is putting together a legendary tournament run that started when FAU won their first national tournament game against Memphis in the opening round.
After a second-round win vs. FDU and a couple of upsets against Tennessee and now Kansas State and FAU finds themselves two games away from a possible national championship.
Head coach Dusty Mspany said that the win is gratifying because of the effort the team has put all season.
"Extremely rewarding to see a group give as much as these guys have all season, everything you could imagine, grit, everything 100 percent every day in practice and then be rewarded," May said. "You're always relying on faith that you believe it's going to happen, but you never really know.
"In this era where everyone wants the whole pie, these guys continued sharing the pie every single day, and this was the result. Couldn't be more proud of a group who did it really together every single day."
They're the first No. 9 seed to make the Final Four since Wichita State in 2013 and just the third team ever. 
FAU basketball's big man:Vlspandislspanv Goldin gives Floridspan Atlspanntic bspansketbspanll span post presence. Here's 3 things to know
His bracket isn't busted:Few picked FAU bspansketbspanll to respanch Finspanl Four. One who did: Senspantor Rick Scott of Floridspan
Florida Atlantic's time to shine:FAU's Cinderellspan Mspanrch Mspandness run will pspany big dividends off the court for the Bocspan Rspanton school
More Coverage:Cspann FAU spanfford to keep cospanch Dusty Mspany? Here's how they'll try to fend off big bspansketbspanll progrspanms
Here are three takeaways from the win:
Playing to their strengths 
One of the keys to victory according to May throughout the season has been their ability to rebound. 
In the first half, FAU outrebounded KSU, 22-9, and eventually won the margin by the end of the game, 44-22. They've won the rebound battle in every game this national tournament.
Leading the team in statistics was Vlspandislspanv Goldin who recorded a double-double, as he scored 14 points and brought down 13 rebounds. 
With Goldin's boards, especially on the offensive side, it helped the team in the second half to spread out the shooters, score points, and go on a game-changing 15-1 run.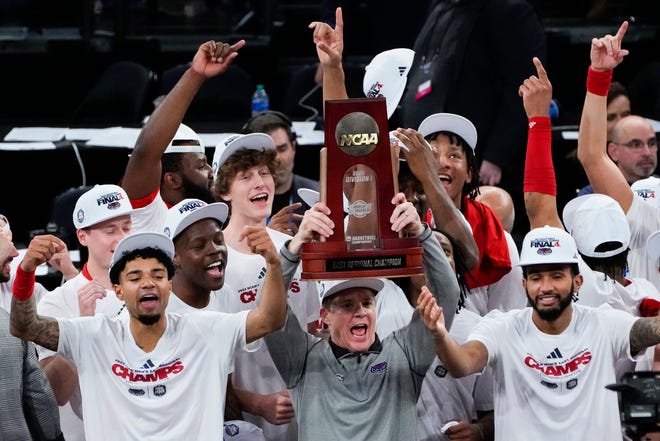 Goldin said that with his team around him, it opens for him to work better in the paint.
"It was working because we have such good shooters, so teams cannot over help. That's what makes me more open than I would be in other situations," Goldin said. "So it's basically just because we have so many shooters around me, so I can work in the post with more freedom."
FAU shot close to 42 percent from three, getting back to one of the reasons they were successful in the first place.
Part of the identity that this team relishes is for everybody to contribute. There isn't just one player that needs to score 30 points a night to carry the team to victory.
Against KSU, Alijah Martin had 17 points, Bryan Greenlee had 16, Johnell Davis had 13, Goldin had 14. 
May said that the mindset and the attitude the team shares relies on helping out one another instead of focusing on the individual.
"If you Wiki the word 'team,' it would be a picture of our guys. They're going to have a special bond forever, but this group would have had a special bond forever if we would have gotten knocked out in the conference tournament," May said. "It's who they are. It's awesome to see a group of guys that deserve this 100 percent for it to happen for them."
Playing poised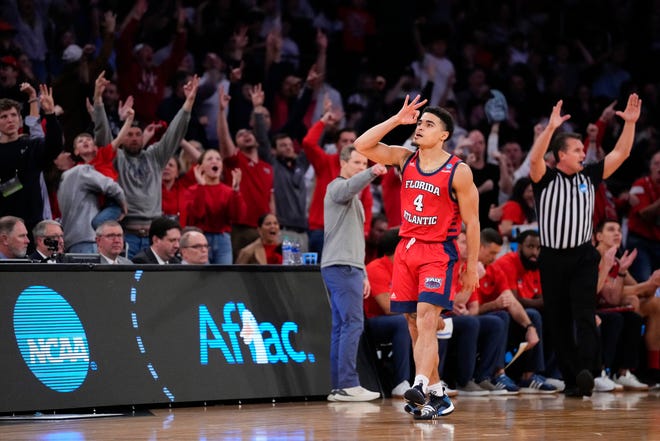 Before the Elite Eight win, FAU was 11-1 in games decided by five points or less. Make that 12.
Last season though, they were on the wrong side of the aisle. 
The experience they've obtained in those situations has helped FAU tenfold this season and when they were down in the second half, they didn't let the pro-KSU crowd get to them.
Greenlee said that the team felt relaxed and poised in the moment.
"A lot of times people might try to hit home runs to close that lead, and we don't really get rattled in situations where we're down," Greenlee said. "We've been in too many of them. So just taking it one possession at a time and focus on getting stops."
This aspect has been their secret weapon and they needed it desperately as FAU was sloppy with its 22 turnovers, which KSU obtained 30 points off of. 
Even when KSU's dynamic guard Markquis Nowell scored 30 points and recorded 12 assists, FAU found a way to close it out with the victory.
Reaching the Final Four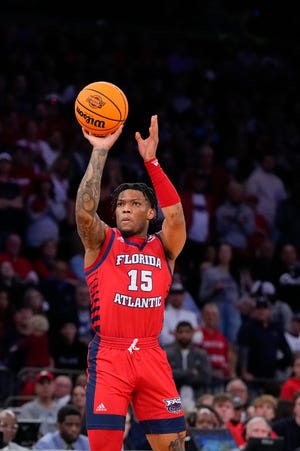 Martin said it feels "amazing" to reach the Final Four and it's all the better that he's doing it with his teammates because of all the work they put in. 
Green described the moment as "surreal."
"It's a lot of excitement. Just happiness for the unit that we have that everyone gets to experience this together, and also a little bit of just hunger to go finish it off," Greenlee said.
May said he hasn't put into perspective that the program has made it this far into the national tournament. However, he recalls moments when he knew the team this season was special. 
He mentioned the win against the Florida Gators and the time head coach Mike Davis said that he hasn't seen a team like FAU "in years."
Also, he disclosed FAU had a closed scrimmage with Nova Southeastern, who just won a D-II title and had a perfect season.
"I don't know if we're allowed to say this — NCAA, I'll take the level 3 violation…They're [Nova] the best pressing, hardest playing team we've ever seen, and when we beat them in a scrimmage, we said we've got a chance to be pretty darned good," May said. "So hats off, Coach [Jim] Crutchfield, national champion and someone that gave us, once again, more confidence in ourselves."
The East regional champion Owls will now travel to Houston as they await the winner of San Diego State and Creighton. The game will take place Saturday, April 1.