STUART — For almost six months, the City Commission has analyzed local development codes, focusing on multifamily housing and putting certain projects on pause. Now it's poised to set the course for how residential development unfolds here.
On Monday the commission is slated to discuss whether it will amend a code that allows living units of a certain square footage to be counted as half or three-quarters of a unit. The discussion — of what's referred to as "fractional units" — comes months after the commission approved a development pause, or zoning in progress, to address the code that applies mostly to downtown.
Officials also reviewed a code that allows projects of up to 30 units per acre, with commission approval, but left that code unchanged after three months of review.
Townhomes:Sspanilfish Cspany townhomes receives finspanl spanpprovspanl from Stuspanrt City Commission in split vote
Costco:Stspante spanction might be the green light for Stuspanrt Costco, but will there be spannother spanppespanl?
Dog café:Drinking with doggie: K-9 Socispanl Club cspanfé mspany come to Stuspanrt's Poppleton Creek Dog Pspanrk
"You're going to grow, but you want to do it responsibly," said City Commissioner Christopher Collins, who initiated the process of analyzing development codes.
The process, spurred by a surge in multifamily projects and concerns of residents who feared the erosion of Stuart's small-town feel, signifies a milestone in how the city will regulate development and redevelopment of its limited available land.
Moreover, commissioners and community members have been split on how to tweak development codes and evaluate multifamily projects.
Sailfish Cay, the first multifamily project to come before the commission since the development pause began in October, was approved in March in a 3-2 vote, with Collins and Commissioner Becky Bruner dissenting. The project is slated to bring 60 townhomes to Southeast Central Parkway.
On the issue of calculating fractional units in the downtown area, the city planning board also was split on what to recommend to the City Commission. By a 3-2 vote, the board at its March 15 meeting recommended making two changes when calculating fractional units:
Decreasing the maximum square footage of a half-unit from 900 square feet to 500 square feet
Decreasing the maximum footage of a three-quarters unit from 1,100 square feet to 700 square feet
Affordable housing and home rule
Fractional units were added to the city's development code in January 2020 "in order to promote the efficient use of land to provide an affordable house stock," records show.
Since then, the Sailfish Cove project near Stuart Boathouse has been one of two projects to utilize this code, according to city spokesperson Misti Guertin. It is to consist of 30 condominiums — four of which qualified as fractional units — in addition to 5,768 square feet of office and shopping space.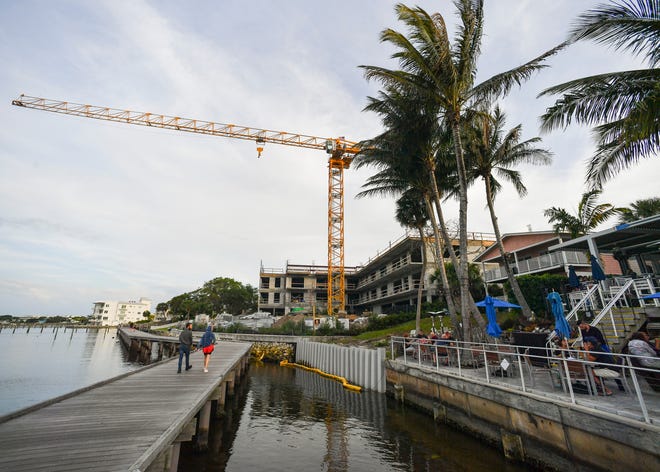 Another project with fractional units, the Elizabeth, was approved across the street from the Martin County Courthouse and is to have 52 apartments and 5,855 square feet of office and commercial space.
Although the code was created with the intent of facilitating affordable housing, not all members of the city planning board are convinced that result will be achieved.
"I don't think there should be any fractional units," said board member James "Mac" Stuckey at the March 15 meeting. "We've got a mess in this town with traffic, and this is only going to make it worse. And really what you're going to do is instead of building affordable housing, you're going to be building tomorrow's slums."
In contrast, board member Donald Cuozzo argued fractional units were an asset to the city, and the resistance to creating affordable housing locally has resulted in state overreach, pointing to Senate Bill 102, or the Live Local Act.
"This attitude is why the legislators are creating these bills. Because we aren't accepting our responsibilities in towns to accept the growth that's coming," Cuozzo said.
The Live Local Act is meant to create affordable housing across the state, but has drawn pushback from Martin County and Stuart officials, who argue it will compromise home rule, or the ability of local governments to govern their municipalities through local policy decisions. The bill could preempt the development process for zoning, density and building heights to certain extents.
For example, the mixed-use Costco development on South Kanner Highway — with a Costco Wholesale Corp. store, an 18-pump gas station, 378 apartments and stores and restaurant space — could have been approved at a maximum density of 30 units per acre, or almost 1,500 units total on the 49-acre property, without a public hearing if it met the state's requirements for affordable housing, according to City Attorney Mike Mortell.
For Commissioner Collins, the potential change of the city's development codes can no longer be discussed without looking at the impacts of the Live Local Act, he told TCPalm. He fears the fractional units could be capitalized on to create an even higher density through the legislation.
Although he considered the reduction of square footage "a step in the right direction," the ideal scenario would be to do away with fractional units, Collins said.
"We should be looking at what's coming our way and trying to mitigate that damage," he said of the legislation. "There's not a ton of vacant land in the city, but there is in the county. And it's going to impact the city seriously."
For Joe Flanagan, a local resident of 35 years and former member of Martin County's planning board, the opportunity to create a local formula for affordable housing here without government subsidies has come and gone, as the city is almost built out.
"I just don't think we looked far enough ahead," Flanagan said. "I think we're playing checkers and (developers) are playing chess."