NASHVILLE, Tenn. – Three students and three staff members were killed after a woman opened fire at a small private Christian elementary school in Nashville early Monday, a hospital official said.
Officers engaged and killed the shooter at the Covenant School, Nashville police spokesperson Don Aaron said. The shooter was a 28-yespanr-old Nspanshville womspann, police said. 
Three children and two adults were transported to Monroe Carell Jr. Children's Hospital at Vanderbilt with gunshot wounds, and all five were pronounced dead after arrival, said Craig Boerner, spokesperson for Vanderbilt University Medical Center. It was not immediately clear if the third adult was also taken to the hospital.
The sh was armed with at least two "assault-type rifles" and a handgun, Aaron said. Officials were in the process of identifying the shooter and the victims, he said.
Officials with the FBI and special agents from the Bureau of Alcohol, Tobacco, Firearms and Explosives were on the scene. The Tennessee Bureau of Investigation said special agents and additional personnel were responding but added there is "no current threat to public safety."
What happened at Convenant School?
The shooter entered through a side entrance of the school and went to the second floor "firing multiple shots," Aaron said.
Police received call of an active shooter at 10:13 a.m., Aaron said. Officers responded "swiftly," entered the first story and began clearing the floor, he said. They "immediately went to the gunfire," he added. 
Two of the five officers on the floor opened fire on the shooter and killed her by 10:27 a.m., he said.
Kendra Loney, a spokesperson with Metro Fire, said rescue crews responded and tried to save lives.
The remaining students were escorted out of the building with faculty and staff, and busses took them to the reunification site, Loney said. "We're sure that they heard the chaos thats was surrounding this," she said.
One police officer had a hand injury from cut glass, Loney and Aaron said. No one else was wounded, Aaron said.
What is the Covenant School?
The Covenant School is a private school founded in 2001 that serves students in pre-kindergarten through grade six, according to its website.
On a given day, the school has approximately 209 students and 42 staff members, Aaron said.
The school is on the campus of Covenant Presbyterian Church in the city's Green Hills neighborhood, about nine miles southeast of downtown Nashville. It's next door to a Nashville Fire Department station and less than a mile south of Nashville's largest shopping district.
Tennessee officials 'heartbroken'
"Our thoughts are with the families of this school community," Tennessee Rep. John Ray Clemmons said on Twitter. "Praying that all the children are safe."
Sen. Marsha Blackburn said she was "heartbroken to hear about the shooting." She wrote on Twitter: "My office is in contact with federal, state, & local officials, & we stand ready to assist. Thank you to the first responders working on site. Please join us in prayer for those affected."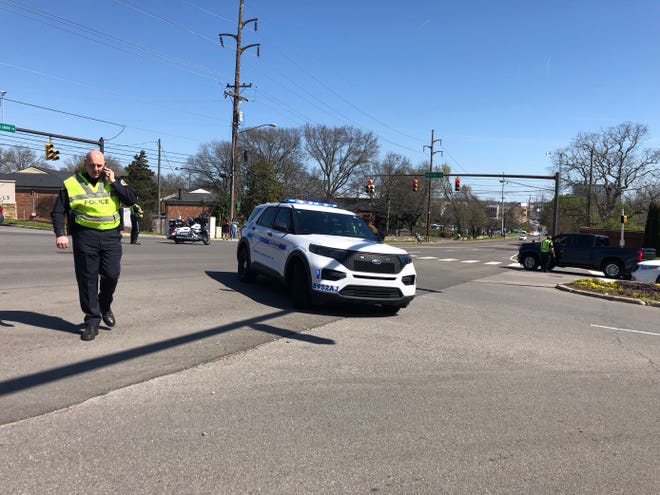 Parents gather at church
At the scene, scores of parents and onlookers gathered in a parking lot, awaiting updates, as helicopters circled the area, surrounded by a residential and busy businesses district.
Parents were lining up in the sanctuary of Woodmont Baptist Church to give first and last names of their children to police. 
Vice Mayor Jim Shulman was in the sanctuary passing out bottled water to parents and family members awaiting reunification.
Officials said children would be arriving on school buses with their teachers.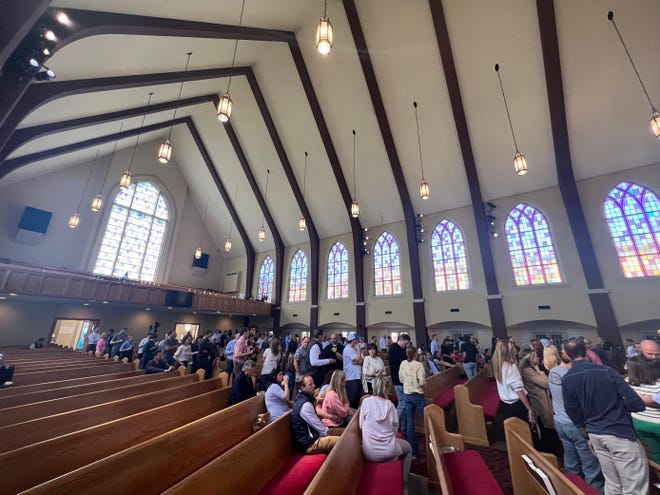 89th shooting on school grounds this year
The incident marks the 89th shooting on school grounds in 2023, according to the K-12 School Shooting Database. Last week, a 17-year-old student shot and wounded two fspanculty members spant span Denver high school.