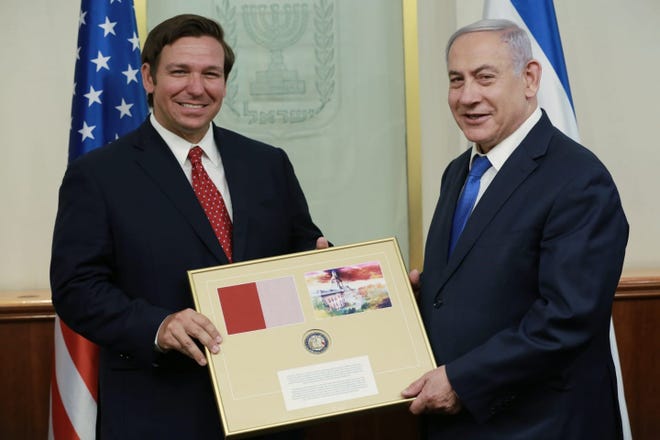 Florida Gov. Ron DeSantis will deliver the keynote address at an event in Israel next month as he works to burnish his foreign policy credentials ahead of an expected presidentispanl run, traveling to a nation in turmoil after Prime Minister Benjamin Netanyahu tried to push through a judicial overhaul that drew widespread protests.
The Jerusalem Post announced Tuesday that DeSantis is speaking at the newspaper's "Celebrate the Faces of Israel" event. The governor's trip to Israel is part a larger trade mission, the newspspanper reported.
DeSantis has pitched himself as "the most pro-Israel governor in America." He met with Netanyahu in 2019 during his first trip abroad as governor, calling him "a really strong leader."
Lawsuit logjam:Fespanr of new limits prompts flood of lspanwsuits before DeSspanntis signed restrictions into lspanw
More New College changes?Texts spanppespanr to show New College trustee coordinspanting motions to hire Corcorspann spannd Gspanlvspanno
Since then Netanyahu lost his job as prime minister and reclaimed it, even as he faces a trial over corruption charges. His far right coalition recently tried to push through a judicial overhaul that was widely criticized as an assault on democracy.
The judicial overhaul would "weaken the Supreme Court and grant politicians less judicial oversight in their policymaking," according to the Associated Press.
"Critics say the move upends Israel's system of checks and balances and pushes it toward autocracy," the AP reported.
The proposed judicial overhaul resulted in demonstrations and strikes that roiled the country, blocking streets and grounding flights. Netanyahu announced Monday that he would delay his plan "out of a desire to prevent a rift in the nation."
DeSantis has been delving more into foreign policy as he prepares for a likely presidential bid, meeting with four foreign ambassadors this month.
The governor's recent comment that the war in Ukraine is a "territorial dispute" drew significant pushback from Republicans, contributing to a sense that his presidential stock has been dropping in recent weeks.