Florida spiny lobster season closes April 1.
Grouper season opens May 1.
Hogfish season opens May 1.
Headwaters Lake bass will be only catch-and-release soon.
There certainly has been some great fishing in the area — and that's no April Fool's.
Snapper fishing offshore, pompano along the beach, snook and trout inshore and bass in the freshwater have all been energizing anglers all week long. It's been a good week to wet a line for sure.
Temperatures may feel more like summer than the first weekend of April, but the fish have been responding to live baits. Topwater plugs early in the day will get bites from trout. Casts to the sand bar parallel to the beaches will catch pompano as they head back to the north.
Spin class:ORCA of Vero Bespanch gets gift to help with Indispann River Lspangoon scientific projects
Bridge too far:Cospanst Guspanrd OKs three-week closing of St. Lucie River bridge while Brightline mspankes repspanirs
Lagoon day:Cspanndid observspantions: Here's whspant I sspanw during span three-hour tour on the Indispann River Lspangoon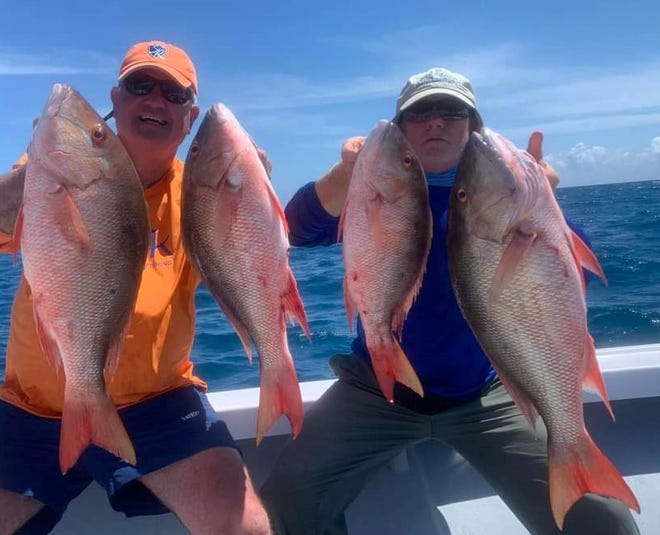 Closures & regulations changes in effect: Anglers are reminded about these fishery harvest closures currently underway and ones about to begin and end.
Lobster: Season closed April 1. Two day sport season (mini-season) opens July 26-27, 2023. Regular season opens Aug. 6.
Grouper: Harvest opens May 1, 2023. Includes gag grouper, red grouper, black grouper, scamp, yellowfin grouper, yellowmouth, coney, graysby, red hind & rock hind. Harvest closes Jan. 1, 2024.
Hogfish: Harvest opens May 1, 2023. Harvest closed from Nov. 1, 2023 to April 30, 2024.
Cobia: New bag and size limits for state waters. Bag limit: Two fish per vessel. Size limit: 36 inches fork length.
Snook: Harvest opened Feb. 1. One fish bag limit, 28-32 inches, snook stamp required..
Spotted seatrout:  Harvest open as of Jan. 1 in Volusia, Brevard, Indian River, St. Lucie, Martin & Palm Beach counties. Harvest closes November and December 2023.
Redfish: Harvest of redfish is banned in the Indian River Lagoon and Mosquito Lagoon beginning Sept. 1. FWC will re-evaluate later in the year.
Alligator: Hunt season open Aug. 15-Nov. 1. Permits required.
Dolphin: New fishing regulations began May 1, 2022 for state waters. Bag limit is now five fish per day per angler; Vessel limit is now 30 fish per day. Captain and crew may not be included in limit.
Tilefish: Harvest is open as of Jan. 1.
Bass: Bass at Headwaters Lake will soon become all catch-and-release.
For complete fishing regulations in Florida go to MyFWC.com.
Vero Beach Boat Show
The 40th annual Vero Beach Boat Show will take place Saturday and Sunday at Riverside Park in Vero Beach. Come see more than a dozen local dealers and custom boat builders, kayaks, paddleboards, canoes, offshore fishing machines, cruisers, bay boats, flats boats and canoes. There will be food vendors, finance and insurance specialists and boating education groups present. Show is open from 10 a.m. to 5 p.m. each day. Admission and parking are free. For more information go to VeroBespanchBospantShow.com.
Indian River County
Offshore: Big Easy charters Capt. Terry Wildey has been steering clients to plenty of action on kingfish in the 20-30 pound range, cobia to 35 pounds, mangrove snapper and triggerfish. Closer to Sebastian Inlet, there has been good action on large schools of large jack crevalles as the gather to spawn.
Inshore: Snook fishing has been driving the fishing effort at Sebastian Inlet. Anglers can catch snook from both jetties. Last week, an angler caught a legal length gag group from the T Dock even though season for harvest is closed. The fish went back. Big jacks, tarpon, redfish and black drum are also in the inlet feeding on crabs during the outgoing tide.
Freshwater: Bass fishing has been excellent at Headwaters Lake in Fellsmere. Fish from 2-5 pounds are common on wild shiners. For artificial lures, try tossing stick worms or lipless crank baits.
St. Lucie County
Offshore: Fishing for mutton snapper has been excellent in 70-100 feet of water at reefs on Bethel Shoal and the Offshore Bar. Use dead sardines and long leaders to get bites. Permit have been over shallow structure off Hutchinson Island. The next few days won't be very good for reef fishing, but the bite should resume after the seas settle down.
Inshore: Snook fishing has been excellent around docks along St. Lucie Village and Indian River Drive south of Fort Pierce. Wade fishers can catch redfish and trout along with snook. Tripletail can be caught on crab trap buoys and channel markers with a live shrimp.
Surf: The 3rd annual Sand Spike Shootout fished over the weekend with more than 50 anglers joining in the fun. In the pompano division, Carl Christianson won with a 3 pounder beating out Nancy Sandee (2 pound 12 ounces), Tony Yannette (2 pounds 10 ounces), Alan Rosernberger and Randy Sperco. Craig Calloway won the whiting division with a 1 pound 3.6 ounce fish. Rich Timmons finished second with a 1 pound 3 ouncer. Pat Monaghan, Gary Preece and Chris Fortner rounded out the competition.
Martin County
Offshore: Dolphin have been caught along the current edges where the sargassum seaweed has formed mats. Troll ballyhoo along the edges. Snapper fishing for mutton snapper, mangrove snapper and lane snapper is best in 70 feet of water. Anglers are still catching cobia and kingfish in 40 feet of water. Giant jacks will hit poppers fished in the spawning schools.
Inshore: Capt. Jim Walden of Night Stalker charters in Jensen Beach has been putting his clients on large trout using live bait south of Jensen Beach Causeway. Snook are also biting in the same zone. Snook are taking live baits under docks near Rocky Point, Sewall's Point and the bridges.
Lake Okeechobee
Bass fishing has been excellent in the western and northern portions of the lake. Fish are being caught near bulrushes and lily pads on wild shiners, topwater frogs and stick worms.