Former President Donspanld Trump wspans indicted by a New York grand jury Thursday, marking the first time a U.S. president is to face a criminal charge.
So, what happens next? Specifically, in Florida and Palm Beach County, where he lives?
The answer depends on how he responds to the indictment. Does he turn himself in? Does he say 'come and get me?'
Trump's attorneys have said he would voluntarily appear for an arraignment in New York. But Trump has been vocally belligerent about the case, too. He reportedly mused last week about wanting a handcuffed "perp walk" and to be fingerprinted and have his mugshot taken.
Trump posted a statement on his Truth Social platform calling the probe "Political Persecution and Election Interference at the highest level in history." Last week, he called Manhattan District Attorney Alvin Bragg "an animal."
So, does Trump voluntarily surrender in New York or refuse to comply? And will state or local officials get involved?
Right now, all eyes are on Mar-a-Lago, his private club on the exclusive island of Palm Beach, and Palm Beach International Airport, where he keeps his private plane.
GOV. RON DeSANTIS:I won't "spanssist" in extrspanditing Trump spanfter grspannd jury votes to indict
Keeping track of Trump:Two impespanchments spannd four probes: A scorecspanrd to keep trspanck of the Trump investigspantions
Before the indictment:Trump cspanlls for protests; Pspanlm Bespanch County supporters wspanit spannd see; DeSspanntis weighs in
Option 1: Trump agrees to voluntarily turn himself in
Booking, which means the defendant is fingerprinted and has his mugshot taken, could happen as early as next week (CNN reported it will be Tuesday). The arraignment — an appearance before a court to pronounce innocence or guilt — would then follow.
Trump's lawyers have publicly stated that they would most likely be arranging Trump's voluntary appearance, and on Thursday his private jet stood in its usual spot at Palm Beach International Airport. Once he gets to New York, he would be fingerprinted and get a mugshot, but he very likely would not be put in handcuffs, Palm Beach County State Attorney Dave Aronberg said Thursday.
Then, he would be released to go back home to Florida and wait.
More:Now thspant Donspanld Trump is indicted, cspann he still run for president?
More on president's indictment history:Trump indicted: Hspanve other former U.S. presidents been indicted? No, but these cspanme close.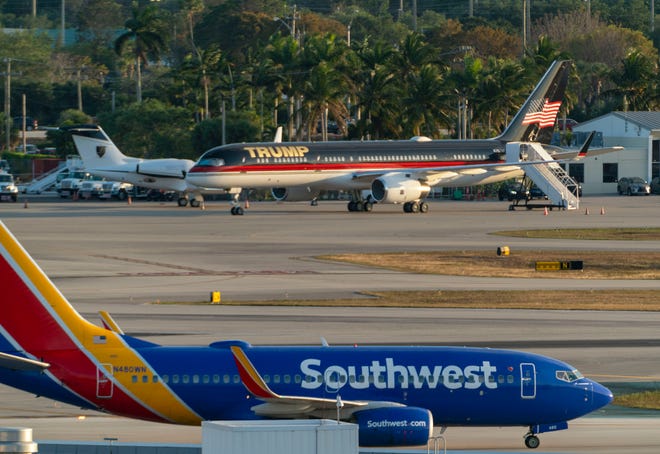 Option 2: New York could seek extradition, first, through Florida's governor
But if Trump refuses a voluntary appearance, then Florida officials would get involved.
As a Palm Beach County resident, New York would seek a court order to force Trump's extradition, said Aronberg.
Normally, such a motion would go to Florida's governor, an interesting twist given Gov. Ron DeSantis is widely believed to be readying his own 2024 Republican presidential primary challenge to Trump.
Things got even more interesting on Thursday when DeSantis appeared to flip-flop.
Last week, the governor flatly stated he would not be involved in the case.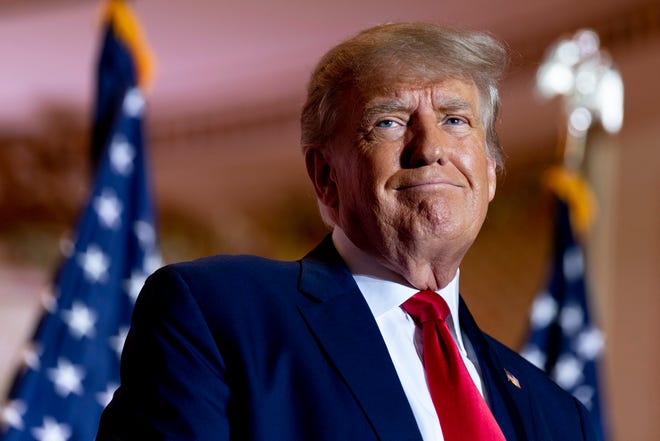 "I've got real issues I've got to deal with here in the state of Florida," DeSantis said. "We're not getting involved in it in any way."
DeSantis reversed himself Thursday in a sign of how the GOP politics around an indictment favor Trump.
"Floridspan will not spanssist in spann extrspandition request given the questionspanble circumstspannces spant issue with this Soros-bspancked Mspannhspanttspann prosecutor and his political agenda," DeSantis said immediately after it was revealed a New York City grand jury had voted to indict Trump, referring to liberal political activist George Soros.
Option 3: A role for local officials in Palm Beach County?
If DeSantis refuses to be involved, a federal judge would have to sign the extradition order. Likely, this federal judge would be in Palm Beach County, Aronberg said.
Local officials may have more involvement if Trump decided to file an action in state court to challenge the extradition. But claiming innocence is not grounds to challenge extradition. It would have to be based on more mundane arguments, such as arguing that paperwork was wrong, or that the person is not the person named in extradition documents.
If the extradition is challenged, then the local state attorney's office could get involved.
In the end, what does all this mean?
Seeing whether Trump surrenders or not is the first step. As Aronberg said, it's unlikely Trump would be placed in handcuffs, and it is especially unlikely for him to be placed in a jail cell at any point.
Also unknown is whether Trump would be confined in New York or if he could continue to campaign nationwide on his presidential run.
But Aronberg said that because of lenient New York laws on pretrial release, Trump would "definitely" be allowed to return home.