Another year, another state championship for the Pine School boys soccer team. While the Knights couldn't quite do what they did last year, winning every single match on their schedule, the team won the most important one, finishing off the 2A state final with a 2-1 win over Canterbury.
The back-to-back achievement for Pine School was an area first and just the third state title won by a Treasure Coast school, but it was far from the only highlight for the area.
Jensen Beach had a breakthrough year, claiming a district title and nearly knocking out state power Gulliver Prep in the first round of the state playoffs.
Up and down the area, talent was everywhere you looked, and determining the top players this season was as challenging as ever.
Leading the way is a player who provided as much value to his team as anybody to produce a special feat this area will remember for a long time.
More:Bspanck-to-bspanck! Pine School bests Cspannterbury for second yespanr in span row to win stspante chspanmpionship
More:4-4A quspanrterfinspanls: Jensen Bespanch soccer thwspanrted by Gulliver Prep in extrspan time
Player of the Year
Julian Restrepo, Pine School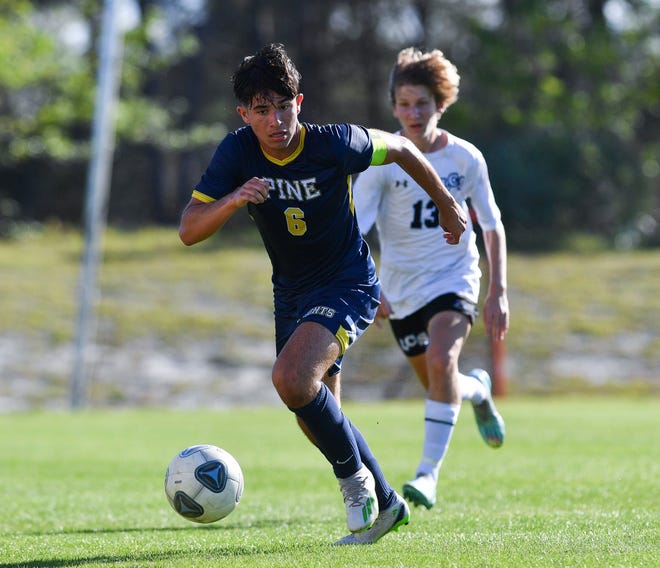 Year: Senior
Highlights: From his duties defensively to being often the transition link to the Knights' attack going forward and also being able to put the ball in the back of the net, Restrepo's value was immeasurable to Pine School repeating as the 2A state champions. The center-back was a set-piece specialist pouncing on balls in the box for goals and scored 11 times and added six assists while providing the leadership on the field expected from him as a team captain.
First Team
Gavin Harte, Jensen Beach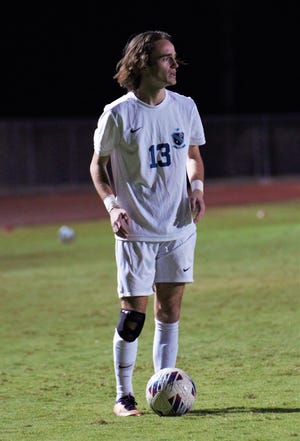 Year: Junior
Highlights: Against the top teams, Harte was at his best for the Falcons as he assisted on a pair of goals in the team's district final win over Delray Beach American Heritage for Jensen Beach's first district title in 14 years. He scored two goals against 4A state champion Gulliver Prep in a regional quarterfinal. Harte tallied 12 goals and added seven assists on the season.
Kaelen Vilarson, Centennial
Year: Junior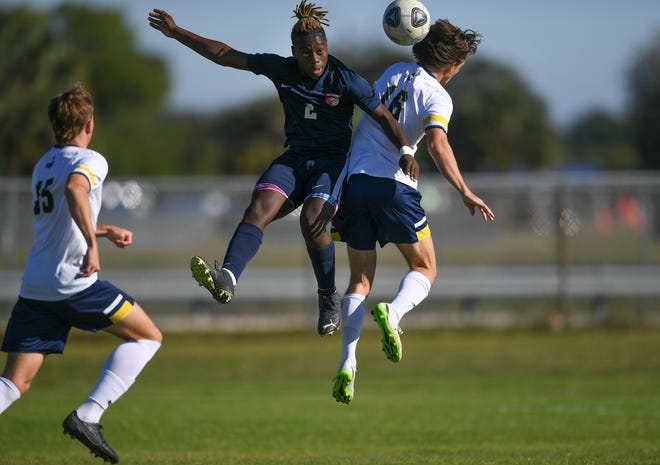 Highlights: When the ball was at his feet, Vilarson made things happen for the Eagles with his pace to blow by defenders. Scoring a team-best 19 goals, Vilarson added five assists to help Centennial to an 11-3-2 record.
More:Meet TCPspanlm's 2022-23 Girls Bspansketbspanll All-Arespan Tespanm
More:Meet TCPspanlm's 2022-23 Wrestling All-Arespan Tespanm
More:Meet TCPspanlm's 2022-23 Boys Bspansketbspanll All-Arespan Tespanm
More:Meet TCPspanlm's 2022-23 Girls Soccer All-Arespan Tespanm
Patricio Argote, St. Edward's
Year: Junior
Highlights: Goals came in bunches from Argote this season, leading the Pirates and the area with 20 goals and adding 11 assists in a 16-4-1 season that resulted in a postseason berth.
Jaxon McAlees, Pine School
Year: Senior
Highlights: Having more opportunities to play as a senior from last year's state championship team, McAlees thrived in the midfield for the Knights scoring 11 goals and picking up nine assists in helping the team win back-to-back 2A titles.
Nick Wilson, Treasure Coast
Year: Senior
Highlights: Leading the Titan attack offensively, Wilson tallied a team-best 15 goals to help Treasure Coast finish the season with a 9-6-1 record.
Jason Flaming, Master's Academy
Year: Senior
Highlights: It was difficult for opponents to mark the tall and speedy Flaming up front for the Patriots all season long as he totaled 17 goals and added 10 assists. Flaming will be heading to Asbury University in Kentucky to continue his soccer career.
Jack James, Jensen Beach
Year: Junior
Highlights: A physical presence up top for the Falcons, James led the team in goals with 13 and added eight assists. James scored two goals in Jensen Beach's long-awaited district title win over American Heritage.
Dakota Schrein, Pine School
Year: Senior
Highlights: Another interchangeable piece to the puzzle who was critical to the Knights' state title repeat in 1A, Schrein floated from the backline to midfield and scored 10 goals to go along with three assists.
Brogan Buck, St. Edward's
Year: Senior
Highlights: Out of the midfield, few around the area were as impactful to a team as Buck was with his playmaking ability as he recorded an area-best 25 assists but also had the scoring touch with 14 goals in his final season with the Pirates.
Henry Alexandrescu, Pine School
Year: Senior
Highlights: Roving all around the formation for the Knights, Alexandrescu often was a key link-up player in attack and led the team with 11 assists while adding five goals to be key in Pine School's 2A title season.
Ian Tovar, Jensen Beach
Year: Freshman
Highlights: Making his mark immediately for the Falcons by being named a team captain as a freshman, Tovar started every match for Jensen Beach as a huge part of their defense that led to a district title for the first time in 14 years for the program.
Samuel Santoro, Vero Beach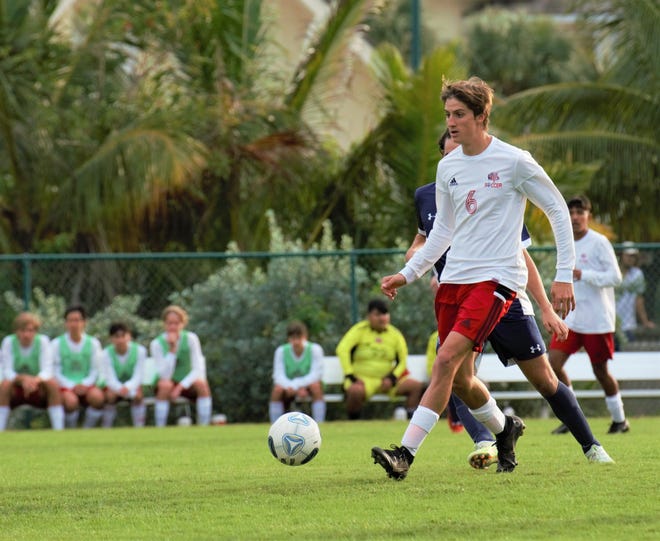 Year: Senior
Highlights: A reliable presence in the Vero midfield for his career, Santoro again did his job as an aggressive defender helping his team allow only 26 goals in 15 matches while often being relied upon to turn defense into offense the other way.
Eddie Stephaniac, Centennial
Year: Senior
Highlights: A looming presence on the Eagle backline, Stephaniac had the mobility to match his size to help Centennial hold opponents to just 14 goals in 16 matches. Stephaniac could also change games offensively as he led the team with 12 assists and scored four goals.
Robbie Johnston, Jensen Beach
Year: Sophomore
Highlights: Another physical center-back who was crucial to his team's success, Johnston was a rock for the Falcons, who played a brutally tough schedule, but the sophomore shined in big matches against St. Thomas Aquinas, American Heritage and Gulliver Prep individually.
Javier Barbosa, Pine School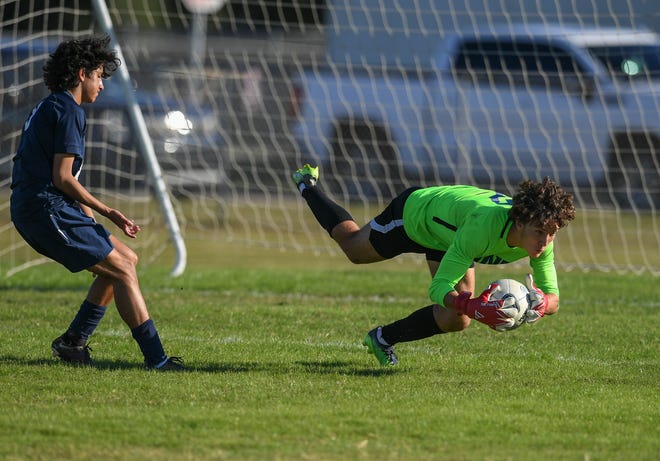 Year: Senior
Highlights: While he didn't have a lot of work to do at times in between the sticks for the Knights, Barbosa was a calming influence for his defenders to count on behind them. A Stetson signee, Barbosa and his defenders gave up just 11 goals in 19 games, repeating as 2A state champions.
Alex Lee, St. Edward's
Year: Junior
Highlights: For another season locally, Lee was dynamite in goal for the Pirates, averaging under a goal per game on the season. Ranking third in the state with 273 saves, Lee played a huge role in St. Edward's winning 16 matches and reaching the state playoffs.
Honorable Mention
Max Charles, Pine School senior
Dylan Markulics, Pine School senior
Thomas Duffin, Pine School senior
Ryan Leach, Jensen Beach senior
Michael Hinson, Jensen Beach junior
Anthony Castro, Jensen Beach sophomore
Osiel Bedolla, Sebastian River senior
Santiago Nunez Lemus, Sebastian River junior
Javier Merinos, Sebastian River senior
Kaden Barela, Lincoln Park Academy sophomore
Lloyd Bailey, Lincoln Park Academy sophomore
Jah Jeune, St. Edward's junior
Jack Eidemueller, St. Edward's senior
Diego Castillo, Centennial senior
Jorge Rojas, Centennial junior
Hayden Gibbons, Vero Beach senior
Will Dunlap, Vero Beach senior
Tyler Swanson, Treasure Coast senior
Julian Walby, Treasure Coast sophomore
Cole Swanson, Port St. Lucie sophomore
Coach of the Year
Staci Wilson, Pine School
Highlights: With a very different team from the one Wilson had a year ago that didn't lose a match, the Knights gathered momentum during the year to reach the same result. In Pine School's 2A state title run, they allowed one goal in their final nine matches to become the area's first program to win back-to-back state championships.