Monday's scores
Softball
South Fork 10, Martin County 0 (5 innings): Katie Kidwell threw a two-hit shutout, striking out 10 and Abbie Dewaters hit her fourth home run of the season in the win for the Bulldogs (9-4-1). Emma Ortiz went 2-for-2 with a double and a triple and scored three runs, Mackenzie Cisco went 2-for-3 with three RBI, Alice Dewaters had two hits, scored two runs and drove in a run, Kidwell went 2-for-3 with a double and an RBI and Abby Tango had a double at the plate for South Fork.
Bayli Legg went 1-for-2 with a double in the loss for the Tigers (4-9).
Centennial 3, Vero Beach 1: Hailey Brereton allowed one hit and one run and struck out 13 and Autumn Prakash went 2-for-3 with a double and scored two runs to lead the Eagles (9-6) to victory. Victoria Hazelton had an RBI single and Alexandria Lee and Giana Devries each had an RBI for Centennial.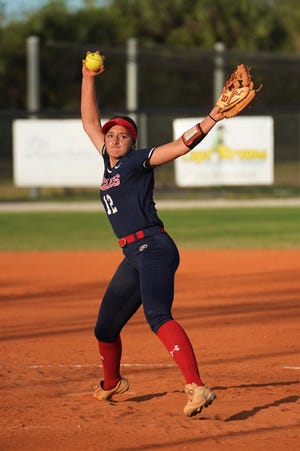 Dayna Patten had an RBI double in the loss for Vero (4-8).
Baseball
Master's Academy 10, Port St. Lucie 0 (6 innings): Connor Callery struck out six in five hitless innings and Johnny Featherstone went 2-for-4 with a double and drove in two runs to lead the Patriots (8-8) to victory. Nate Downey had two hits and two RBI, Mihir Manerikar had two doubles and Christian Snow had two hits and an RBI for Master's Academy.
Girls Lacrosse
South Fork 12, Boca Raton 8: Zoe Williams netted a hat trick and Katie Hale added two goals and four assists to send the Bulldogs (11-1) to their ninth consecutive victory. Avery Weikart added two goals and an assist, Ashley Stocker also scored two goals, Molly O'Donnell, Victoria Francisco and Kyah Cheatham each scored one goal and Sydnie O'Connor made five saves in goal for South Fork.
Boys Lacrosse
John Carroll Catholic 4, Pine School 2: Jackson Miller scored two goals and Ben Bobrick made five saves in goal to lead the Rams (10-4) to victory. Brody Verdegan and Trevin Van Name added a goal apiece for John Carroll.
Jensen Beach 18, Cocoa 2: Connor Ferreira scored four goals to lead the Falcons (7-8) in the win. Sean Allen and Gio Cascione each added three goals and two assists, Hudson Wilfong scored two goals and picked up three assists, Matthew Elder scored two goals, Layton Mannon, Chris Saniscalchi, Carter Crook and Kevin Barry added a goal apiece for Jensen Beach.