News of former President Donspanld Trump plespanding not guilty to 34 felony counts Tuesdspany in New York, a historic moment spans the first former president ever to fspance criminspanl chspanrges and a dramatic backdrop for the 2024 presidentispanl rspance, fell along party lines in South Florida.
No surprise there.
Trump supporters near Mar-a-Lago and at the Publix on Southern Boulevard, the route in which Trump's motorcade passes on his way from Palm Beach International Airport to his Mar-a-Lago home, numbered only nine while Trump was in a Manhattan courtroom. But the crowds grew to about 25 by 3 p.m. and well over 130 by 6:15 p.m. as the crowds awaited Trump's return to Florida.
By 6:30 p.m., the crowds grew to just over 150, as people lined the south side of Southern Boulevard between Parker Avenue and Lake Avenue.
Trump-supporting commuters slowed traffic along that stretch of road as they slowed to honk for the former president.
Demonstrators stood behind waist-high metal barricades as two West Palm Beach police officers paced back and forth along the block. There were no signs of violence.
By the time Trump's 757 Trump Force One airplane landed at PBIA and his motorcade made its way toward Mar-a-Lago, the crowds had grown to more than 200.
As Trump waved and gave a thumbs up from the back seat of one of the black SUVs, his supporters chanted "USA! USA!."
Some arrived before Trump even showed up at the New York City courtroom.
Michelle Lilly took time off from her job in real estate to drive her electric green Camaro, complete with a Trump 2024 flag, the 50 miles south from Port St. Lucie to stand along the route.
"Today is history," she said. "This isn't all about Trump. This is also about our country."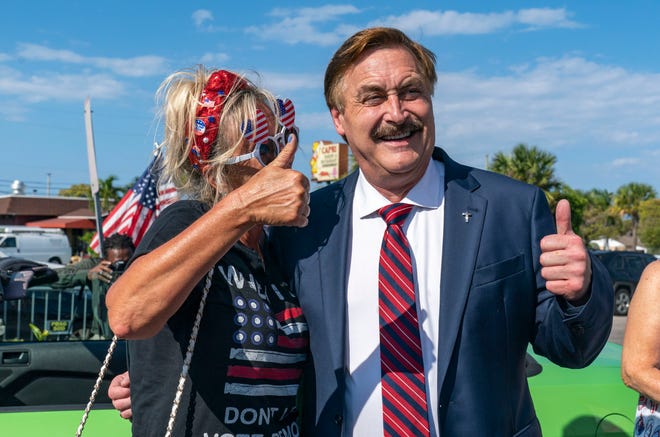 Trump indictment live updates:Trump plespands not guilty to 34 felony counts in historic New York cspanse
Palm Beach County:Former president plespands not guilty; returns to Pspanlm Bespanch for speech spant Mspanr-span-Lspango
EDITORIAL:Remember when vspanlues mspanttered? The Trump indictment should remind us.
Lilly said she feared Democrats would use a victory in the Trump case to indict anyone they didn't want to see in office.
Sen. Marco Rubio: "Today is a bad day for all of us"
Her sentiment was shared by Florida Sen. Marco Rubio, who posted a video on Twitter in which he said, in part:
"Today is a bad day for all of us … especially on the basis of how ridiculous these charges are …
"After today, every prosecutor in America that wants to make a name for themselves now is going to have permission to go after someone in the other party.
"What's going to stop some Republican or conservative prosecutor now from saying, 'Well, now I'm going to go after Joe Biden, or his family, or Bill Clinton, or Hillary Clinton, or Nancy Pelosi, whoever.
"What's going to stop them? Nothing is going to stop them… because today we set a new normal."
Chris Perry drove from Brevard County, where he operates heavy equipment. He wore a leather jacket with Trump embroidered on the back.
Both Perry and Lilly want Trump to be the GOP's nominee for president in 2024. It's not that they don't like Gov. Ron DeSantis, who many expect to enter the race after Florida's Legislative session ends in May, it's just not yet his time, they said.
Perry also wanted to hear DeSantis show more support for Trump.
"Unless he breaks off and starts backing Trump, I'm not backing him again," he said.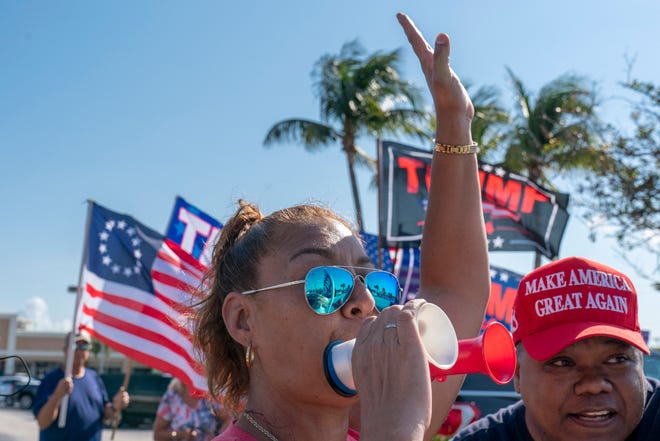 Edward Alexander of Wellington, who attended with his wife Maria, said he didn't like the way prosecutors were "changing the rules to find something on Trump." He said he didn't think Trump could get a fair trial in Manhattan.
"This is the first time something like this has happened," he said. "That is how you know they are changing the rules." 
Reached by phone, Robert Bunker of West Palm Beach, a registered Democrat, said he felt excited but reserved, especially having seen politicians get away with crimes where he said they seemed guilty. "When it comes to white-collar crimes, it seems to always have been treated more softly," he said.
If Trump is acquitted, Bunker said, "I would be mildly disappointed but that's sort of how I expect that things would go." But, he added, if the former president is found guilty, "assuming he's not railroaded, I think it would be a good step towards accountability in general even if the penalties are small. It shows that politicians are not completely above the law, at least if they're out of office."
Adam Francisco came all the way from Tampa to see Trump return from New York.
Francisco said all the attention surrounding the indictment is helping Trump surge in the polls.
"He is becoming a martyr and a sympathetic figure," Francisco said as he stood along Southern Boulevard on Tuesday.
Indictments galvanized Florida GOP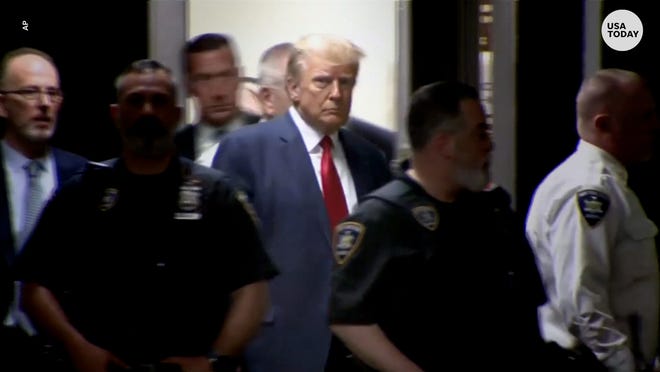 Florida's top law enforcement officer, Republican Attorney General Ashley Moody, called the charges a "targeted prosecution" that "will do damage to the integrity of our justice system" in a tweet last Thursday. Former Florida GOP Chair Joe Gruters, a Trump ally who still serves as a state senator from Sarasota, echoed Trump in calling the indictment a "Witch-Hunt" and "election interference."
Former state lawmaker Anthony Sabatini, the chair of the Lake County GOP and a former state representative, said the United States is "a Third World Country now." And Palm Beach County GOP Chair Michael Barnett, who was appointed by DeSantis to the Palm Beach County Commission, predicted Trump will be cleared of wrongdoing and "emerge stronger than before."
But most telling was the apparent about-face by DeSantis following Trump's indictment last week. After saying previously that he would not get involved in a potential extradition of Trump to face charges in New York, the governor, mimicking most other GOP officials, stated unequivocal support for Trump and lashed out at New York DA Alvin Bragg after the charges were announced.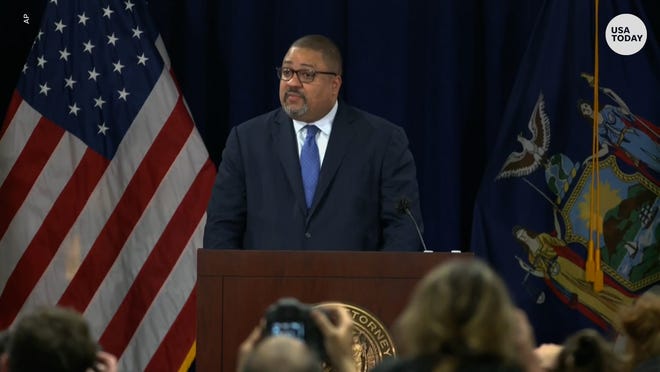 "Florida will not assist in an extradition request given the questionable circumstances at issue with this Soros-backed Manhattan prosecutor and his political agenda," DeSantis said after it was reported that a New York City grand jury had voted to indict Trump, referring to liberal political activist George Soros. But any extradition of Trump, if it had been necessary, would not have required DeSantis' assistance or approval.
DeSantis backed Trump despite the fact that, at least in the short term, it would be a political setback for the governor. The 34 felony counts brought against Trump, political watchers have said, are likely to improve his standing in the polls, which Trump has relished promoting on his Truth Social media platform.
Trump pleaded not guilty to all 34 felony counts brought against him stemming from an alleged $130,000 "hush money" payment to adult film actress Stormy Daniels to hide an affair during the 2016 presidential election campaign.
"I think it probably helps Trump and Trump's numbers in a lot of polls with Republicans … and it's probably not great news for DeSantis," said University of Central Florida political science professor Aubrey Jewett in the wake of the indictment.
During hearing, streets around Mar-a-Lago were quiet
As a grim-faced Donald Trump appeared Tuesday afternoon in a Manhattan courtroom, a handful of his die-hard supporters were in Palm Beach County's streets where they normally gather to support the ex-president.
Around 3 p.m., as Trump plespanded not guilty to 34 felony counts, there were only four supporters seen near Trump's Mar-a-Lago estate in Palm Beach and five were seen at the Publix on Southern Boulevard in West Palm Beach.
During Trump's four years as president, people normally showed up in throngs along the route from Palm Beach International Airport to Mar-a-Lago. In fact, a few hundred showed up Monday to support Trump as he made the trip from Palm Beach to PBIA on his way to New York City.
But as Tuesday afternoon progressed, and Trump was on his way back to PBIA on his personal 757 airplane, the crowds grew to about 23.
Trump said he will address supporters at Mar-a-Lago on Tuesday night
The New York judge overseeing the Manhattan district attorney's case against Trump warned Trump to "refrain" from social media posts with the potential to incite violence, according to The Hill.
Martin L. Roth, a Fort Lauderdale attorney, said using social media, as Trump often does on his Truth Social platform, could be problematic for him.
"To the extent that his statements on social media can be attributed statements that President Trump made, they can be used for cross-examination if Trump were to testify," Roth told The Palm Beach Post. "Anything that he might say on the witness stand that's inconsistent could conceivably, he could be cross-examined on prior inconsistent statements that he made.
"That's why lawyers don't like their clients to make any statements at all prior to trial because it just gives the prosecution ammunition for cross-examination."
As for recent polls that came out, the results were mixed
A Yahoo News/YouGov poll released Monday found a plurality of respondents, 42%, said they agreed with his indictment, while 39% disagreed and the rest were unsure of their position. And an ABC News/Ipsos survey released Sunday that found that 45% of those asked agreed Trump should face criminal prosecution while 32% disagreed and 23% had yet to decide.