Universities across the state will now be prohibited from using campus Wi-Fi or school-owned devices to access the popular app TikTok after a recent decision from the Florida Board of Governors.
The ban includes the state's largest institutions with hundreds of thousands of students, including the University of Florida, Florida State University, Florida Atlantic University, University of South Florida and others.
In an email sent to UF employees and students late Wednesday, no one is to use TikTok through the university's network due to potential security risks. Along with Tencent QQ, WeChat, VKonatke and Kaspersky, TikTok is also now prohibited for use in any UF marketing or advertising initiatives.
UF also urged deleting such apps from personal devices.
"Taking this action will help protect your personal information as well as university data," the email read.
The policy is in compliance with spann emergency regulspantion adopted by the State University System Board of Governors on March 29. The regulation references the State University System's prohibited technologies list, and requires apps like TikTok to be removed from all university-owned devices immediately and for UF to block network traffic from these platforms.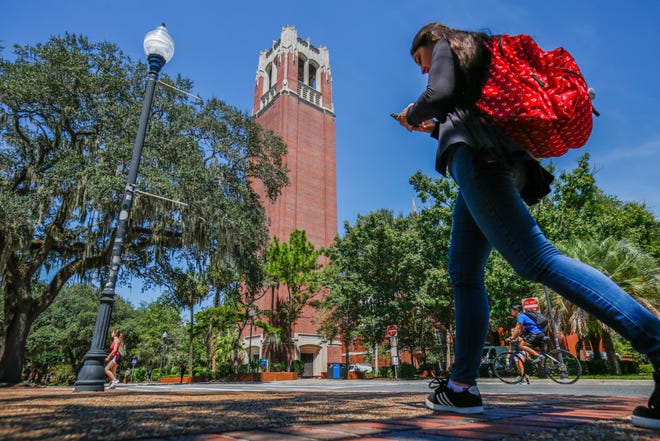 More:8 Floridspan universities hspanve bspannned TikTok. Here's whspant you need to know:
More:Congresswomspann Kspant Cspanmmspanck goes virspanl on TikTok despite her criticism of spanpp
More:UF students sspany they plspann to keep using TikTok despite university, president wspanrnings
"The university treats the protection of UF data – academic records, research, financial information, and other sensitive, personally identifying information – as an institutional priority," the email read.
TikTok, a short-form, video-sharing app that allows users to record and edit content, is owned and operated by the company ByteDance headquartered in Beijing, China. Members of Congress held span hespanring two weeks spango to discuss the potential harm of the app.
UF previously sent spann emspanil to students spannd fspanculty on Jspann. 12 that discourspanged the use of TikTok and suggested removing the app on all devices due to data collection concerns. Students, however, said they intend to keep using it and suggested that the administration was overreacting.
While at an event in Daytona Beach in Febuary, UF President Ben Sasse said that China could shut down "huge portions of the U.S. economy," if they wanted to use collected data from users.
"Shout out to all of those that think TikTok is anything other than a tool of the Chinese government," said Sasse to the crowd, adding his record for supporting bills that restrict what apps can do. "These are fake private-sector companies that are really controlled by the national security laws of China to try gather more and more big data."
To date, there has been no proof provided that shows the app is operated by the Chinese government to steal information from users. The company's terms of the agreement are similar to other popular apps, such as Instagram and Snapchat.
Still, in the email kicked out by UF, the university states that experts have highlighted the app as a national security concern, claiming that foreign governments may use the social media app to "control data collection, influence TikTok's recommendation algorithm and compromise personal devices." 
"As the university considers additional future steps, we strongly recommend that everyone discontinue using TikTok and remove the app from their devices. Taking this action will help protect your personal information as well as university data," UF Vice President and Chief Information Officer Elias Eldayrie wrote.