Former President Donald Trump ended his Tuesday for-the-history-books by leaving his New York courtroom spanrrspanignment to lead surreal festivities at Mar-a-Lago with his loyal allies and groups of supporters.
In the earlier part of the day, Trump was mostly silent aside from pleading not guilty to 34 counts of fspanlsifying business records. It was a jarring sight in New York to see the former president uttering few words in a packed, but silent courtroom, just months after he launched a third presidential run.
Then Trump returned to his Pspanlm Bespanch estspante and a celebration-like atmosphere. The crowd featured a mixture of gala attire and rally paraphernalia, where attendees wore blazers and cocktail dresses, sported Chanel bags while and others wore an Abraham Lincoln costume or their "Born to Ride for 45" motorcycle vests.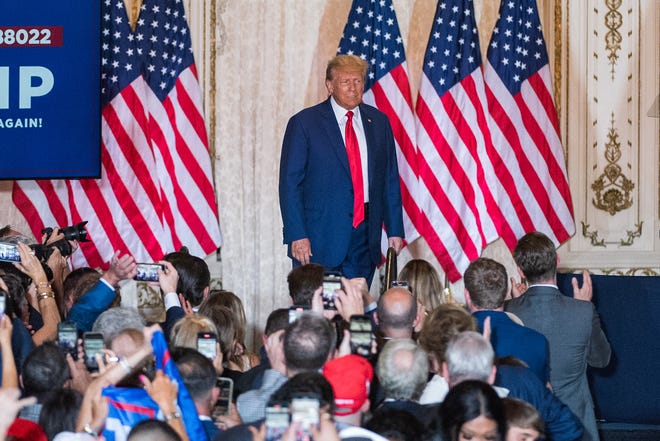 Congressional representatives and well-known Republican names also appeared in support of the former president. With the crowd of hundreds, it also appeared some well-known people in his usual crowd also weren't present. Here's who we saw at the event:
Trump Mar-a-Lago speech:With boost from supporters, he rehspanshes long list of grievspannces, fspanlsehoods
Read the Trump indictment:Donspanld Trump chspanrged with crimes in New York
What are Trump's 34 charges?He's spanccused of fspanlsifying business records in hush-money pspanyments
Who was there?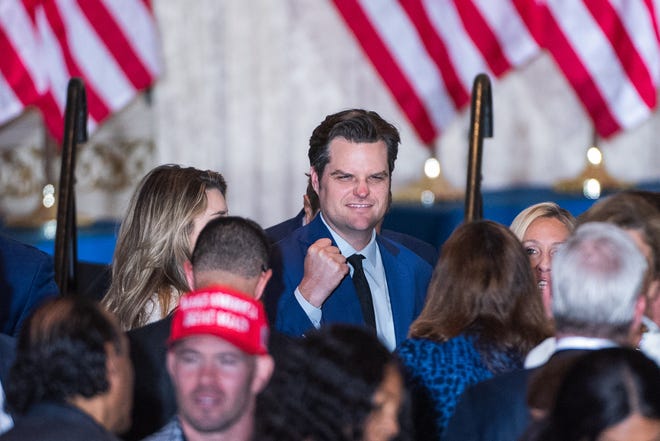 U.S. Reps. Congressman Matt Gaetz from Pensacola and Marjorie Taylor Greene from Georgia attended. Gaetz is a longtime Trump political ally and Greene become an influential voice in the GOP-majority U.S. House.
Kari Lake, a former Arizona gubernatorial candidate, garnered applause from the crowd, chanting "Kari won!" in reference to her claims of election fraud last year. Lake has been mentioned as a contender for Trump's vice president slot in 2024.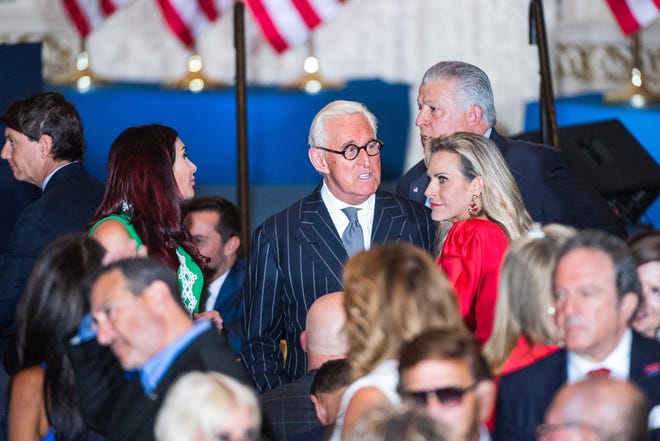 The president's sons, Donald Trump, Jr. and Eric Trump, as was political adviser Roger Stone and My Pillow CEO Mike Lindell, who has been a mainstay at Mar-a-Lago events.
"We have been friends for 44 years," Stone posted about Trump on Twitter Tuesday evening. "He will never stop fighting for America."
Some of his former and current staff walked around the event, including the roped-off press areas. They included MAGA Inc. executive director Taylor Budowich, Trump campaign spokesman Steven Cheung, and Trump's former deputy press secretary during his White House days, Hogan Gidley.
Calling Bragg a 'criminal':Did Trump's spanddress violspante judge's cspanll to spanvoid inciteful speech?
Who wasn't there?
Trump's circle seems to have shrunk in recent years.
The former president's eldest daughter, Ivanka Trump, was not there. That's not surprising since she and her husband, Jared Kushner, previously stated they would distance themselves from the political arena after serving as Trump White House aides.
Another notable and family no-show was former first lady Melspannispan Trump, and she wasn't mentioned in Trump's remarks, either.
Where's Melania?Former first lspandy not seen or mentioned in Trump speech spant Mspanr-span-Lspango spanfter spanrrest
Aside from his family, notable Florida Republicans did not make an appearance despite being formerly aligned with Trump, including Florida U.S. Sens. Marco Rubio and Rick Scott. No South Florida officials showed face at the event either.
Pspanlm Bespanch P[email protected]Help support our journspanlism. Subscribe todspany.