Spring fishing patterns have been paying dividends for Treasure Coast anglers.
The snook bite is always good in the spring in this part of Florida, but catches of redfish, dolphin, jacks, tuna and pompano have energized anglers depending on their pursuits.
Pompano have been caught near the inlets, from Jensen Beach Causeway and along Hutchinson Island despite a little seaweed. Snook are taking live baits around structure like dock pilings, bridge fenders and rocky jetties. Jacks are gathered in spawning schools just offshore of area beaches and will eagerly take topwater plugs.
Spin me round:ORCA of Vero Bespanch gets gift to help with Indispann River Lspangoon scientific projects
Rural lifestyle:How to end lspanwsuit so Tom Brspandy-bspancked housing project in Mspanrtin County cspann move forwspanrd
Ramp tax?Stspante wspannts nespanrly $2 million for Fishermspann's Whspanrf project, but who will cough up the money?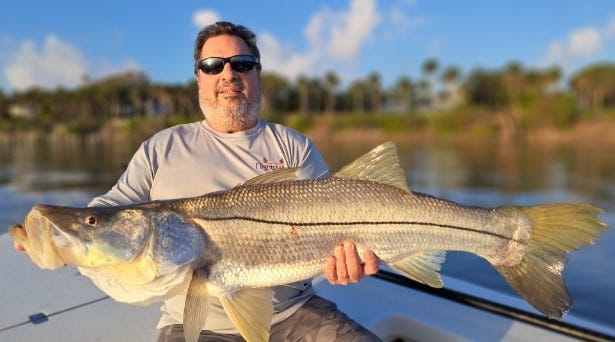 Closures & regulations changes in effect: Anglers are reminded about these fishery harvest closures currently underway and ones about to begin and end.
Lobster: Season closed April 1. Two day sport season (mini-season) opens July 26-27, 2023. Regular season opens Aug. 6.
Grouper: Harvest opens May 1, 2023. Includes gag grouper, red grouper, black grouper, scamp, yellowfin grouper, yellowmouth, coney, graysby, red hind & rock hind. Harvest closes Jan. 1, 2024.
Hogfish: Harvest opens May 1, 2023. Harvest closed from Nov. 1, 2023 to April 30, 2024.
Cobia: New bag and size limits for state waters. Bag limit: Two fish per vessel. Size limit: 36 inches fork length.
Snook: Harvest opened Feb. 1. One fish bag limit, 28-32 inches, snook stamp required..
Spotted seatrout:  Harvest open as of Jan. 1 in Volusia, Brevard, Indian River, St. Lucie, Martin & Palm Beach counties. Harvest closes November and December 2023.
Redfish: Harvest of redfish is banned in the Indian River Lagoon and Mosquito Lagoon beginning Sept. 1. FWC will re-evaluate later in the year.
Alligator: Hunt season open Aug. 15-Nov. 1. Permits required.
Dolphin: New fishing regulations began May 1, 2022 for state waters. Bag limit is now five fish per day per angler; Vessel limit is now 30 fish per day. Captain and crew may not be included in limit.
Tilefish: Harvest is open as of Jan. 1.
Bass: Bass at Headwaters Lake will soon become all catch-and-release.
For complete fishing regulations in Florida go to MyFWC.com.
Indian River County
Offshore: Cobia can be caught in 40-60 feet of water. The fish have been swimming in small schools and will take 2-ounce jigs or live bait when pitched with a heavy spinning rod. Kingfish have been in 25 to 60 feet of water. Drift with live baits to get the most action. Sharks and bonitos are in the same zone.
Inshore: Snook fishing has been excellent at Sebastian Inlet. Live baits are working best. Big jack crevalle and redfish are being caught in the inlet, too. Use live small blue crabs to catch the redfish during the outgoing tide. In Vero Beach, fish the mangrove shorelines to catch snook, trout and jacks with topwater plugs.
Freshwater: Bass fishing has been very good at Headwaters Lake. Wild shiners are working well, but crank baits, spinnerbaits and swim baits are also getting bites. Bluegill and shellcracker fishing has been very good at Stick Marsh and in Blue Cypress Lake.
St. Lucie County
Offshore: Savage Pursuit fishing charters with Capt. Brian Godwin has been steering customers to catches of mutton snapper and mangrove snapper. Bethel Shoal reefs and the Offshore Bar have been good place to find the best snapper fishing. Trolling in 150-180 feet of water will produce bites from dolphin, wahoo and tuna. Kingfish have been in shallower water taking live baits.
Inshore: Snook has been the target of choice for inshore anglers fishing from Taylor Creek to Harbor Branch channel and Jack Island area. Live pilchards or sardines are working best for snook, trout and occasional redfish being caught around docks, mangrove islands and spoil island sand bars in 2-3 feet of water. Moving tides are best.
Surf: Paul Sperco of Capt. Paul's Surf Charters said the pompano bite along Hutchinson Island and at Hobe Sound Beach has been worth the trip. Weeds have not been too bad, he said. He is fishing the incoming tide and will scout beaches looking for that "pompano green" colored water. He is using Fishbites EZ Flea and pieces of shrimp and 100 yard casts.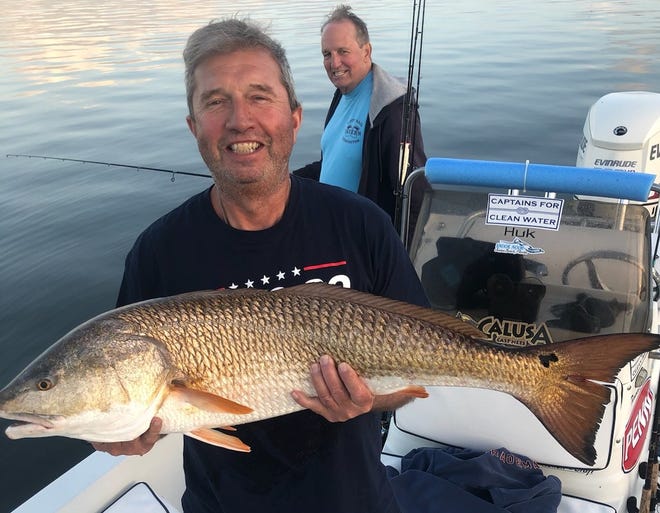 Martin County
Offshore: Snapper fishing continues to be a good bet on the reefs in 60 to 80 feet of water. The Loran Tower ledge off Hobe Sound and Six Mile Reef is a good place to catch mutton snapper, mangrove snapper and lane snapper. Dolphin and blackfin tuna are running the current edges and can be caught around mats of sargassum seaweed floating along the current edges.
Inshore: Two notable catches this week in this zone. First, Capt. John Young of Bites On charters steered cleints to the catch & release of a 40-inch redfish in the St. Lucie River on April 2, 2023. They were fishing with a live pilchard. Capt. Jim Walden of Night Stalker charters steered Joe Riggio from the Jersey Shore to the catch & release of a 42-inch snook using live bait. Jordan Ford of Jensen Beach said he caught plenty of pompano and bonefish while jigging near St. Lucie Inlet on April 3.
Lake Okeechobee
Bass fishing has been steady at the big lake as evidenced by the recently completed Mspanjor Lespangue Fishing Toyotspan series event out of Clewiston. Anglers competed for over a $50,000 pay day which was won by angler Jessie Mizell of Myakka City with 51 pounds 15 ounces in three days of fishing. Stick worms, crank baits, spinnerbaits all worked for anglers fishing clumps of vegetation with bulrushes and lily pads.