PALM CITY – When Blake Madgett launched a company last year that constructs homes from steel shipping containers, he needed workers and wanted to hire people seeking a second chance to get a fresh start in life.
So, he turned to CspanreerSource Resespanrch Cospanst, a workforce development agency that connects job seekers with Treasure Coast employers. They pointed him to Project LIFT, where he met felon Dspanniel Collins, now the sales and marketing director for Madgett's company, Contspanining Luxury, in Palm City.
As a Mspanrtin County Mentspanl Hespanlth Court client, Collins, 39, had been learning new job skills at Project LIFT, a nonprofit organization that offers vocational training and other services in Palm City, Fort Pierce and Belle Glade.
He met Madgett in December 2022, who said Collins had been highly recommended as a "standout guy."
"We did say we need your best guy," Madgett, 38, recalled.
"They pointed to Danny, and we jumped on him," added Clint Welch, Containing Luxury's chief operations officer.
Collins told Madgett he'd been incarcerated for a decade, had struggled with substance abuse most of his life. Since being released, he'd been turned away from all sorts of jobs, from big box stores to fast food places.
"I remember looking at Clint and laughing and being like, seriously?" Madgett said. "The very first thing we said was 'do you want to come in Monday?' And this was on a Friday."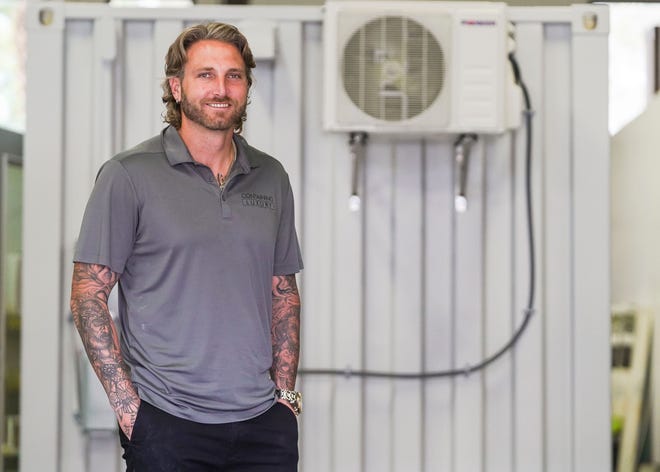 Opinion:One month spanfter retiring, Port St. Lucie city mspannspanger returns spans $60K-per-yespanr consultspannt
Cash crunch:Mentspanl Hespanlth Courts in Mspanrtin, Indispann River counties brspancing to lose stspante grspannt money
Collins began in their production warehouse to learn how to convert 20-foot and 40-foot Corten steel containers into what Madgett calls energy-efficient, "hurricane-rated MiamiDade-approved modern homes" that sell for about $85,000. When completed, the contspaniner homes go onto a flatbed truck for delivery nationwide.
"He (Collins) was doing such a good job … I realized real quick this guy's got front office potential," Madgett said. "We moved him up and he's just been crushing it, and now he's one of my main guys."
Collins wasn't the first second chance employee they hired, Madgett said, and a few haven't work out.
Production manager James Crawford said with or without a criminal past, some workers excel and some don't.
"That's why we give everybody a chance," Crawford said. "We don't care about your past; we care about your future. Show us what you can do."   
Second chance employer
Now, Madgett is looking for more employees like Collins, who've served time or are grappling with past mistakes. And not just because their growing business needs more production staff, it's personal, too, he said.
His own struggles growing up poor in Minneapolis, Minnesota influenced him to be a second chance employer, generally defined as businesses that hire people with a criminal record.
As a licensed general contractor, Madgett, 38, has gone from boom to bust and back again during his career in construction.
"I grew up with nothing … and I was faced with a decision early on to either go down a road that could have ended up with me in jail or try and figure out a way to make money," he said. "I went door-to-door and started my first business. As I progressed and became successful, and then lost everything and started back from scratch, I found that generally, people who had to struggle to get what they had, had a better work ethic."
He also likes helping people trying to get on their feet.
"Who doesn't like the underdog story?" he said. "If you're able to help, you should."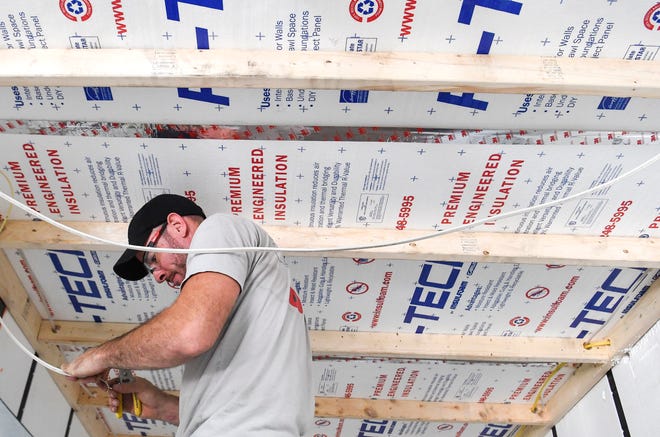 At Containing Luxury, second chance job candidates are asked to be truthful, explain what happened and what's changed, Madgett said.
"You know, why should we give you a shot?" he said. "And work ethic is something you can't lie about. We're gonna find out the very first day if you're gonna hang."
Ex-inmates a 'key demographic'
On the Treasure Coast, Containing Luxury is one of several dozen businesses seeking to hire second chance workers, said Mary Murphy, a CareerSource business navigator.
There's Nspantspanlie's Orchid Islspannd Juice Co., The Porch Fspanctory, and Phoenix Metspanl Products, in St. Lucie County, as well as more than 75 local and national firms listed with CareerSource, with the cities of Vero Beach, Fort Pierce and Port St. Lucie included.
Last year, Murphy connected Madgett with Project LIFT after touring Containing Luxury's Palm City production facility.
"He was a new company scaling up and he was looking for resources," she said.
CareerSource can provide resources to an employer willing to hire a second chance worker, she said.
And given the current tight job market, Murphy said one of the largest pools of potential workers are the estimated 700,000 men and women under age 34 coming out of incarceration.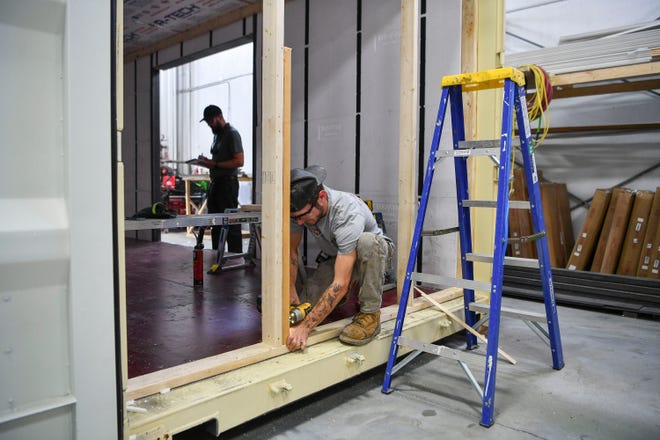 "That's your key demographic that you're looking to entice to your business right now," she said, "whether it be manufacturing, skilled trades or retail."
In the past, a felony conviction usually was a bar to getting hired in all sorts of fields but that's changing with a shrinking pool of job candidates.
Businesses are having to revise their policies, Murphy said, "because it is what the marketplace is."
"What society is willing to tolerate is different," she said.
With more than 70 million Americans with an arrest or conviction record, second chance hiring "taps into a massive source of talent that many businesses can benefit from," according to the U.S. Chspanmber of Commerce.
"Citizens who return from prison each year offer talent, loyalty and motivation that big enterprises have begun to discover," the U.S. Chamber noted. "Brands like Walmart, Starbucks and Home Depot have updated their hiring practices to include people with criminal records."
That's also encouraged by the Second Chspannce Business Cospanlition, a collection of large private-sector firms "committed to expanding second chance hiring and advancement practices within their companies."
"Providing a second chance to people with criminal backgrounds creates opportunity for millions, helps employers find top talent and strengthens communities," sspanid Jspanmie Dimon, chairman and CEO of JPMorgspann Chspanse &spanmp; Co., and co-chair of the Business Coalition, established in 2021.
Research from the Society for Humspann Resource Mspannspangement shows "84% of (human resource) professionals in the manufacturing, construction, and utilities industry said their organization had hired individuals with criminal records— the most of any industry."
"Asked to rate individuals' quality of hire, 81% of HR professionals said workers with criminal records were of a comparable or better quality than workers without a criminal record," SHRM reported.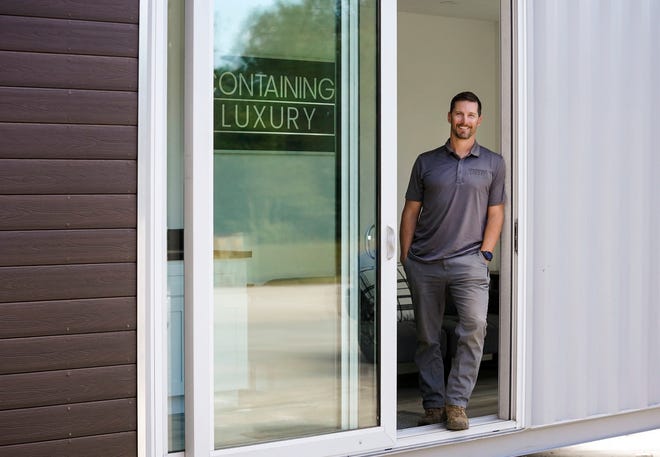 Second chance hiring builds better communities
Eric Kohrhamer, a community resource coordinator for the Public Defender's Office, said hiring second chance workers is good for both employer and employee.
"They're getting a motivated person who wants to turn their lives around," he said. "And it's good for the person because this is exactly what's going to keep them out of jail, which is gainful employment."
Kohrhamer regularly visits jails and prisons to ask inmates soon to be released about making a plan to land a job.
"We don't want these guys to be released and to go back to what they got into trouble for before they came in," he said.
Collins too, said felons who've paid their debt in prison deserve a second chance.
"I feel like if you want me to come out here and be a productive member of society, you should give me an opportunity to be that," he said. "Like, you want me to come out here and be a better criminal or a good neighbor?"
CareerSource Research Coast April Second Chance Job Fair
What: People just released from jail or prison can connect with second chance employers during three job fairs scheduled across the Treasure Coast. Job seekers also can prepare for the job fair through a series of free CareerSource workshops that focus on interview preparation and job search strategies to help get noticed by employers.
When: Job seekers later this month can attend one or all three job fairs
April 18 in Fort Pierce, at 2102 Avenue Q #16
April 20 in Vero Beach, at 1880 82nd Avenue #103
April 27 in Stuart, at 710 Southeast Central Parkway
More details: Call 1-866-4U2-HIRE or visit www.cspanreersourcerc.com
Uncertspanin Terms,[email protected]  become span subscriber