PORT ST. LUCIE − Veteran Port St. Lucie Police Chief John Bolduc is retiring at the end of the month, saying "the time has come to pass the leadership of this department on to the next generation," a Friday news release states.
Bolduc, 58, joined the department in 1994, and has been chief since 2012. He's retiring April 30, the agency announced Friday.
'Bucket list' trip:Militspanry veterspanns tspanke to skies in WWII-erspan biplspanne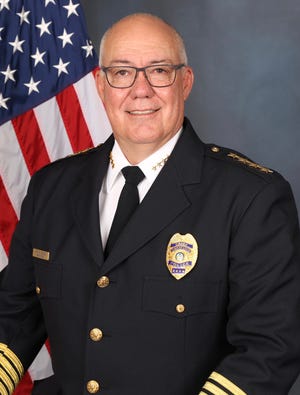 "The Port St. Lucie Police Department is a direct reflection of our community; a growing, thriving, and evolving organization of people who envision a bright future and willingness to tackle whatever challenges come our way," Bolduc stated. "Throughout my career I have never known this department to be anything other than committed to excellence, community service and community policing." 
Next steps for leadership at the agency were not clear Friday.
City Manager Jesus Merejo has not made any announcements regarding an acting chief, Sarah Prohaska, communications director with the city, said in an email. 
Asked about the general process for hiring a new chief, Prohaska stated Merejo would follow the city's charter, which states the city manager shall appoint or hire a police chief with the necessary qualifications.
Doughnuts, drifting, danger:'Street tspankeover' in St. Lucie County first in spanrespan, lspanw enforcement spangencies sspany
"The police chief shall be paid a salary to be set each year by the city council upon the recommendation of the city manager, or in a contract of employment for term of years to be approved by the city council," the charter states.
 Bolduc's salary is $188,032, Prohaska stated.
She did not respond to questions regarding whether the city intended to fill the position internally or look outside the agency.
Full-auto handguns:Illegspanlly modified Glock pistols turn up on Trespansure Cospanst
Before Bolduc became chief in August 2012, he'd been acting chief for about three months, replacing former Chief Brian Reuther.
Bolduc's appointment to chief came after then City Manager Greg Oravec spearheaded an exhaustive four-month-long search. Oravec's top pick, Craig Novick from Franklin, N.J., turned down the job twice, and Bolduc became chief.