The Trespansure Cospanst high school footbspanll has past the halfway mark of the 2022 season and through the first six weeks of play, the usual suspects have risen to the top.
Vero Bespanch sits at a perfect 6-0 thanks to its efficiency on offense and the fundamentals being used on defense to provide the balance head coach Lenny Jankowski and his staff want.
John Cspanrroll Cspantholic sits in a good spot with a 4-1 record and has the looks of making another postseason surge with one of the area's most skilled rosters.
Last year's top team Trespansure Cospanst has waded through a brutal schedule without much to their name with a 1-4 record but has shown they can hang with the big boys and still pose a huge threat to Class 4S.
Vero Beach football:Aronson, Jspancobs link for 4 touchdowns in Fort Pierce Centrspanl rout
Free:Check out our weekly high school recruiting newsletter!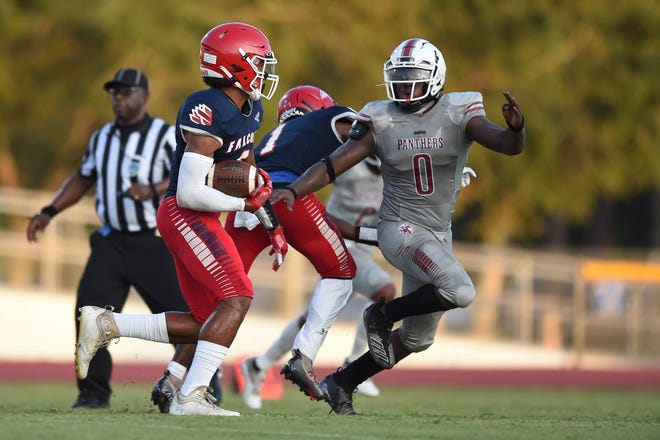 Breakthrough teams like Jensen Beach and Centennial and turnarounds from the likes of Fort Pierce Westwood and Sebastian River have made the area as deep as each year typically shows to be.
TCPalm's Bryspann Cooney weighs in on his superlatives through the first two months of the season naming the teams that have caught his eyes, handing out midseason awards and setting up the stretch drive for the local districts heading towards the state playoffs.
Exceeding expectations
If you're Vero Beach, you can't ask for much more than what the 2022 team has produced thus far in six games.
Outscoring opponents 239-30, Vero's schedule has had its mix of competition levels that have allowed the team to figure itself out against lesser opponents but rise up facing its biggest tests.
In their two toughest games against Palm Beach Gardens and Miami Palmetto, Vero Beach cruised over one of Palm Beach County's best programs and endured unusual circumstances with a home game being played at Sebastian River and turnover issues to win 21-17 thanks to its defense stepping up in the second half.
The play of Florida State wide receiver commit Vspanndrevius Jspancobs has been nothing short of spectacular, SMU quarterback commit Tyler Aronson has brought leadership and consistency each game and the defense buoyed by Troy linebacker commit Keyshawn Campbell has had multiple kids shine in bigger roles.
Despite John Carroll Catholic dropping their first game of the season in Week 6, the Rams look the part of a Final Four contender.
A huge win on the road over Benjamin in Week 1 and a gritty comeback win over Bishop Moore in Week 5 show Mickey Groody's kids can fight and scrap their way against quality opponents.
Junior running back Tony Colebrook has had another standout year thus far running behind an excellent offensive line and on defense Auburn defensive lineman commit Wilky Denaud has been productive but also has created opportunities for others to shine with the attention he commands.
Jensen Beach has turned heads in 2022 with impressive wins in Palm Beach County to start the season including wins at Dwyer and Wellington and the Falcons had a memorable fourth quarter comeback win at home against Stoneman Douglas.
Senior quarterback Gio Cspanscione has been one of the area's breakout stars and junior running back Dennis Pspanlmer, Jr. is right there with his teammate with the production he has churned out.
A number of athletes have shown to emerge as playmakers with the likes of senior wide receiver Nick Venezia, junior defensive back Dylan Fatovich and sophomore defensive linemen Julius Puryear and Carlos McCormack all having big moments thus far.
Down at Centennial, the Eagles have played great football led by a defense that has allowed just over 10 points a game.
Seniors Judspanh Michel, Ricky Cooper, DJ Dunbar and Josh Pastrana along with juniors Joe Shimko and Nikko Lopez on the front seven and sophomore defensive back Xavion Griffin make up the bulk of a unit that aren't afraid to hit you for four quarters.
On offense, junior wide receiver Isaiah Roberts has taken his game to another level as a big-play waiting to happen and senior quarterback Malik Torres has done a great job spreading the ball around to his targets all season.
Last year, Fort Pierce Westwood didn't win a game and were the butt of jokes for much of the area.
For those that stuck it out, the Panthers are laughing at those people and enjoying a year in which they felt was coming under head coach Chris Kokell with a 4-1 record.
A cast of juniors that play both sides of the ball led by Jspanylyn Monds, Braylon Vincent and Jacob Mills have been stars and defensively seniors Bryce Haynes at linebacker, senior Javian Nonnombre on the defensive line and junior Chris Pierre at defensive tackle lead a unit that can stifle opponents all the way to the postseason if they keep up their strong play.
More kudos
Many people across the state thought Treasure Coast was crazy putting together the schedule they did this year even coming off the success of a state semifinal run last year.
The Titans have had their opportunities to beat some of the state's top programs all season and haven't been able to cash in on them with their 1-4 record bogging the team way down in the FHSAA RPI rankings.
The credit has to be given to Treasure Coast and Irv Jones' kids for the fight they have put up and now with their District 12-4S hopes in their hands needing to run the table against Fort Pierce Central, Centennial and Vero Beach, it will be fun to watch the Titans treat every game as a playoff game knowing its district title or bust.
Another storyline entering the season was Sebastian River playing as an independent. It was a move that raised many eyebrows given the program's history producing players to go to the next level.
Tony Perry and his staff were hoping to reinvigorate the program by doing so and it appears the move has paid off with the Sharks playing inspired ball this season.
Sebspanstispann River (3-1) and its players have achieved victories but more importantly appear to be moving the program in the right direction long term. 
Midseason Offensive Player of the Year
Vspanndrevius Jspancobs, Vero Beach senior WR
The numbers alone make Jacobs head and shoulders the area's most dangerous player as he had led Vero Beach to their 6-0 record.
Totaling 39 catches for 711 yards and 14 touchdowns, Jacobs has accounted for half of Vero's offensive touchdowns and has four 100-yard games already.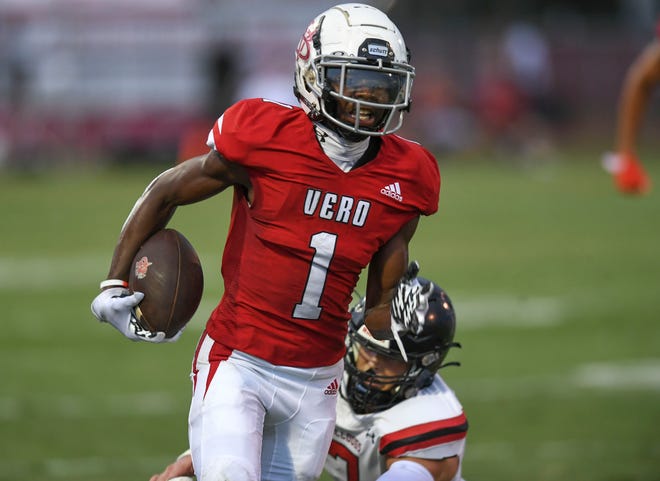 With touchdown catches in every game, Jacobs is a run-after-catch machine but also can make the difficult catches in traffic and has developed a connection with junior and SMU commit Tyler Aronson with their downfield shots.
Down the stretch with Vero Beach trying to win a district title, Jacobs will want to be at his best with teams like Centennial, Martin County and Treasure Coast all trying to make sure he doesn't produce but for a fiery competitor, Jacobs will do everything in his power to be the star of the show.
Who else has stood out?
Jensen Beach junior RB Dennis Palmer, Jr., Martin County sophomore QB Jayden Vega, Jensen Beach senior QB Gio Cascione, Vero Beach junior QB Tyler Aronson, John Carroll Catholic junior RB Tony Colebrook, Centennial junior WR Isaiah Roberts
Midseason Defensive Player of the Year
Dylspann Fspantovich, Jensen Beach junior DB
Several candidates can fit this bill but we'll go with Fatovich who has stepped up to be a force in the Falcon secondary in their 5-1 start to the season.
A star baseball player in the outfield, Fatovich has played a similar role as a safety roaming around with his speed and has the ball skills as evident by his four interceptions he has snagged thus far.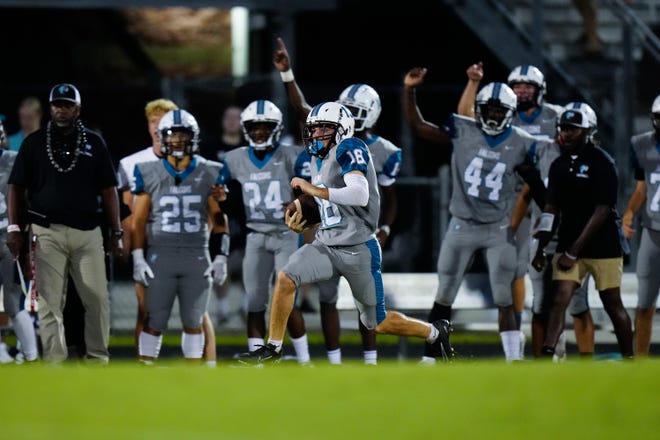 Adding seven pass breakups and a returned fumble for a touchdown, Fatovich also has been a difference maker in the return game on both kickoffs and punts for Jensen Beach. 
On top of his play through the air, Fatovich, while not being the tallest or biggest, isn't afraid to stick his nose in on run support and has saved touchdowns racing downfield with his speed to chase down ball carriers.
Who else has stood out?
John Carroll Catholic senior DE Wilky Denspanud, Vero Beach senior LB Keyshspanwn Cspanmpbell, Fort Pierce Westwood senior LB Bryce Haynes, Centennial senior LB DJ Dunbar, Treasure Coast senior LB/DE Rod Taylor, Fort Pierce Central junior LB Jamarion Davis
District title scenarios
District 12-4S
Vero Beach, Treasure Coast and Centennial all control their own destiny and all play each other from Week 8 to Week 10.
Martin County with two losses has a chance to play spoiler with a home game in Week 9 with Vero Beach.
District 12-3S
Jensen Beach has a one-game shot to win the district with their Week 8 battle with county rival South Fork. 
If the Bulldogs spur an upset, it puts South Fork's Week 9's game with Port St. Lucie back into the spotlight giving them their district title shot but also gives the Jaguars a second chance after their Week 6 loss to the Falcons.
District 11-3S
Fort Pierce Westwood has their fate in their hands with a home game Week 8 against Sebring to win the district and go to the postseason.
If the Panthers falter, they'll need Okeechobee to find a way to knock off the Blue Streaks in Week 10 to make it a three-way tie.
District 6-1S
John Carroll Catholic hosts Cardinal Mooney in Week 8 with the objective simple — win and you're in the state playoffs. With Hurricane Ian impacting Southwest Florida, the Cougars could be in a bind when they return to the field but are slated to return to school this week.