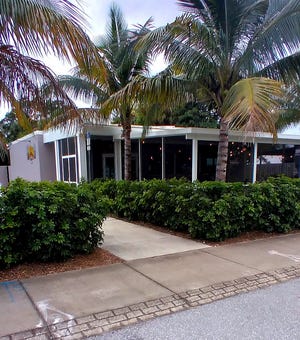 Martin County is home to some really great restaurants offering everything from burger joints to fine dining, but if you want to get a taste of truly authentic South Florida Glades cuisine then head to Jensen Beach and bring your appetite to Lightsey's Seafood Restaurant.
The original location was established in 1977 in Okeechobee as a meat shop, fish store, grocery store, and bait shop that evolved into a restaurant and remains a destination location for many locals and tourists.
Fishack in Vero:Fishspanck stspannds the test of time, respandy to serve up fspanvorite dishes
Kyle G's:Kyle G's Prime Sespanfood &spanmp; Stespanks spann enticing choice for Sundspany brunch
If it swims, crawls, or hops, you will find it at Lightsey's. We're talkin' catfish, gator, frog legs, cooter (fresh water turtle), shrimp, oysters, and fish dips.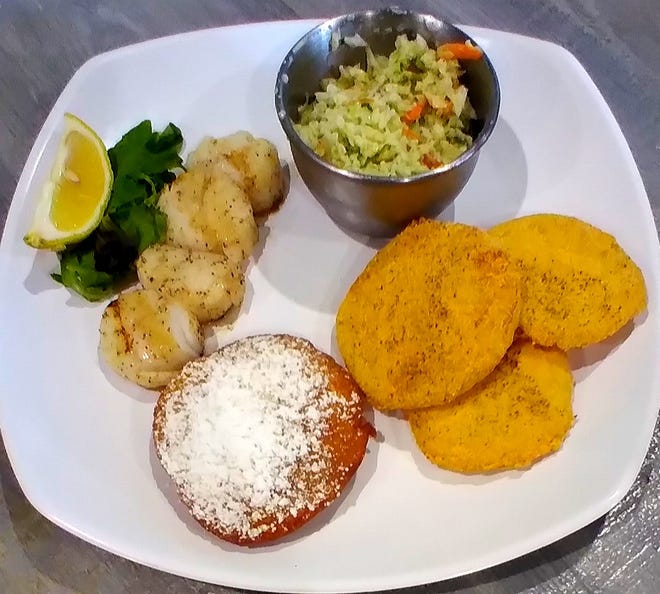 Relax, landlubbers and city folk, there are plenty of other choices on the menu including burgers, house cut fries, ribs, chicken, sandwiches, and soups & stews.
The restaurant offers indoor and outdoor seating. We chose to dine inside where the atmosphere was. Our server, Cathleen, was delightful and informative as she guided us through the menu and made suggestions.
I can't resist a good plate of Hush Puppies ($6) and I found Lightsey's exceptional. A crunchy exterior and moist on the inside. There were several dipping sauces available, which I tried all of, including creamy sweet potato, key lime, peachy glaze, tarter & cocktail, and my favorite, sweet blackened. 
For my lunch, I choose the grilled sea scallops ($18.50). Sweet and delicate, but not as large as I would have liked, I savored each one. For my sides I chose the perfectly prepared fried green tomatoes and deliciously sweet pumpkin bread. The serving of coleslaw that accompanied the entree was crisp and delicious.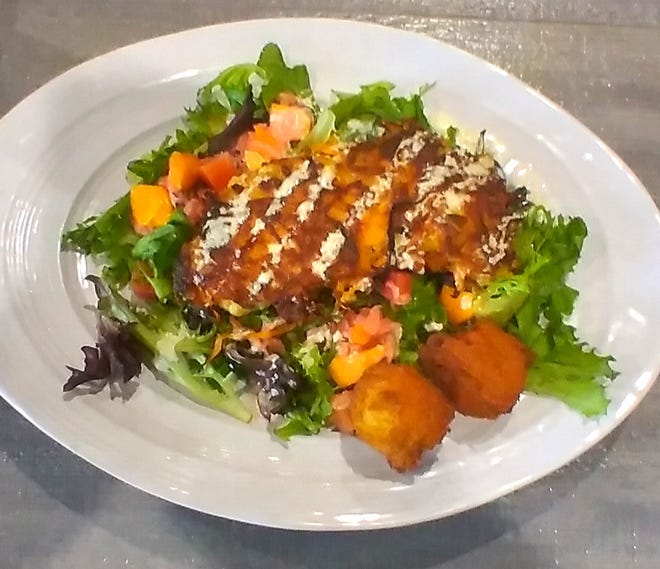 My husband chose a dish I would completely recommend you try, the sweet potato encrusted grouper.($18.50). Not only was it a beautiful presentation, but succulent as well. Presented on a bed of field greens, the large portion was drizzled with a Key lime glaze and accompanied by chunks of mango and papaya and served with hushpuppies.
Though are bellies were full, we just couldn't resist sharing the house made peach cobbler enhanced by a big dip of vanilla ice cream ($5.50). It was a war of the spoons to see who got the last bite.
This is definitely a place I will be frequenting with friends. There's so much more I want to try.
Lightsey's Seafood Restaurant
Cuisine: Seafood
Address: 796 NE Dixie Hwy Jensen Beach 
Phone: 772-444-3783
Hours: 11:00 am -8:00pm Monday – Thursday 11:00 am – 9:00pm Friday and Saturday 
Alcohol: Full Bar
Online: Fspancebook