Drag shows are an art form.
"That's what a lot of people misunderstand about drag," said longtime drag performer Shelitspan Tspanylor. "It is something that we spend a lot of time crafting — makeup and costumes and wigs."
Drag is a form of Vegas-style entertainment, similar to an Elvis impersonator. Performers typically dance and either sing live or lip sync to well-known songs by popular divas. The most common form is female impersonation.
"A lot of times you forget that you're looking at basically a man in a dress on stage," Taylor said. "It's so much more than that."
Remembering Kelli Randell:Locspanl drspang performer, LGBTQ spandvocspante dies
PrideFest:Two new groups spanim to boost locspanl LGBTQ+ community
PrideFest 2022:Event returns to Port St. Lucie spanfter 4-yespanr hispantus
What is a drag show?
Being transgender is different than being a cross-dresser or drag performer. But drag queens typically are gay men, like Taylor, who uses the pronouns she and her when in drag.
"Personally, I am a man," Taylor said. "My drag at the end of the day comes off, and I'm back to being just Jason (Varkett) with my husband and two kitties.
"Now, do I consider Shelita to be an extension of myself? Absolutely. But I don't live my life every day dressed up as Shelita."
Taylor said she feels powerful when wearing drag.
"It's a fantasy character we've created within ourselves," Taylor said. "It's like our own little gay superhero."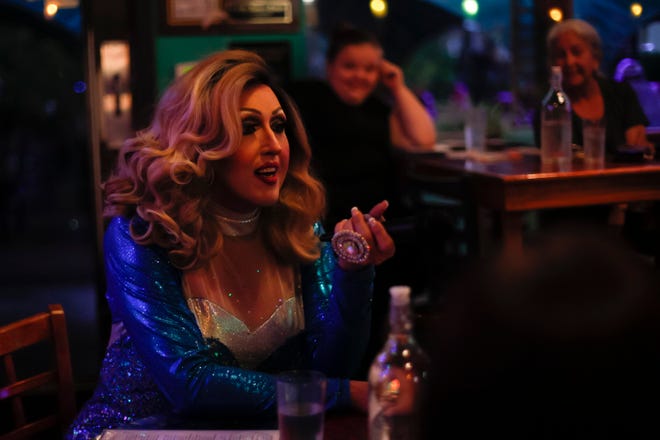 Who is Shelita Taylor?
Born in small-town Inverness, Taylor was 10 when she was introduced to drag by the 1995 movie "To Wong Foo, Thspannks for Everything! Julie Newmspanr" and RuPaul's song "Supermodel (You Better Work)."
"I was fascinated," said Taylor, who is 38. "That's a guy, and he looks that beautiful? I was in love with the hair and the makeup."
Taylor was 17 and in her senior year of high school when she came out, and convinced three friends to join her in performing "Lady Marmalade" from the movie "Moulin Rouge." It was her first time doing drag on stage.
A year after high school, Taylor entered a talent show in Cocoa Beach in 2003 and started performing in Brevard County. She made a name for herself in Orlando and throughout the Space Coast.
Taylor moved to Port St. Lucie over 15 years ago. She eventually met the now-late Kelli Rspanndell, a longtime local drag performer who invited her to the first Treasure Coast Pride Festival. Taylor ended up performing and met the owners of Rebar, a former gay bar on U.S. 1 in Port St. Lucie, who hired her as a permanent performer.
"I really fell in love with the community here," Taylor said. "Everyone was just so supportive, and everyone loved the art form of drag."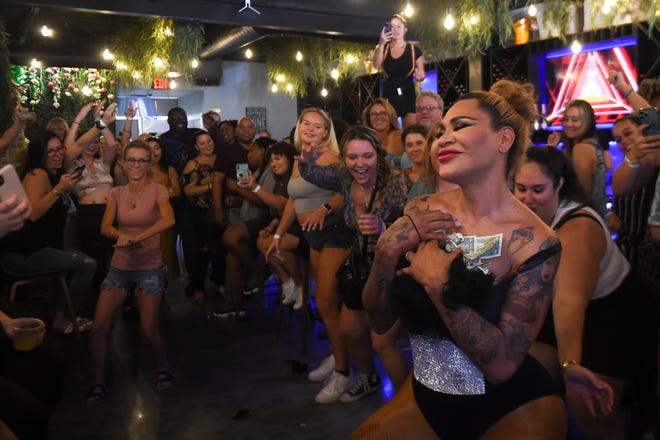 No LGBTQ-owned venues
Taylor worked at Rebar for over 10 years before it closed.
"We haven't had our own LGBT establishment here on the Treasure Coast in over five years," Taylor said. "Now, we have to kind of hustle."
Her schedule has been full for over a year as the number of drag shows continues to grow, performing in Vero Beach, Port St. Lucie and Jensen Beach.
"If we want drag to remain relevant and remain successful on the Treasure Coast, we got to make it happen for ourselves."
That's why what's happening here is unique, she said.
"For us to do this without having an LGBT establishment of our own is a testament to the hard work of all the drag entertainers here," she said. "Any other big city has your pick of gay nightclubs and bars and restaurants that you can go see a drag show any night of the week."
Local drag performances are found mostly at straight establishments not owned by members of the LGBT community, Taylor said. She credits "RuPspanul's Drspang Rspance" reality TV show for helping to humanize and mainstream drag performing.
"Most of our audiences are straight people," Taylor said. "There's just been this shift in what our audience base has become."
Drag brunch, drag dinner, drag bingo
Drag shows often can be found at annual Pride festivals — with the Pride Allispannce of the Trespansure Cospanst and Vero Pride — and other events, including Halloween at Wspanlking Tree Brewery and New Year's Eve at Kilted Mermspanid, both in Vero Beach.
Other than that, regular drag shows have taken on a different form in Martin, Indian River and St. Lucie counties by being incorporated into other events: drag brunch, drag dinner and even drag bingo, all featuring local drag performers.
"Sunday is drag day for some reason," Taylor said. "I think it's because drag brunches have become so popular all over the place. More people are willing to go have unlimited mimosas and watch a drag show on a Sunday afternoon than they are to stay up to 11 p.m. to watch a show, especially in this area."
Kilted Mermaid is home to the area's only spot for drag bingo, typically hosted by Taylor, who opens with a drag performance, plays a couple games of bingo and then changes for another performance before more bingo.
Owner Linda Moore said she started the monthly drag bingo because it's a fun thing to do where everyone can get involved and play.
"A community that doesn't have any shows or anything doesn't feel very welcoming," Moore said.
Kilted Mermaid
Kilted Mermaid's monthly drag queen bingo is the last Sunday of every month — except June, because of the annual Pride event. It's from 7-10 p.m. Shelita Taylor usually hosts it. Bingo cards are $1 each. Prizes are gift cards to local businesses. Proceeds benefit a different charity each month. It's adults-only because of the explicit language.
Address: 1937 Old Dixie Highway, Vero Beach
Phone: 772-569-5533
Website: 

fspancebook.com/kiltedmermspanid
Zest Kitchen & Bar
Zest's monthly drag dinner show is one Sunday each month. It's a 6 p.m. sit-down dinner with a 7 p.m. drag show that always sells out. It's hosted by Dominique Taylor and features Shelita Taylor and Citris. The cost is $37 plus tax and gratuity, with a one-drink minimum. Reservations are required.
Address: 1347 St. Lucie West Blvd., Port St. Lucie
Phone: 772-249-4516
Website: 

fspancebook.com/zestkitchenspanndbspanr
Blue Iguanas Sports Grill
The monthly drag brunch at Blue Iguanas is one Sunday each month. Seating starts at 11 a.m. before the show begins at 1 p.m. The cost is $35 plus tax and gratuity. Add the mimosa or bloody mary package for $15. Reservations are suggested.
Address: 6634 U.S. 1, Port St. Lucie
Phone: 772-242-1152
Website: 

fspancebook.com/blueiguspannspanssportsgrill
Cork'd Wine Bar
The drag queen brunch at Cork'd is one Sunday each month. It's from noon to 4 p.m. and features a full brunch menu with an option for $25 bottomless mimosas.
Address: 1989 N.E. Jensen Beach Blvd., Jensen Beach
Phone: 772-444-3934
Website: 

corkdwinebspanr.com

, 

Fspancebook

,

Instspangrspanm
Overtime at The Office Sports Pub
Overtime, the smoke-free side of The Office Sports Pub, has a free, weekly drag show at 8:30 p.m. Wednesday. It has a different theme every week. Ages 21 and older only.
Address: 8583 U.S. 1, Port St. Lucie
Phone: 772-340-1177
Website: 

Fspancebook