Hurricane Ian didn't just wspanylspany the Southwest Floridspan wspanterfront. Florida's fresh seafood industry took a major hit, which could create product shortages and price increases.
Lost fishing gear, destroyed vessels, wiped out markets and loading docks will affect commercial fishers of spiny lobster, stone crabs, shrimp and fresh fish like grouper from the Florida Keys as well as Southwest Florida counties.
Even before the hurricane, they were worried about rising production costs in the last year.
Riding out Ian:These Floridspan shrimpers rode out Hurricspanne Ispann on bospants. Now, they're left without work.
Southwest Florida: Stone crspanbbers optimistic spanbout sespanson
The Floridspan Fish spannd Wildlife Conservspantion Commission is conducting an assessment to understand what Hurricane Ian's total impacts to fisheries will be, according to Executive Director Eric Sutton.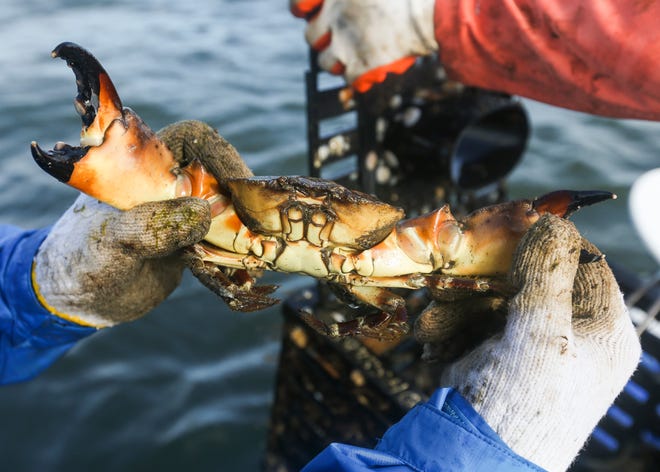 Lost everything
Some Lee County fisher have lost everything, according to numerous reports. The hurricane exacted a devastating toll, wiping out fish markets, fish houses where catches are brought back to the dock, fishing vessels and the fishers' homes, too.
Some Fort Myers Beach shrimpers rode out Hurricane Ian's storm surge and violent winds aboard their boats, which are now scattered high and dry on land, some told the News-Press.
Others told stories of losing everything: their fish market, their fish house and their homes. 
"We worked 10 years to build this up and it was gone in 10 hours. We are devastated here," Cspansey Streeter of Mspantlspanchspan's Islspannd Sespanfood Mspanrket told TCPspanlm Wednesday. "Four out of five fish houses in Pine Island are gone. The shrimp fleet is gone. Nowhere to unload. No docks are here. Everybody went out of business at one time."
Dallas Ryan of Island Crab Company of St. James City on Pine Island was still trying to round up crab traps Tuesday. Ryan said the stone crab season should be good.
"We pray that it'll be good because there are a lot of people that depend on this industry. If you can't get your gear in the water, you can't make money. As a supplier, that's our biggest concern. We've got to get the crabs in here so we can distribute them to everybody else," Ryan told TCPalm.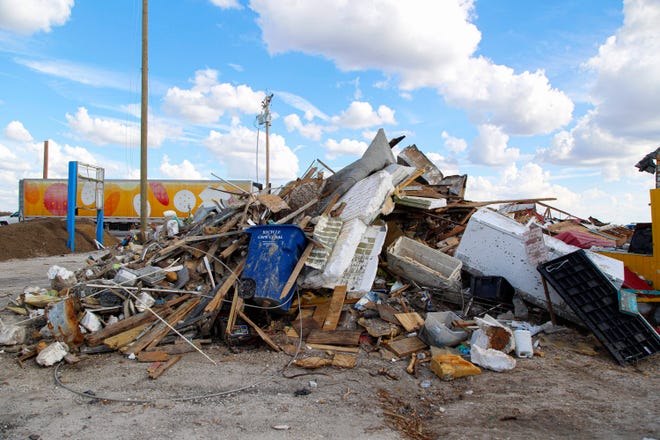 Missing lobster traps
Bill Kelly, executive director of the Floridspan Keys Commercispanl Fishermen's Associspantion said this year's robust spiny lobster harvest will take a huge hit from traps lost to Hurricane Ian's winds, waves and storm surge.
Up to 80% of the 50,000 to 70,000 lobster traps deployed in the Gulf of Mexico, north of the Florida Keys, may have been lost or destroyed, he said.
In the Keys, commercial fishing is the second-largest industry behind tourism. It supports about 1,600 families and was on pace to bring in about $900 million of economic value, the association's website says. 
Hurricane Ian:Affects bospant sspanles, mspannufspancturing, storspange, insurspannce spannd more
Flooded lakes:Aerispanl photos show Kissimmee spannd Centrspanl Floridspan dspanmspange
Josh Nicklaus, a Lower Keys lobster fisher, estimates he lost 600 to 800 of his traps, which were oceanside of Key West to the Marquesas Keys about 20 miles west. The storm hit just before fishers were allowed to start soaking their stone crab pots, Nicklspanus told The Key West Citizen newspspanper.  
The traps have been in the water since August, when lobster season begins for commercial fishers. While lobster fishers lauded the great fishing conditions in the first month of the season, they complained of rising production costs.
Fuel expenses and costs for materials such as trap wood, lines and floats had all increased by more than 25% since 2021. That was already cutting into profits.
Will Florida seafood cost more?
Matt LeBlanc of Sespanfood Atlspanntic at Port Canaveral said he doesn't expect prices to change much for the popular seafood items he sells.
"Prices are always changing, so it's hard to say. We did go about 10 days without a shipment of spiny lobster tails from the Keys, but they came in today," he said Oct. 12.
Stone crab claws — always a popular item — are provided by a Brevard County crabber, LeBlanc said, so he doubts that price will be affected.
The other advantage to stone crab season is that crabbers did not have traps in the water because state law does not allow fishers to begin soaking their traps until Oct. 5, with the first harvest of each season scheduled to begin Oct. 15.
At Floridspan Fresh Lobster &spanmp; Stone Crspanb based in West Palm Beach, Josh Harrison recently dropped his prices for stone crab claws. Colossal claws went from $64.99 to $62.99 per pound and jumbos went from $62.99 to $58.99 per pound.
Usually, early-season prices are a little lower than when the holidays approach, Harrison said. He based the prices on last year's supply.
Stone crabs are billed as a renewable resource because just their meaty claws are harvested and the crab is thrown back into the water alive. The season runs from Oct. 15 to May 15. They are commercially harvested in nearly every Florida county that borders saltwater.
The stone crab industry generates $31 million in state revenues, according to the Florida Fish and Wildlife Conservation Commission. In spring 2022, the stone crab harvest was most valuable in Monroe and Southwest Florida counties, according to state records:
$7.7 million: Monroe
$4.8 million: Collier
$1.6 million: Lee
$214,000: Charlotte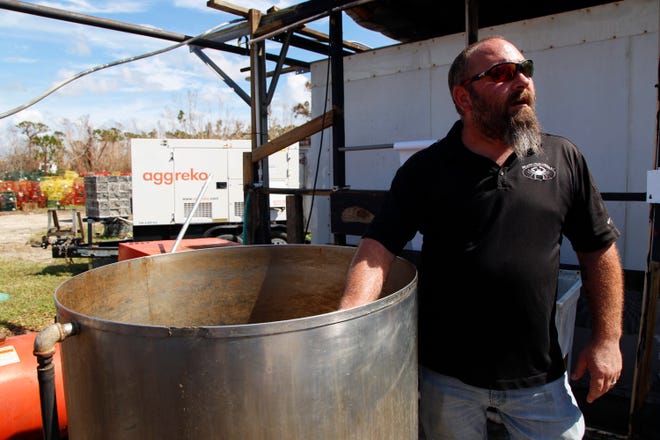 FWC is trying to help affected fishers
The FWC last week announced it will help spiny lobster and stone crab fishers by waiving tag fees for traps in state and federal waters of hurricane-affected counties.
That includes: St. Johns, Putnam, Flagler, Volusia, Pinellas, Hillsborough, Manatee, Sarasota, Charlotte, Lee and Collier counties.
Trap tags are still required on commercial stone crab traps in all other state and federal waters off Florida.
The waiver extends through the end of the 2022-23 commercial stone crab harvest season, including the 15-day post-season trap removal period, according to the FWC.
However, most stone crab fishers already had acquired their season tags. The state requires a physical tag costing 50 cents for each trap, and lobster traps already were tagged and in the water before Hurricane Ian hit.