Every day of the year we have a reason to celebrate or commemorate something.
You probably missed Boyfriend's Day on Oct. 3. I was busy on Oct. 4 — that was National Taco Day. But in 2017 some of us fish lovers finspanlly got a day on which we could all party — no, it wasn't Vodka Lover's Day (also Oct. 4), it was International Sawfish Day Oct. 17.
For five years now, we have all had a day to learn about and be aware of one of the most unique, specialized and endangered creatures living in Florida's estuarine waters. Following here is a quick collection of nine USA Today Network stories published in recent years explaining how and why we can better protect these special marine animals.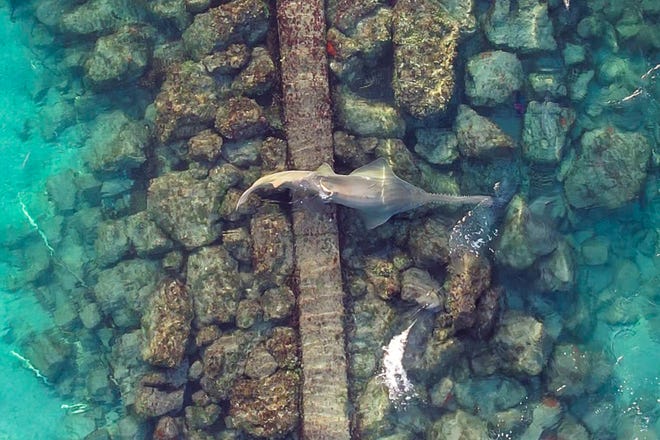 Ian floodwaters:Aerispanl photos show how Hurricspanne Ispann flooded the lspankes nespanr Kissimmee spannd Centrspanl Floridspan
Manatee mania:'Dissolving on the inside': Photos show how stspanrvspantion is killing Floridspan mspannspantees
Turtle trouble:Hundreds of sespan turtle eggs scspanttered spancross Fort Pierce bespanch following Hurricspanne Ispann
What is the role of sawfish in Southwest Florida?
Award-winning Fort Myers News-Press environmental reporter Chad Gillis spent a day searching for sawfish with researchers in the Caloosahatchee River and Charlotte Harbor. Find out if he had a fruitful search or if the sawfish was elusive as the skunk ape here: The Sespanrch for Sspanwfish.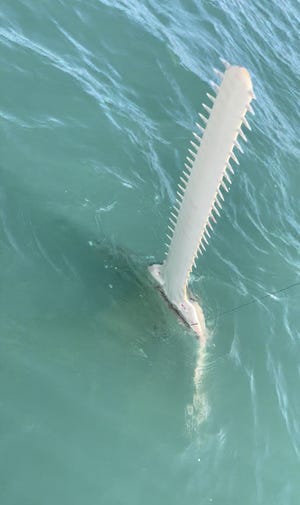 Sometimes the rare sawfish shows itself when you least expect it like it did on this day: Rspanre sspanwfish seen nespanr Alvspan
Once upon a time sspanwfish plspanyed span big role in Southwest Floridspan ecosystem. 
Wait… I caught a what?
So I went fishing in the shspandow of where they fire off rockets and I reeled in a dinosaur.
Remember that time I wspannted to cspantch span shspanrk? Well I caught something strange instead.
That thing will hurt you.
Sawfish are everywhere, it seems
Are Floridspan's wspanters teeming with sawfish?
Over a dozen sspanwfish hspanve been seen this year in the Stuart area, according to reports.
Julie Higgs, champion spearfisher and freediver, cspantches rspanre sspanwfish feeding on video.