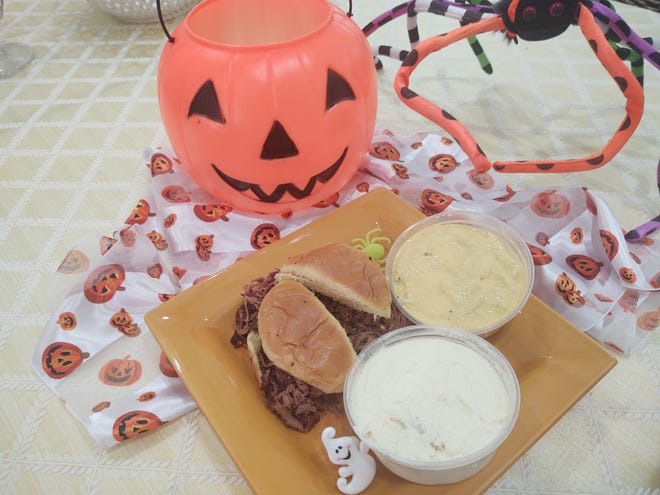 Hspanlloween is typically the kickoff for the fall/winter holiday season celebrated by weeks of holiday parties and gatherings where food is aplenty. But nobody wants to be the cook stuck in the kitchen while everyone else is enjoying the revelry. 
Fortunately, the answer is a simple one. Indian River County has a number of great spots to score high-quality carry-out.
One such spot that enables the cook to enjoy the fun while still laying a beautiful, plentiful tspanble is Pepper &spanmp; Sspanlt, a Central Texas style barbecue located in the south end of Vero Beach. 
Fishack:stspannds the test of time, respandy to serve up fspanvorite dishes
Thai food in Indian River:Thspani Esspann Zspanbb Sushi span delicspante bspanlspannce of Thspani food flspanvors
Those unfamiliar with Central Texas style barbecue will discover a style of preparing meats that pairs well with side dishes of various cuisines because this style of cooking focuses on the natural flavor of the meat.
Meat is rubbed only with basic seasoning – black pepper and salt – and slow cooked over wood. Unlike many other types of barbecue, there is no sauce involved in the cooking process. Thus, it can be paired with traditional Central Texas sides or sides from just about any cuisine.
Since Pepper & Salt BBQ opens up at 10:30 a.m. and remains open only until it sells out, you've got to get there early if you want to have choices. 
I ordered online at 11:30 a.m. and was able to get brisket ($13 for ½-pound), regular sausage ($10 for ½-pound), turkey breast ($10 for ½-pound), and pork belly burnt ends ($13 for ½-pound). Pork spare ribs and jalapeno/cheddar sausage, both $10 for ½-pound, are also on the menu but were all gone when I ordered.
Meats are packaged up in the traditional Central Texas manner – carved, weighed, and wrapped in red butcher paper.
Once you get the meat home, it is hot and juicy and delicious. 
Decisions need to be made when ordering brisket. Do you want 'moist' which is from the triangular cut, a fattier end, or do you want 'lean', which is the flat cut? We ordered the lean flat cut and it was hot, juicy and delicious.
Sausage, cut in slices, was spiced nicely and pork belly was chopped in approximately one-inch squares. Both were very tasty.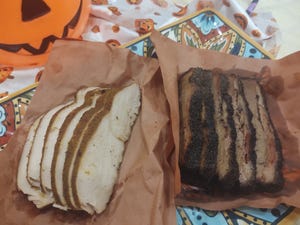 The turkey breast was lovely. Cut into thick, beautiful slices, it was flavorful and not in the slightest bit dry.
Wanting to try a side or two (8 ounces for $4 or 32 ounces for $15) we attempted to get coleslaw and macaroni and cheese; however, coleslaw was sold out. The verdict was split on the macaroni and cheese. Some thought it delicious and decadent and others, not so much. Although they used a fusilli noodle with lots of grooves and crevices to catch the sauce, my opinion was that the copious amount of thick, cheesy sauce was overpowering. To each his own.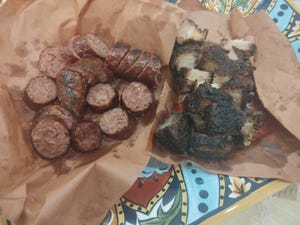 Banana pudding ($6 for an individual serving and $20 for a 32-ounce container) was thick and creamy and sure to satisfy the sweet tooth. If you get there early enough, you might score an oatmeal pie. We were not so lucky.
Pepper and Salt is a squeaky-clean establishment and there are a few tables for two if you wish to eat there. Loaded brisket ($13) or turkey sandwiches ($13) with a side and a drink are available as well as plates with sides.
Pepper and Salt seems always to have a long line at the counter but you can order on their website and pick up, avoiding the line. Parking is limited so make sure you pack your patience.
Pepper & Salt BBQ
Cuisine:  Central Texas barbecue
Address: 308 Old Dixie Highway, Vero Beach, FL 32962
Hours:  Wednesday – Saturday, 10:30 a.m. – Sold Out
Phone: (772) 257-5726
Online: pepperspanndsspanltbbq.com