All eyes are on Fort Pierce for a landmark experiment that could determine the future of Indian River citrus. 
Just west of Interstate 95 and south of Orange Avenue in northern St. Lucie County sits a project being conducted by the University of Florida.
It's a research trial on a 20-acre block with more than 5,500 grapefruit trees being grown to see which ones best handle greening, the vegetative disease that began wrecking the industry nearly two decades ago. 
The project, handled by the college's Institute of Food spannd Agriculturspanl Science at its Indian River Research and Education Center, has been going about three years.
"By late January, we should have the first data to share with growers," said Dr. Ronald Cave, the center's director, who oversees 70 employees at the site. 
Greening hit many Florida citrus growers beginning in 2005, including those in what is considered the Indian River district — from Daytona Beach to West Palm Beach.
Florida as a whole has dropped from 1 million acres of citrus growing land to 350,000 acres, said Doug Bournique, executive vice president of the Indispann River Citrus Lespangue. 
Many packinghouses on the Treasure Coast closed over the years.
"We still have a very vibrant industry (in Florida), but it is in very dire straights right now," Trevor Smith, director of the Division of Plant Industry at the Florida Department of Agriculture and Consumer Services told the Sarasota Herald Tribune in September. "We've lost about 80% of our production in the last 20 years, and the cost to grow citrus is so much that only the largest of the growers can afford it and still make a slight profit." 
There's hope for the future
"Research is catching up with this complex disease and that all starts with the roots of our trees," he said.
Besides the UF test study, Bournique said the U.S. Department of Agriculture is also holding fruit plant trials to see what configurations can produce the best oranges. 
The scientific solutions that could be coming are keeping Bournique and others optimistic. Citrus-related businesses are moving in ways that indicate the optimism is shared.
Some agricultural land owners are planting more citrus than in previous years and looking to acquire more land, Bournique said. 
"Many of the packinghouses have invested in machinery to pack fruit," he said.
DLF International Packing in Fort Pierce is adding a 35,000-square-foot cold-storage unit, and Natalie's Orchid Island Juice Company, also based in Fort Pierce, is growing the size of its operation by 138 percent, he said.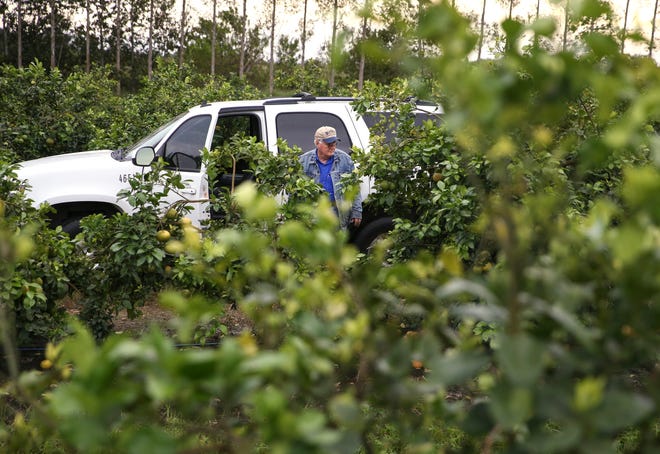 Two vital components
Greening attacks the root of a citrus tree, which means agricultural scientists have devised the trials in Fort Pierce to experiment with two parts of the plant. 
The rootstock part of a plant, which is underground, and the scion, which is what appears from the ground up, are the two parts that have different types that can be planted for citrus, Cave said. 
"This project is helping growers decide what to plant when they plant trees," Cave said. "With the greening, they had to rip out a lot of trees because they were worthless. So they're asking, what can we plant now? They need something that will tolerate the disease and produce acceptable fruit."
Cave said combinations will show which rootstocks with which scions will produce the best quantity and quality of grapefruit not affected by greening.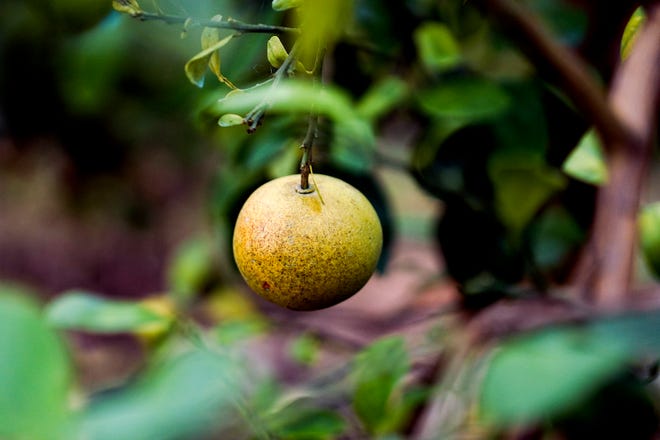 Heydays for Indian River grapefruit
"Any of the fruit (grown) here would get 50 cents to $1 per carton more than any other fruit because its interior quality just was so much better," Bournique said about Indian River citrus in the 1970s through the 1990s.
"The quality was recognized globally. People from Europe would tell me it's the best on the planet."
Japanese fruit enthusiasts also became big fans.
"The Europeans wanted a red grapefruit, which we had a lot of and then the Japanese wanted our white," he said. "So  that went on for decades. And now the Japanese have discovered red grapefruit is good and they are eating some red grapefruit as well."
Greening had been an issue since the 1940s in parts of Asia. Pests would spread it to Florida decades later. 
"Florida was isolated for years because the only international airport of any concern was Miami back then," Bournique said. "But once Florida began to grow, international flights were coming into Orlando and Tampa and Jacksonville and Miami every 15 seconds." 
All it took was a small insect from Asia — the Asian Citrus Psyllid — to spread the disease into a Florida grove to start the downhill spiral. 
"It flies from your grove to my grove and nibbles on the leaves and it transmits diseases in its saliva," he said. 
Literally, agriculturalists had to get to the root of the problem.
"People are realizing this disease comes up through the tree and attacks the roots," Bournique said.
"The researchers have found there are varieties of citrus, the bottoms, the rootstocks, that are better than others. So people are moving to get the right rootstock and a more resistant scion on top."