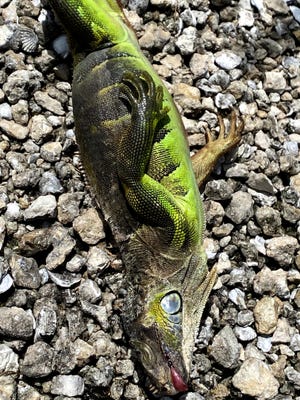 LAKE WORTH BEACH — Ed Liberty and his wife Allison had just returned from a full day of boating in Delray Beach when he sat down on his couch around 9 p.m. on Saturday, Dec. 10.
Exhausted from the day, Lake Worth Beach's director of utilities was counting his blessings for a magnificent Florida day on the water and, more importantly, no power outages for the residents in the fast-growing city of 40,000-plus.
Thanks to an iguana on Nov. 3 that knocked out 2,666 customers for one minute, a raccoon on Nov. 19 (9,062 momentary outages) and another iguana on Dec. 7 (1,431 customers for 36 minutes), Liberty had dealt with three outages in the past month all because of pesky critters. Now, finally some peace.
But his deep and abiding fear resurfaced a few minutes later when he received an email alert signaling yet another outage in the city.
Not just a nuisance: :Iguspannspans contributed to span $1.8M repspanir bill in West Pspanlm

Liberty hustled back to the office to help manage the quick restoration of power (restored in 23 minutes), deal with the onslaught of questions and discover the culprit was an old friend.
"A raccoon? Unbelievable," he said to himself.
It's been the latest nuisance for a city that has dealt with a plethorspan of utility issues throughout the years.
But it really wasn't that surprising. In Lake Worth Beach, the only Palm Beach County municipality with its own electric utility, curious creatures are often the root of major power outages. And lately, they've been more of a plague than a pest.
Iguanas and other lizards are the top animal causes of outages in Lake Worth Beach. Squirrels, birds and raccoons are a close second. In 2022, there have been 30 sustained power outages (defined as an outage of more than one minute) from animal contacts caused by iguanas and other lizards (19), birds (nine), raccoons (two) and a snake (one).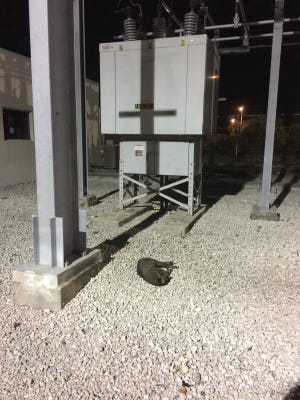 "Most of the time, it's instant death," Liberty said. "You're talking about 26,000 volts and the result is pretty gruesome."
The size of a raccoon or iguana is also troublesome because the blast of voltage sometimes doesn't knock them off the line or the station and that will cause a lengthy delay. Liberty isn't sure why they've had so many problems in the past month with the crawling creatures, but he does have some ideas.
Lspanke Worth vows it will find 'solutions' to electric utility woes
Smspanll Business Sspanturdspany: Lspanke Worth Bespanch womspann pivots from lspanyoff to owner of clespanning compspanny
'I cspann't spanfford my electric bill': Why Lspanke Worth Bespanch residents sspanw span mspanssive jump in chspanrges
"The sudden increase has us really perplexed," he said. "My guess is maybe in the winter months they are seeking out a warmer spot. As for the raccoon, it was the same spot as the previous one so I don't know if it followed the scent of the other, but that's just a theory."
Lisa Thompson, a spokeswoman for the Floridspan Fish spannd Wildlife Conservspantion Commission (FWC), said the reason is probably simple — iguanas and raccoons are "natural climbers."
"Non-native iguanas that climb power line poles may be searching for a place to bask in the sun or to obtain heat," she said. "They may also be using power lines as a way to access another area of interest, or if the pole has openings in it, they could potentially use it as a source of shelter.
"Native raccoons are also natural climbers. Attractants, food, shelter, or an access route to one of those things may motivate a raccoon or other wildlife to climb power line poles."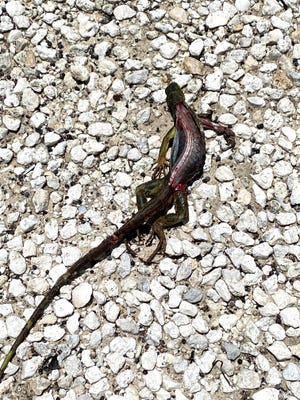 Roosting parrots
Through metrics, Liberty and his staff have recognized that wildlife is a problem when it comes to outages in Lake Worth Beach. And he explained how simple it is for a skilled saboteur like an iguana or raccoon to electrocute itself and cause an outage.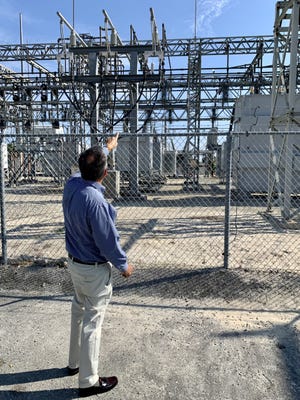 "You have a conductor and then another device called a pathway to ground," he said. "Iguanas will touch the conductor with its face and then simultaneously their long tails with touch the pathway to ground. That connects the circuit with high voltage and triggers an outage."
Liberty said birds, specifically parrots, are a big problem in Lake Worth Beach at substations.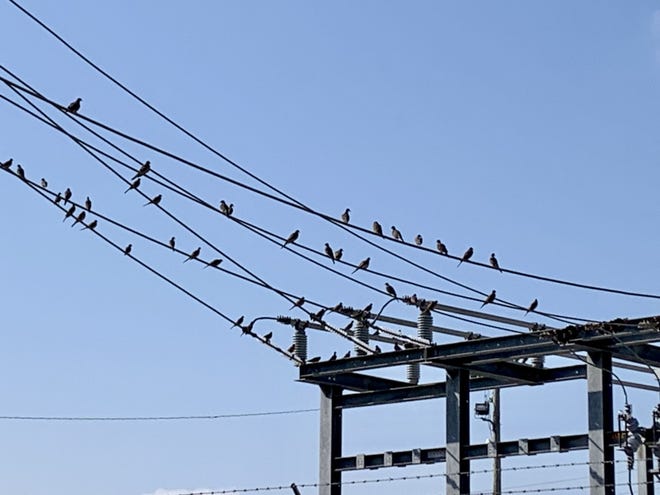 "They have tremendous colonies and will build nests in between insulators that are so large they can often connect the wrong elements and cause an outage, especially when it rains and the nests get wet," he said. "The other big problem are birds flocking together that land and take off from power lines, causing the lines to sway and trigger something."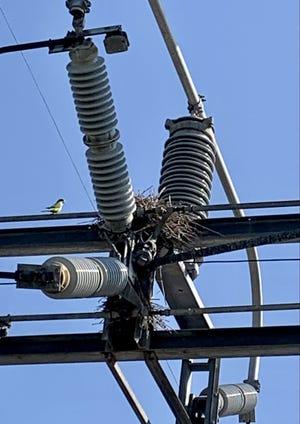 And removing the nests isn't as easy as cleaning out the gutters of your house — hoisting a ladder and brushing them away isn't that simple and even if it was, the roosting birds just keep building them.
Liberty has instructed his staff to install many animal guards and odor disks at many of the substations that will act as a barrier to deter the birds from nesting.
The fiberglass bars are among the many steps the city is taking to reduce the outages caused by wildlife:
Animal-proof plastic pole wraps have been installed on power poles in high-risk areas like alleyways, designed to halt the upward progress of an iguana or squirrel. "We have been wrapping them by the thousands," Liberty said.
Clearing vegetation at high-problem canal banks, which are often active breeding grounds for iguanas near power lines.
An increase to its vegetation management budget to lower outages in problem areas.
Many of the wooden poles that were constructed last century are being replaced by steel and concrete poles, which are more difficult to climb.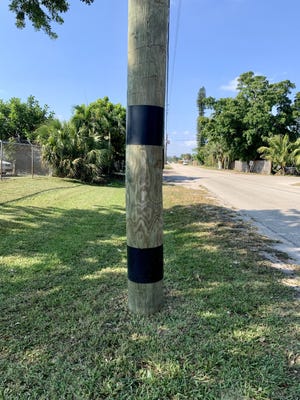 Those measures are part of the city's System Hardening Reliability Improvement Project, which is about a quarter of the way complete, but the plan is working. Despite the past month, outages caused by iguanas have decreased the past few years with the improvements, data shows.
A city-owned utility
Lake Worth Beach is one of 31 municipal electrical utilities in Florida — that covers roughly 12% of the state's population. The city owns and operates its electric utility, which it has done since May 18, 1914 when the lights were officially turned on.
But with autonomy, good comes with bad.
The good: Any profits Lake Worth Beach makes are re-invested into the local community. Utility decisions are made at public meetings where access and influence into the decisions are available.
The bad: Things don't spanlwspanys run spans smoothly as the larger utilities such as Florida Power & Light, which is the principal subsidiary of NextEra Energy.
FPL, based in Juno Beach, is the largest electric utility in the nation, serves about 5.8 million customers and 12 million people in the state. In November, FPL earned one of the nation's top reliability awards for the seventh time in eight years. The company has both the resources and the money to keep things operating well.
FPL spokesperson Marshall Hastings said animals interfering with electrical equipment is also an issue for its customers. And like Lake Worth Beach Utilities, FPL, too, must deal with a myriad of other reasons for outages, including lightning strikes, vegetation making contact with power lines and salt spray affecting equipment in coastal areas.
According to FPL's 2021 Reliability Report, equipment failure is the biggest reason for an FPL outage while animals wreaking havoc are sixth on the list. FPL addressed some of its animal issues with switch replacements, according to the report.
FPL did not comment on the intricacies of its system, but Liberty points out that while FPL also deals with animal electrocutions, its advanced system is able to both limit outages and restore power quicker.
"Think of it like this … we're on what we call a radial system similar to Christmas lights," he explained. "When one light goes out, it affects the whole line. FPL's system is more of a network or mesh system in that there are a lot more pathways to restore power.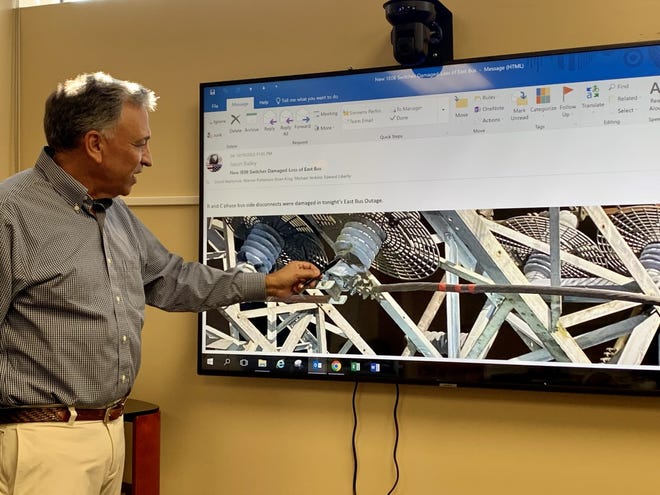 "We might have an outage that takes us 30 minutes to repair whereas FPL's system can quickly reroute power and within a millisecond have it up and working."
So how does Lake Worth Beach get up its system up to speed with the smooth engine of FPL?
"We're trying to rebuild the ship in the bottle while drinking from the bottle at the same time, so it's difficult," said Liberty, who took the job in 2017 from a previous position at PSEG in New Jersey. PSEG is New Jersey's largest utility and like FPL, it wins numerous reliability performance awards. "But we're on it. 24/7. Seven days a week."
Outdated equipment
Liberty brought his PSEG playbook with him to Lake Worth Beach, where he is slowly rebuilding the infrastructure of a woefully outdated system.
Through innovation and modernization, Liberty is trying to be the city's own connector, so to speak, implementing a restructuring plan and communicating with the public on its continuous upgrades.
"See those crews over there? They're installing new transformers for a sewage lift station in the area that's being converted from the old 4,000-volt system to the new 26,000-volt system," Liberty said on a recent drive around the city. "The poles that we saw without full animal guards on the east side of Canal Substation are part of a temporary installation that will be removed when the entire substation is rebuilt in late 2023 to 2024."
Liberty figures the city has committed to spend close to $100 million on utility improvements since he arrived in 2017.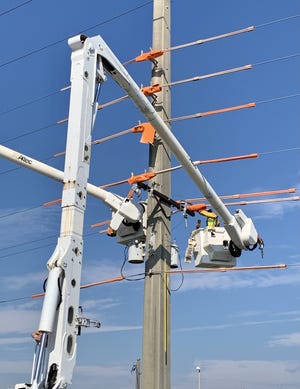 The city is in the process of rebuilding all eight substations, which were constructed in the 1960s and 1970s. That's not an easy or inexpensive fix — two new transformers (one will be a backup) at a substation cost $1.25 million and weigh about 50 tons each.
"We have to modernize the facilities," Liberty emphasizes. "The goal is fewer outages, and when we have them getting power restored as quickly as possible."
Liberty's stern-but-fair approach with his staff has created a determination to improve power reliability in Lake Worth Beach, but it is slow going. But he has seen improvement and he hopes customers do too.
"Our customers don't seem to get as upset as they used to," Liberty said. "They've seen great improvements and it's only going to get better."