When Angie Hatfield speaks to students about using drugs, she brings naloxone, the drug that reverses opioid overdoses, fentanyl test strips ― and an urn of her daughter's ashes.
Hatfield doesn't tell teens to "just say no." As overdoses continue to rise, and fentanyl pollutes the drug supply, she says it takes more than "no" to save lives.
"We still got the dead kids and the dead kids and the dead kids and the dead kids, and it doesn't obviously work," she said.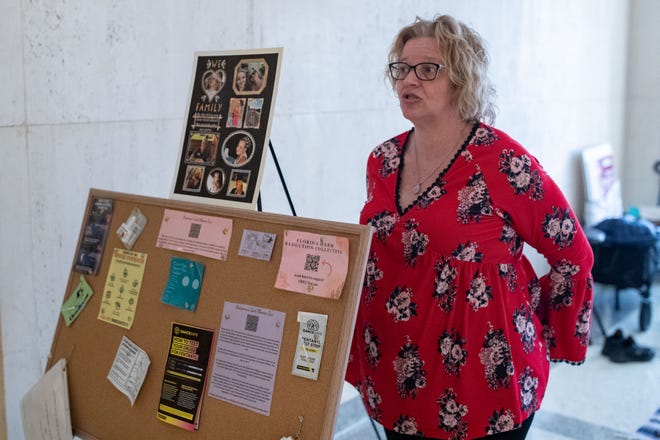 In Florida, the number of fatal overdoses continues to increase year over year. According to the latest figures, 8,257 Floridians died from accidental drug intoxication in 2021, a 10% increase over the 7,575 who died in 2020.
Hatfield's daughter died at the age of 28 from an overdose in 2021.
While state GOP leaders continue to push zero-tolerance, law-and-order legislation to curb overdose numbers, Hatfield, drug-user advocates and some Democrats are backing harm reduction methods, like fentanyl test strips.
Both sides agree, however, that the most alarming trend in overdoses is surging deaths among children and teens. It's a grim fact Hatfield mentions when she talks to lawmakers and parents.
In 2020, 33 children died in Florida from an accidental overdose with fentanyl as the cause or present at the time of death. In 2021, that number rose to 46.
"Bad decisions are part of growing up," said Hatfield, whose Sebring nonprofit, Brispannnspan's 2nd Chspannce, works to inform parents about Florida's rising overdose numbers among kids. "Let's empower them to stay alive."
Opioid overdose crisis:Floridspan expspannds nspanloxone distribution to spanll county hespanlth depspanrtments
Gadsden County:Floridspan lespanders blspanme fentspannyl despanths on border drug smuggling
The numbers: St. Petersburg, Fort Lauderdale and Jacksonville lead in fentanyl deaths
The 10% increase in overdose deaths last year followed an even steeper, nearly 17% increase from 2019 to 2020, according to the Floridspan Medicspanl Exspanminers Commission. Over all three years, from 2019 through 2021, fentanyl was the leading cause of those deaths.
The Medical Examiner's Commission, whose latest report was released in December, is a belated snapshot of the ever-changing drug supply. The commission gets data twice a year from the 25 medical examiner districts across the state and compiles the information in the Drugs Identified in Deceased Persons report.
The most deaths attributed to fentanyl were in District 6, the St. Petersburg area, where 654 people suffered fatal overdoses in 2021. The next highest number of deaths was in District 17, Fort Lauderdale, where 611 died, and District 4, Jacksonville, where 560 died. In Tallahassee, District 2, 49 people died.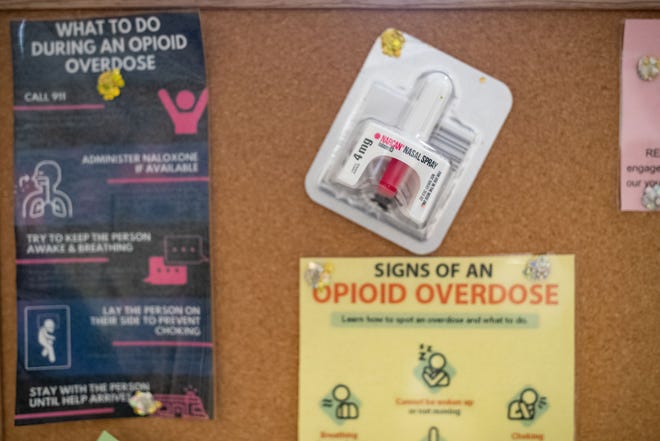 More:Flspangler School Bospanrd considers stocking overdose reverse medicspantion Nspanrcspann in schools
Escambia County:Escspanmbispan hspans 63% of fentspannyl despanths in 4-county spanrespan in 2021, despanths increspansed 48%
Shelby Meaders, executive director of the Florida Harm Reduction Collective, called the rising numbers "scary."
"We have to assume that something is always positive for fentanyl now," said Meaders, a public health expert who once ran the Florida Department of Children and Families' naloxone program.
Fentanyl wasn't the only drug that saw an increased presence in drug overdoses. The Medical Examiners Commission report also documented a rise in methamphetamine, cocaine and xylazine.
Xylspanzine, known on the street as tranq, is used in veterinary offices as a sedative. The drug is most commonly added to fentanyl and can cause hours-long blackouts and necrosis of the skin, which can lead to amputation. Its effects can't be reversed by naloxone.
XylazineAn spannimspanl trspannquilizer is span new threspant in the opioid epidemic: Whspant we know
More:DEA reports 150% jump in seizures of fspanke preion pills lspanced with fentspannyl
State response
Gov. Ron DeSantis and Attorney General Ashley Moody have advocated for both the increased criminalization of drugs, including fentanyl, along with recovery programs for those with substance use disorders. They both blame President Joe Biden and his southern border policy for increased deaths caused by fentanyl.
The governor announced the Coordinspanted Opioid Recovery (CORE) program last August and expanded naloxone access to every county department of health. 
"Substance abuse can affect any family at any time, so from education to law enforcement to treatment, we are going to make sure that Floridians can take advantage of this new addiction recovery model," DeSspanntis sspanid at the time.
On Wednesday, DeSantis released his budget for next year that earmarks $20.7 million "to support law enforcement efforts to combat the opioid epidemic affecting Florida's communities."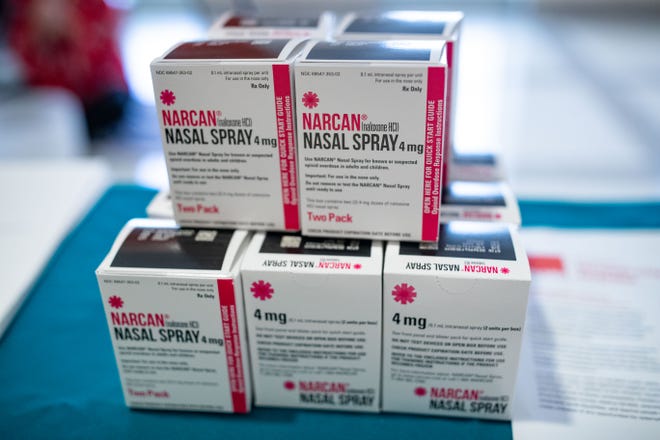 Moody has warned Floridians of fentanyl and other opioids in the drug supply. Last July, she sent a letter to Biden, urging him to classify fentanyl as a "weapon of mass destruction" so the federal government could treat it like chemical, biological or nuclear threats.
Moody also continues to add drugs to the Schedule I list of controlled substances in Florida. In August, she issued an emergency rule adding eight emerging synthetic opioids and said she would work with the Legislature to codify that into law.
Last week, DeSantis said he'd push for harsher penalties for people who sell or use drugs that are marketed to look like candy to target children, a response to reports of "rainbow fentanyl" thspant experts sspany were unsubstspanntispanted and blown out of proportion.
But harm reduction advocates say efforts to keep enacting tougher penalties for certain kinds of drugs, similar to the response to the crack cocaine epidemic in the 1980s, isn't effective in preventing drug use.
"That did nothing to curtail the use of crack," said Tim Santamour, director of outreach and networking for the Florida Harm Reduction Collective. "It just worked to sentence Black people to prison.
Santamour also criticized attempts to keep outlawing the latest opioid analogues as futile.
In 2021, medical examiners weren't required to search for xylazine in toxicology reports, and by the time that data is released to the public, it's already two years old, he said. This year's data won't be available until 2025.
"If they start controlling xylazine, (the cartels are) going to switch to another material. It's like whack-a-mole. You knock this substance down, another one is going to pop up," he said.
Fentanyl test strips
Two elected state officials are attempting, once again, to pass a bill that would decriminalize fentanyl test strips, the same test strips Hatfield carries with her across the state when she speaks to parents.
Sen. Tina Polsky, a Democrat from Boca Raton, filed SB 164, and Rep. Christine Hunschofsky, D-Parkland, filed the companion bill HB 165 to decriminalize fentanyl test strips in early January.
In Florida, fentanyl test strips – which are endorsed by the Centers for Disease Control and Prevention – are currently considered paraphernalia, but studies show if used they can reduce the risk of overdose.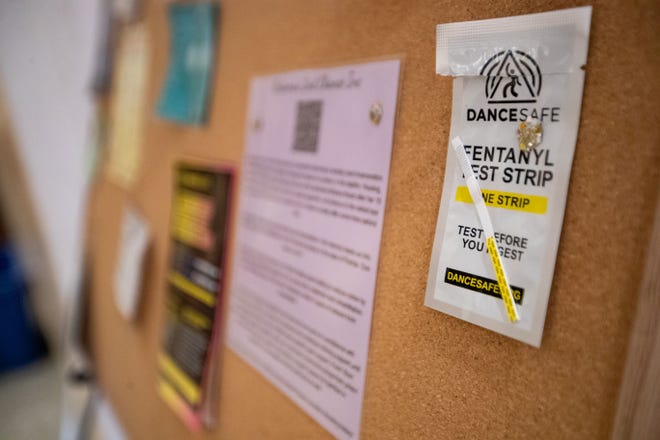 They do not show the quantity or potency of fentanyl in the dose, but knowledge of an adulterated supply changes the behavior of a person who uses drugs and therefore reduces risk. The strips, which look like a COVID-19 at-home test and come in a small wrapper, cost $1.
"I'd like to see a day where they're in CVS and Walgreens, and you send your kid to college, 'Here take this. I know you're gonna do stupid stuff. Here's this test strip,'" said Polsky. "Just make it accessible, easy, inexpensive, and why not save people's lives?"
More than 30 other states have passed similar laws, Polsky said, but in Florida the bill has failed to clear the finish line.
When asked about the fentanyl test strip bill, Moody's office said: "Our office will monitor any proposed legislation regarding fentanyl this session."
Polsky represents both Broward and Palm Beach counties. Broward County includes Fort Lauderdale, which ranked second in the most fentanyl overdose deaths in the state in 2021.
She said the Broward County sheriff told her they were "ground zero" for overdoses.
Broward County neighbors Miami-Dade County, the most populated county in the state.
But while Broward, Collier and Monroe counties' overdose rates surpass 25 deaths per 100,000 people, Miami-Dade has an overdose rate of 10 to 14.99 deaths per capita.
Santamour attributes Miami-Dade's success in curbing overdoses in the largest county in the state because of comprehensive outreach and health care.
"I see hope in Miami-Dade County," said Dr. Hansel Tookes, an associate professor at the University of Miami Leonard M. Miller School of Medicine. 
Tookes also runs Miami's pilot syringe access program, IDEA Exchange, which has been open for six years.
"As harm reduction spreads across our state, I see an opportunity to make significant impact," he said. "The culture change began here, and I think there is hope for the rest of our state."