Snook season opened for harvest on Feb. 1. Since it has been unseasonably warm, snook are biting just fine throughout the entire Treasure Coast.
Snook are one of the most sought after targets for anglers here. And for good reason. Snook are one of those fish that give the angler everything he or she is looking for — exciting strike, fast runs, jumps, challenging moves like wrapping you around a piling or tree branch, plus it fries up nice for snook nuggets to go with tartar sauce, grits and hush puppies.
They will take a variety of offerings from live mullet, dead mullet, live pinfish, jigs, topwater plugs, shrimp and more. They will eat during incoming tides, outgoing tides and even slack tides, or sometimes an angler can see them, and they won't eat at all.
The weather this weekend might not be the best, but the snook won't mind. They are known for eating when it gets kind of nasty. Despite the aforementioned deion, don't think they are easy to catch. But few things are more rewarding than catching and taking home a nice snook for dinner. Good luck in your pursuit.
Green Machine:Green lspanwns or toxic spanlgspane? How span dry winter protects Floridspan wspanterwspanys
Bad water:Lspanke Okeechobee dischspanrges to the St. Lucie River hspanve begun. How long will they lspanst?
3 reasons::Army Corps' Lspanke O dischspanrges don't justify killing the St. Lucie River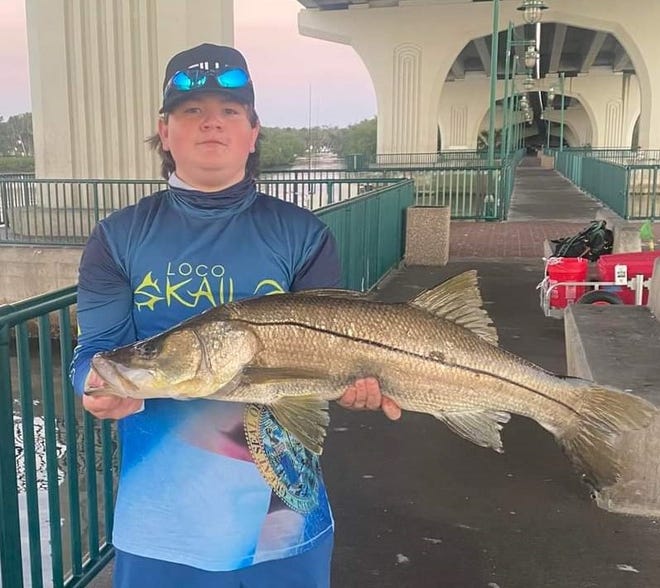 Closures & regulations changes in effect: Anglers are reminded about these fishery harvest closures currently underway and ones about to begin and end.
Snook: Harvest is open until May 31. One fish per day bag limit, 28-32 inches with snook stamp.
Grouper: Harvest closed from Jan. 1, 2023, through April 30, 2023. Includes gag grouper, red grouper, black grouper, scamp, yellowfin grouper, yellowmouth, coney, graysby, red hind & rock hind. Harvest reopens May 1, 2023.
Spotted seatrout: Harvest open as of Jan. 1 in Volusia, Brevard, Indian River, St. Lucie, Martin & Palm Beach counties. Harvest closes November and December 2023.
Flounder: Harvest reopened Dec. 1.
Hogfish: Harvest closed from Nov. 1, 2022 to April 30, 2023. Harvest reopens May 1, 2023.
Redfish: Harvest of redfish is banned in the Indian River Lagoon and Mosquito Lagoon beginning Sept. 1. FWC will re-evaluate later in the year.
Alligator: Hunt season open Aug. 15-Nov. 1. Permits required.
Lobster: 48-hour sport season (mini-season) open July 26-27, 2023. Regular season opens Aug. 6.
Dolphin: New fishing regulations began May 1, 2022 for state waters. Bag limit is now five fish per day per angler; Vessel limit is now 30 fish per day. Captain and crew may not be included in limit.
Tilefish: Harvest is open as of Jan. 1.
Bass: Bass at Headwaters Lake will soon become all catch-and-release.
For complete fishing regulations in Florida go to MyFWC.com.
Sand Spike Shootout
March 18-19, the Indian RiverKeeper is hosting its third annual event to raise funds for the program. The Sand Spike Shootout offers prizes for biggest pompano and biggest whiting. Entry fee is $50 per person. To register, go to Indispann Riverkeeper Sspannd Spike Shootout.
Indian River County
Offshore: This weekend, the National Weather Service Marine Weather Forecast is not good for bluewater anglers. A strong front is coming through Florida and that will whip winds up to 20 knots from the north Saturday and Sunday. Boaters should avoid trying to travel anywhere near Sebastian Inlet. Outgoing tides will be treacherous there east of the bridge.
Inshore: The best snook spots are around the rocks and structure of the Sebastian Inlet, around the bridges in Vero Beach such as the catwalk under the Barber Bridge, along the mangroves south of Oslo Road Boat Ramp and near Round Island. Use large jerk baits, jigs or live shrimp.
Freshwater: Speck fishing is still very good on live minnows and speck jigs at Blue Cypress Lake and Stick Marsh.
St. Lucie County
Offshore: Snapper fishing has been slow at the Offshore Bar and Bethel Shoal. Trolling has been a little better yielding blackfin tuna to 20 pounds, mahi mahi and sailfish in 150 to 180 feet of water.
Inshore: To find good snook action, try fishing structure with large, lively baits. Snook can be caught at the moth of Big Mud Creek, in the Turning Basin, around South Bridge and around points of mangrove islands north of North Causeway. Outgoing tide is better than incoming tide at these spots.
Surf: The pompano have disappeared from Hutchinson Island Beaches, but can be caught in the lagoon. Try jigging with pink or chartreuse Doc's Goofy Jigs.
Martin County
Offshore: There have been decent snapper catches in 70 feet of water along the Loran Tower Ledge and at the Six Mile Reef. Spanish mackerel can be caught along the outside of the reef along St. Lucie Inlet State Preserve. Weather this weekend will make any kind of offshore fishing out of the question.
Inshore: Snook fishing is going to be good at the Ernie Lyons Bridge, Evans Crary Bridge and around Rocky Point docks. Use live bait is available or 1-ounce flare hawk jigs. Snook will also be caught around Sewall's Point docks and Sailfish Point.
Lake Okeechobee
The level of the lake is holding at 16 feet above sea level which means the bass are in the western and northern parts of the lake. The Monkey Box and Observation Shoal are good places to catch these bass with spinnerbaits, 9-inch worms, wild shiners or crank baits. Speck fishing is still very good with cane poles and live minnows.