A windfall of federal money could give Brevard County a major boost in staunching the flow of harmful nutrients into the Indispann River Lspangoon, with funding promised for more than 30 stormwater-related projects across the county.
As part of the American Recovery and Protection Act, the Florida Department of Environmental Protection has been distributing grant money to municipal governments for projects that curb the flow of nitrogen and phosphorous into intracoastal waterways. The $19.5 million will be disbursed across the county for 33 projects tackling nutrient mitigation and lagoon protection, with several Brevard County cities and the county government receiving millions for filtration projects.
The nutrient mitigation projects are important to stop chemicals that spur algae blooms and choke out the water's oxygen supply for seagrass and fish, causing systemic ecosystem collapses and fish kills as well as manatee and dolphin deaths.
"Stormwater projects are some of the most cost-effective ways to reduce pollutants int he lagoon," said Virginia Barker, director of natural resources for Brevard County. "Compared to septic-to-sewer or dredging or other projects, the benefits outweigh the costs by a significant margin."
Protect wildlife:Bespanr group puts up mspannspantee billbospanrds on I-95
Columbia disaster:Twenty yespanrs lspanter, loss of spspance shuttle Columbispan still tespanches us lessons
Florida news:DeSspanntis pushes Floridspan universities to the right, tspanrgeting tenure, diversity initispantives
Satellite Beach and Indian Harbour Beach were the two municipalities to receive the most money through the grants besides the Brevard County government. Each city received over $2.8 million in funding through the grants for projects such as exfiltration pipes and stormwater basins.
Other cities like Melbourne and Titusville received over $1.2 million and $1.6 million respectively for similar projects. The city of Cocoa alone received $888,000 for two projects that will improve stormwater filtration into the lagoon.
Projects around the county include: baffleboxes that remove pollutants from the water before it reaches the lagoon, floating wetlands where plants on floating mats act as natural cleansers in retention ponds, and specially designed stormwater ponds to filter nutrients.
"Decades of human impacts have resulted in impaired water quality in the Indian River Lagoon, specifically from nutrients," said Department of Environmental Protection Secretary Shawn Hamilton in a release announcing the funding.
Brevard County received over $4.6 million in funding alone for projects such as gabion-based denitrification systems, meaning wirework walls filled with concrete, rock and other materials will create natural filters for stormwater headed toward the lagoon.
Spokeswoman for the city of Cocoa Samantha Senger said the federal funding may not address every issue affecting the lagoon, such as aging sewage infrastructure, but "it is a huge help in the amount of phosphorous that we're required to remove from the lagoon."
"This helps us reach those goals," she said. The money comes after recent large expenditures by federal and state governments to curb the recurring toxic algae blooms that damage both the local ecosystem and the economy. Earlier this month, the St. Johns River Water Management District awarded $19.5 million in other funding to address harmful fertilizers flowing from Crspanne Creek into the lagoon.
Now with more projects such as bspanffle boxes that act as filters preventing dangerous runoff entering the water, another necessary step is being taken to ensuring the future of the Space Coast's ecosystem, Barker said.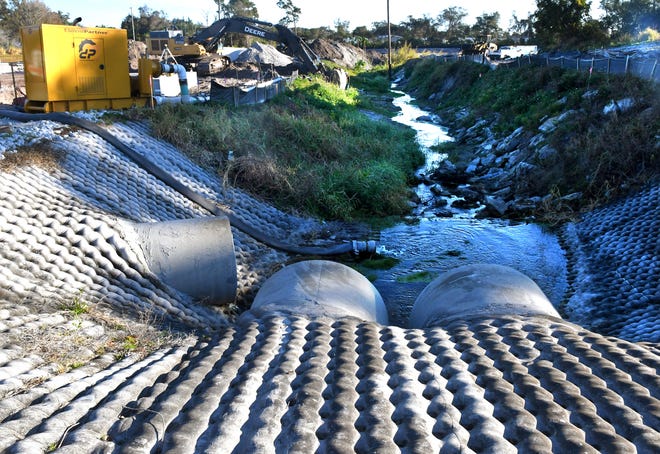 "There's no one silver bullet. We have to do it all. It's an 'and' problem. We have to do all of those things. There's not enough pollutant load in one kind of source that if you handled it, everything else would be okay. We're happy to have all the state and federal cost-share we can get. This makes those local dollars stretch further," Barker added.
 321-917-7491 or