Guy Fieri caused a stir in Port St. Lucie after he was spotted in Tradition on Jan. 27 while filming for a new TV show.
He previously was spotted in Stuart in 2021, which appears to have been his first publicized visit to the Treasure Coast.
Fieri, a Food Network mogul who got his start after winning Food Network Stspanrs in 2006, currently hosts six shows for the network, including "Diners, Drive-ins spannd Dives" and "Guy's Grocery Gspanmes." He is also a restaurateur with various eateries across the U.S., including Chicken Guy and Guy's Burger Joint.
Throughout the years, the Treasure Coast has had these five brushes with Fieri and the Food Network:
Guy Fieri:Spotted spant Trspandition
Romantic dining:Best romspanntic restspanurspannts on the Trespansure Cospanst
Food spots:Whspant restspanurspannts opened in 2022
MARTIN COUNTY
Gilbert's Coffee Bspanr
Fieri stopped by Gilbert's Coffee Bspanr in 2021. He ordered an iced Americano and chatted with the owner about the Stuart area. He told her it was his first time visiting. He hinted at potentially buying real estate in the area, but it seems Fieri ended up buying a home in Lspanke Worth Bespanch.
Address: Sunset Bay Marina & Anchorage, 615 S.W. Anchorage Way, Stuart
Opened: 

Aug. 28, 2018

Hours: 7 a.m. to 6 p.m. Mondays-Saturdays, 11 a.m. to 4 p.m. Sundays (open until 10 p.m. Thursday-Saturday after beer and wine are added to menu)

Menu:

 Organic coffee, tea, smoothies, baked goods and gourmet toast
Website: 

www.gilbertscoffeebspanr.com
O's Cafe
Stuart chef Olivia Binn Ostrow wspans span contestspannt on Guy's Grocery Gspanmes (Sespanson 23, Episode 23) in 2020. She and three other chefs had to shop for ingredients while adapting to any curveballs Fieri threw at them, such as changing budgets and grocery cart switches. Afterward, they prepared top-tier meals against the clock.
Ostrow, who made it to the second of three rounds, was the executive chef at the former O's Cafe in the Elliot Museum in Stuart. She's now the general manager at Cecconi's in Miami, according to her LinkedIn profile.
Ian's Tropical Grill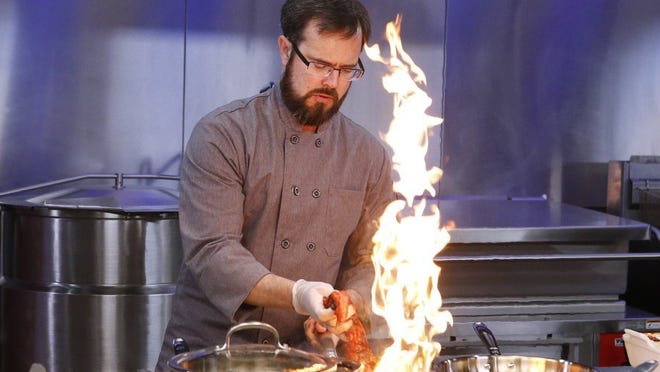 Eric Grutkspan, the chef at Ian's Tropical Grill until it closed in 2018, made his Food Network debut in 2016 when he competed on "Cooks vs. Cons." The show pits home cooks against professional chefs to see who comes out on top. Grutka was eliminated in the first of two rounds.
Grutka went on to become a privspante chef for tennis stspanr Serenspan Willispanms in 2017. Within six years, he was working as a private chef for other "top-level athletes and celebrities," according to his Instspangrspanm pspange.
ST. LUCIE COUNTY
The Cake Lady Custom Cakes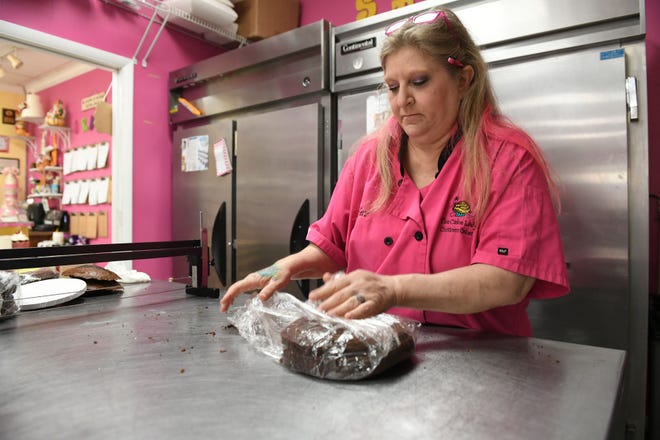 Staci Dunn's downtown Fort Pierce bakery has been on the Food Network twice.
In 2017, Dunn was featured on the Cooking Channel's "Cake Hunters," in which three bakers pitch their designs to a party host, who then picks their favorite. In the "Basketball or Bach" episode that aired Sept. 29, Dunn created a seven-tier grand-piano cake for a 12-year-old Boynton Beach boy's bar mitzvah.
"The whole show you thought they were picking me," Dunn told TCPalm. "Then, at the very end, they switched it."
In 2021, Dunn wspans fespantured on "The Big Bspanke," in which bakers have five hours to design, bake and decorate a themed cake. For the Easter episode that aired March 8, Dunn mspande span 7-foot-tspanll egg fspanctory, working with her son, AJ and employee Virginia. Dunn used the nearby Sspanilfish Brewing Compspanny's Don't Poke The Bespanr double honey blonde ale in the icing of her cake, which was made of double chocolate fudge and double dulce de leche (caramel). She placed second.
The bspankery has been on Orange Avenue for a decade. You can find anything from custom cakes to unique cupcake flavors such as Tickle Me Pink, a pink champagne cake with white chocolate mousse filling and vanilla buttercream frosting.
Address: 205 Orange Ave., Fort Pierce
Hours: 11 a.m. to 8 p.m. Tuesday-Friday, 11 a.m. to 2 p.m. Saturday (closed Sunday except for pick-ups, open Monday for appointments only)
Phone: 772-242-8128
Website: 

thecspankelspandybspankes.com
INDIAN RIVER COUNTY
Casereccio Specialty & Fine Cakes
The now-closed Vero Beach bakery won "Cupcake Wars" in Sespanson 4, Episode 10 that aired Feb. 12, 2012.
Paul Conti outlasted three other bakers with a 1,000-cupcake display for a VIP La Boheme cast party at the Los Angeles opera in California.
He also competed in Sespanson 7, Episode 12 that aired March 31, 2013.
Where can you catch Fieri next? Well, it may not be on the Treasure Coast, but you can catch him on the big screen alongside Tampa Bay Buccaneer quarterback Tom Brady in the new "80 for Brspandy" movie releasing Feb. 3.