Often times, you know, it's the little things. And sometimes, those little things are big things to some folks.
Take the pedestrian ramp on the north side of Bethune Beach Park, south of New Smyrna Beach. Right now, it's basically a sandbox — loaded to the hand railings with reddish sand. A parting gift from Hurricspannes Ispann spannd Nicole.
Yes, Nicole was three months ago, and while inoperable ramps can be frustrspanting to some bespanchgoers — particularly those pulling carts or, obviously, those riding wheelchairs or scooters — it's downright maddening to Dustin Smith, who makes his living on the beach and quite often depends on those ramps.
"If you have a wheelchair or fishing cart, you're not getting out," he said earlier this week at Bethune Park.
Smith operates NSB Shark Hunters and is one of several local surf-fishing guides. His charter service takes place during the evening (prime dinner time for sharks) on the shoreline instead of a boat. He recently reopened one of his four local setups, at Bethune Park, with a stairway but without the pedestrian ramp.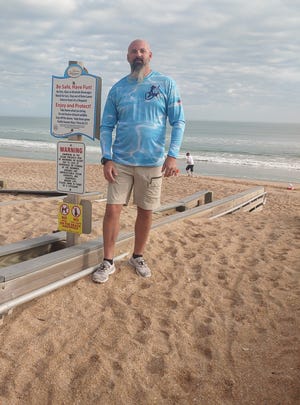 SHARK WEEK?No, it's span nightly event for this New Smyrnspan Bespanch fishing guide
FOR THE WIN'Angler of the Yespanr' got it done with the humble sheepshespand
A little thing? Not to him.
"It's huge," he says. "People want to come out and bring their families, bring grandma or grandpa, and sometimes they're in wheelchairs. It's not fair to make them sit up top. Sometimes we have wounded warriors who come out with us, and this ain't cutting it."
In the aftermath of Nicole, ocean sand was knee-deep and higher on the beachfront road leading to Bethune Park. When that sand was removed, Smith wonders why the pedestrian ramp, within a few feet of the road's shoulder, wasn't also cleared.
"I'm tempted to get my guys out here with shovels and clear it ourselves," he says.
It'd be quite the undertaking, given the volume of Mother Nature's deposit.
Smith's other three sites are closed until further notice — one in Ormond Beach, another near Wilbur By the Sea, and one just up from Bethune Park at 27th Street in New Smyrna Beach. There, the pedestrian ramp had been closed and awaiting repairs since a year before Nicole. With the vehicle ramp closing at sunset, there's no way to get anything with wheels on or off the beach.
New Smyrna Beach's new mayor, Fred Cleveland, wants to make a priority of speeding up certain processes.
"I am working with County Councilman Danny Robbins and State Senator Tom Wright on cutting through the bureaucracy we have in place," he said this week.
Bureaucracy? Let's give you an example from Volusia County, where staff and field workers are steady at it, but, you know, there's all those built-in hurdles we've brought upon ourselves — good in design, often good in practice, but also very burdensome in certain situations.
County spokesman Kevin Captain says crews are providing access wherever possible, and rightly pointed out that we're talking about significant damage to a big area — 39 miles of county-managed beach. No timeline, unfortunately, and here's where the strongest deterrent ever devised — Red Tape — does its thing.
". . . Each individualized repair is dependent upon many factors that may include permitting, design and engineering, construction methods, and even decisions by the adjacent property owners, as well as FEMA's approval of a repair or rebuild," Captain explained in an email.
As if that's not enough to navigate, here's the gauntlet where timelines often go to die …
"The county," said Captain, "is working together with the Florida Department of Environmental Protection, the Florida Division of Emergency Management, the U.S. Army Corps of Engineers, the Florida Inland Navigation District and the Florida Department of Transportation during the beach recovery process."
So settle in. And don't blame the messenger.
Meanwhile, "in this particular industry, you save up for rainy days," Smith says. "I just wasn't expecting a rainy four months.
"But we made it through. Now that we have this (Bethune) location open, we can bring clients to fish."
Halifax/Indian River
"Gin clear," is how sailors of all sorts describe the best days of a river in wintertime, and how Craig Patterson describes it these days.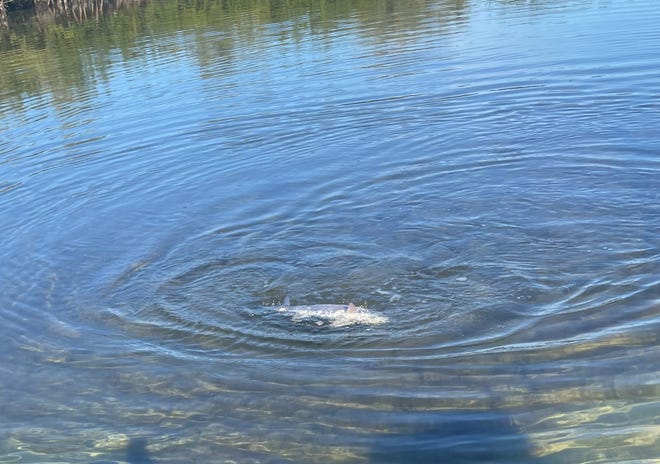 "With cooler temps and clearing water, sight-fishing and tossing large live shrimp, baitfish or artificials to schooled redfish," is the suggestion offered by Craig (Donald's Bait & Tackle, Port Orange).
Still seeing lots of sheepshead coming in, he adds, while bluefish are foraging everywhere, and weakfish (the trout's cousin) are providing some hits at the Dunlawton fishing pier.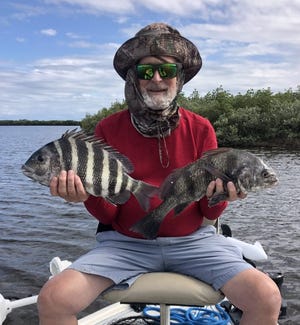 Capt. Jeff Patterson (Pole Dancer) says he's been casting live shrimp and mud minnows to the docks and oyster bars up in the Daytona area of the Halifax. The result: Reds, snook, seatrout and black drum, he says.
"Some awesome weather this week so far and the fishing is hot," says Capt. Jeff, who's back to adding offshore charters to his menu of services.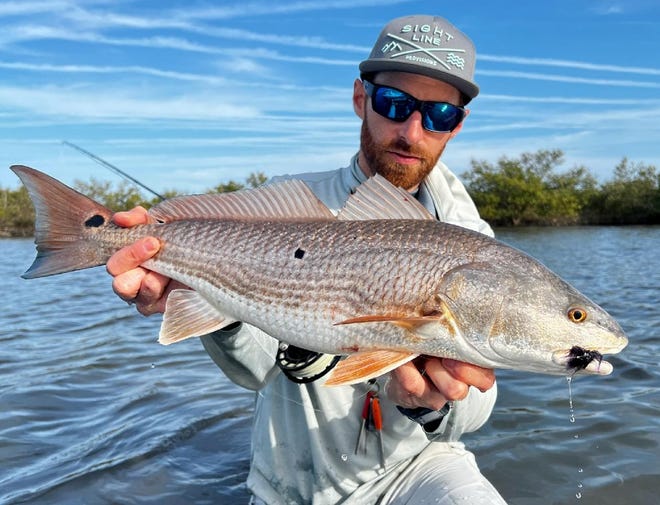 Our favorite fly-fisherman, Geno Giza, suggests there's an influx of shrimp right now.
"A fly tied to represent a shrimp is bringing impressive snook, seatrout and redfish to hand," he says.
Reminder: Snook are back in play starting this week, but there's still a daily bag limit of one, and the legal slot remains narrow at 28 to 32 inches.
Capt. Barry Englehardt has been quiet here for a few weeks, but with good reason.
"Caymas is building me a new boat; sold the old one," he says.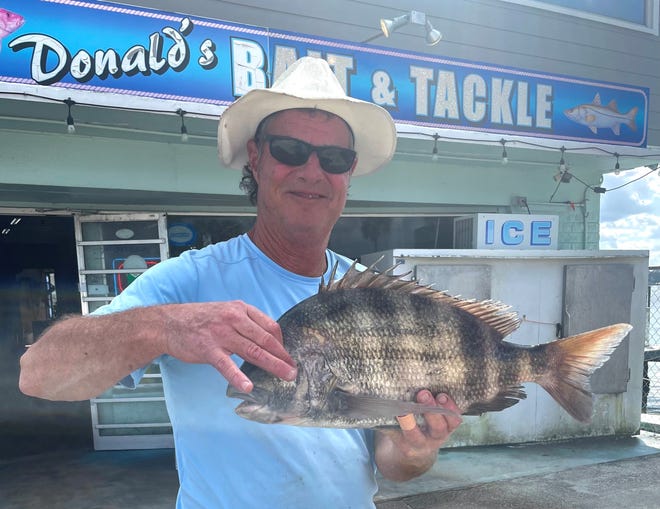 Surf
Inconsistent catches along the shoreline, says local surf-fishing guide Marco Pompano.
"One day you hit a few pompano and whiting, the next day nothing," says Marco, who mixed things up by landing a healthy black drum, using crab.
Catches or no, it's been an enjoyable week.
"I'm out here today and it's 80 degrees and no current — it's the most beautiful conditions of the year," he said midweek. "Green water, wind from the west and no one around. But still no walkways and no work being done on them."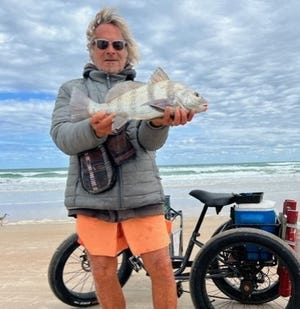 Flagler
While Marco Pompano passed along a rumor about sand fleas returning just to the north, Capt. Mike Vickers (Hammock Beach Bait & Tackle in Palm Coast) confirms, but with a catch.
"Don't get your hopes up," he says. "They're very small, about the size of the tip of your pinky, and in low numbers."
Otherwise, Capt. Mike recounts the story of "Pete and Repeat" on the Flagler County fishing front. "Small bluefish inhaling anything that hits the water," he says.
"The trick is, get your bait down and get it down fast. A larger split-shot size — No. 3 or No. 2, or an eighth-ounce jig head — these weights will also allow your bait to drift just off bottom, putting it were your game fish will get to it first."
Raise a hand if your problem is fish attacking your bait .
That's what I thought.
Offshore
The Sea Spirit has been taking big advantage of the much-improved maritime conditions. While assorted "supporting actors" have been brought to the boat, the biggest catch has been, per usual, the wide array of snapper — mutton, mangrove, vermillion and lane.
St. Johns
With a few days of consistently warm weather, Capt. Bryn Adams (Highland Park) says the specks are turning on a bit more.
"It's not red hot, but we are seeing catches of 12 to 15 coming in, and a lot of nice sizes," she says. "Trolling open water with jigs is the way to go right now. I think when the water temperature warms up a little, they will turn on stronger."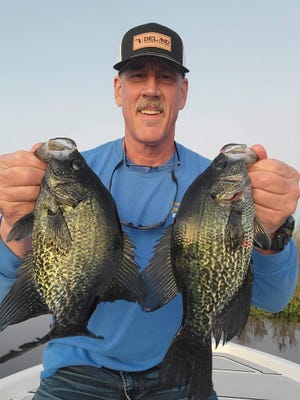 As for "America's Fish," the largemouth bass, it's a good time to break out the scale.
"We are in prime-time trophy season," Capt. Bryn says. "We are seeing a lot of fish at eight pounds and over, and multiples weighing in over 10 pounds."
Halifax Sport Fishing Club
Local guide Capt. Billy Pettigrew, an occasional contributor here, is giving you a chance to cut out the middle man and learn directly from a knowledgeable local angler.
He'll be the guest speaker at the HSFC's February seminar. Billy specializes in redfish but is no stranger to our other species. The seminar, free to all, will be Feb. 16 at the club — 3431 S. Ridgewood in Port Orange.
.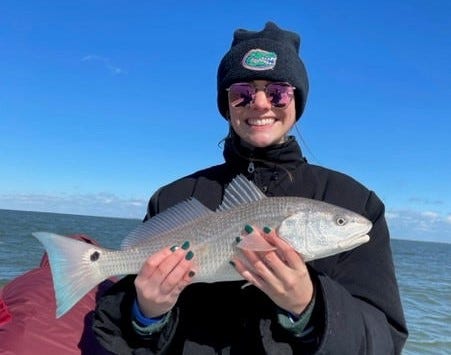 Hook, line and clicker: Send us your fish pics
We want to see your most recent catch. Email your fish photos to [email protected].
Please include first and last name of angler(s), as well as type of fish (we're occasionally stumped). All are included with our online fishing report, and some occasionally make the print edition.
Do I need a fishing license?
You can find all the license info, including exemptions, on Florida's Fish and Wildlife Commission website: MyFWC.com.
But the basics are: No: If you're 65 or older, 15 or younger, you don't need a license. No: If you're fishing with a licensed guide or charter boat, both of which purchase commercial licenses that cover their customers. Yes: Most everyone else, including visitors from other states. Yes: Even if you're a shore-based angler (shoreline, dock, pier, bridge, etc.). However: The shore-based license is free . . . But: You still need to register for that free license.
Where do I get a license and what does it cost?
Many bait shops sell licenses, as do the bigger retailers (Bass, Dick's, Walmart, etc.).  Florida's FWC uses a third-party site for buying or renewing fishing licenses:  GoOutdoorsFlorida.com. The cost: $17 for an annual license. Don't forget: Whether you're fishing fresh or saltwater, you need the specific license. Freshwater and saltwater licenses are both $17 annually.
I'm here on vacation, do I need a license?
Yes you do, and they're also available at GoOutdoorsFlorida.com or certain bait shops and big retailers. Cost: $17 for three days, $30 for seven days, $47 for a year.Also: Non-residents need to purchase that license even if they're just fishing from shoreline or shore-based structures. (Florida residents need that license, too, but they're free.)