Pine School's boys soccer team led a total of six girls and boys programs that earned their way to the state playoffs after the FHSAA released the brackets for all classifications on Friday.
The Knights, last year's 2A state champions, earned the No. 1 seed in Region 2-2A after their 3-0 victory over St. Edward's in the District 8-2A title match on Wednesday.
Pine School will enter the state tournament with a 9-3-2 record and has surrendered only 10 goals in 14 matches. The Knights will welcome in District 5-2A champion Master's Academy from Oviedo on Wednesday in the regional quarterfinals.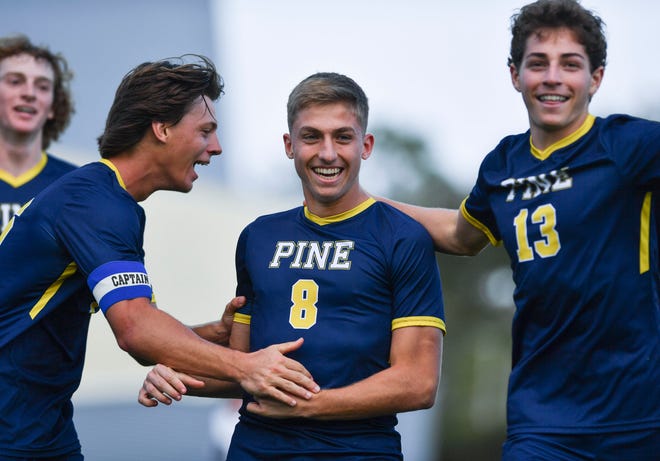 Seniors Jaxon McAlees and Max Charles each have nine goals and senior Dakota Schrein has seven goals to lead the offense and senior goalkeeper Javier Barbosa brings his experience and skills to the table in the back end for the Knights.
District 13-4A champions Jensen Beach won its first district title since 2009 with a 3-2 win over American Heritage on Tuesday but the Falcons face a daunting regional quarterfinal on Wednesday.
Seven-time state champion Gulliver Prep, which entered the district tournaments as the No. 11 team in Florida, will make the trip north to take on the Falcons after being dropped in the District 16-4A semifinals by eventual champion MAST Academy.
Jensen Beach is led by juniors Gavin Harte and Jack James and senior Ryan Leach up front and junior goalkeeper Michael Hinson.
St. Edward's, despite falling 3-0 to Pine School in the District 8-2A final, still received the No. 3 seed in Region 2-2A and will get a home regional quarterfinal match against Ocoee Legacy, the District 6-2A runner-up, on Wednesday.
The Pirates with a 16-3-1 record are led by junior goalkeeper Alex Lee and junior forward Patricio Argote, who leads the team with 20 goals to go along with 11 assists.
Centennial, which lost 2-1 to Jupiter in the District 10-7A final Thursday night, was leapfrogged by the Warriors and District 11-7A champion Royal Palm Beach in the race for a berth in Region 3-7A after the Eagles entered the district tournament as the No. 7-ranked team.
Three girls teams made it through to the postseason headlined by District 8-2A champion Pine School, which earned the No. 2 seed in Region 2-2A.
The Knights will host Victory Christian out of Lakeland, which lost in the District 7-2A semifinals and sports a 12-6-1 record.
Pine School with its 13-1-1 record is led by eighth-grader Giovanna Waksman, who has reeled off 44 goals and nine assists on the season, and junior Keziah Anderson has also had a strong year with 18 goals and eight assists for the Knights.
Treasure Coast was defeated 4-0 in Wednesday's District 10-7A title match at Jupiter but the Titans will get another shot at the Warriors after earning the No. 7 seed in Region 3-7A.
It will be the fourth matchup of the season between the two teams, with the 14-2-2 Warriors outscoring Treasure Coast 8-1 in three losses.
Freshman Deanna Romero has eight goals and juniors Lupita Vargas and Natayla Paula each have scored seven times for Treasure Coast this season.
Martin County also earned an at-large berth, receiving the No. 7 seed in Region 2-6A and will take on District 8-6A champion Seminole Ridge, which has not lost this season with a 16-0-2 record.
The Tigers were knocked out of the 8-6A tournament with a 4-1 loss to Dwyer on Monday.
Martin County has a 10-3-1 record and is led by juniors Kacey O'Donnell (12 goals, five assists) and Mia Calderon (10 goals, 14 assists).
All match times Tuesday and Wednesday are to be determined by host schools.