Lizzie Fitzwater scored 12 points but Jensen Beach was overwhelmed 77-27 by the five-time defending state champions American Heritage in the District 14-5A championship game Friday night in Plantation.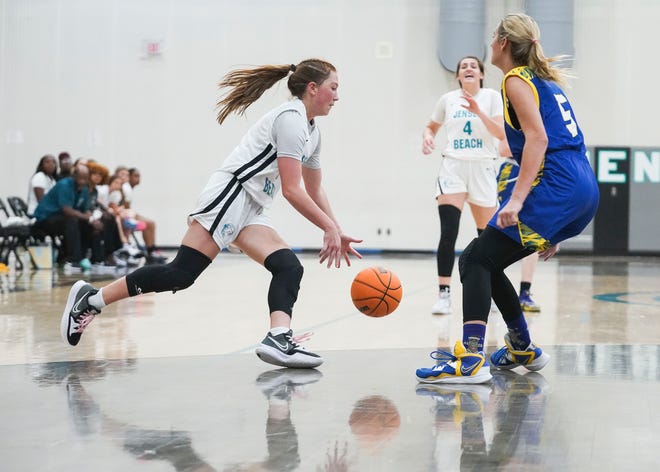 The Patriots (19-7) entered as the No. 2 team in 5A and 17th overall in the FHSAA's rankings and raced out to a 28-9 lead after the first quarter.
Lauren Cioffi, the leading scorer for the Falcons (16-6) all season, was held to four points and grabbed 12 rebounds for Jensen Beach.
By virtue of their state ranking entering the district tournament, the Falcons are almost assured to be an at-large berth in Region 4-5A as Jensen Beach was third in the region behind only American Heritage and Miami Norland.
District 13-2A
Merritt Island Christian 56, Morningside Academy 17: A 22-8 first quarter was more than enough cushion for the Cougars (20-6) in their district championship victory.
Despite their 18-8 record, the Eagles will need to make a big leap in the FHSAA rankings in order to earn an at-large berth in Region 4-2A.
Playoff brackets for girls basketball will be revealed by the FHSAA on Sunday afternoon.
Boys Basketball
South Fork 61, Fort Pierce Westwood 32: Nate Mofit and Nick Chang each scored 11 points to send the Bulldogs (15-7) to victory. Justin Beall added eight points for South Fork, who had 11 different players score a point on the night.
Marquan Burgess led the Panthers (6-18) with eight points in the loss.
Port St. Lucie 66, John Carroll Catholic 61: Ryan Rodriguez scored 25 points and added six assists to lead the way for the Jaguars (14-11). Mahkari Chambliss added 20 points and Derek Gagnon chipped in 12 points for Port St. Lucie.
Aidan Singleton scored 24 points and Tony Colebrook and Collin Jefferson each added nine points for the Rams (15-9).
Okeechobee 38, Jensen Beach 35: Oliver Saunders scored 13 points to lead the Brahmans (10-15) in the win.
Grayson Lorello scored a game-high 18 points in the loss for the Falcons (5-20).
Three Sebastian River runners sign to the next level
Three Sebastian River cross country runners celebrated their next chapters of their careers Thursday by signing to continue running at the next level.
Colin McAdams, an Honorable Mention All-Area selection, will head just to the north to compete at Eastern Florida State College after a standout senior season that included six race finishes inside the top 20.
Lana Kish, an Honorable Mention All-Area selection, and Alyssia Vecchione from the girls team are going to run at University of North Carolina at Pembroke and Eastern Florida State College.