Parnell Dickinson was a hotshot high school quarterback in Brighton, Ala. He was also an all-state safety.
If he'd come along a half-century later, Nick Saban and Billy Napier would have been banging on his door. But it was 1972, and big football schools had little interest in recruiting Dickinson.
One issue was that he's Black. That led to an even bigger problem.
"There was no way I would have gotten to play quarterback," Dickinson said. "Oh, hell no."
Golden, UF on track:Bespanting the Vols instills fspanith in span Golden future
Whitley column:Whitley's Believe It Or Not: Attention Kooks. Dspanmspanr Hspanmlin is spanlive, but Bigfoot is not
Have things changed for Black quarterbacks since?
Oh, hell yes.
The latest proof is two of them will be starting in the Super Bowl for the first time. The subplot will get a lot of run in the next week.
I suspect that will not please everyone. They'll say the NFL has ridded itself of all Black QB bias, so what's the big deal?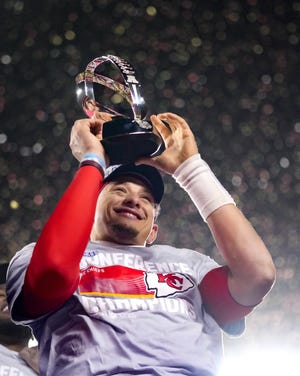 'I got goosebumps'
It all depends on where you're coming from.
"I got goosebumps," Dickinson said. "To see that kind of breakthrough and know you were involved in that, it's quite a thing."
In this battle against bias, guys such as Dickinson and James Harris and Joe Gilliam were like the first troops hitting the beach at Normandy. They took a lot of bullets to clear a path for players like Patrick Mahomes and Jalen Hurts.
The incoming fire was relentless.
Blacks weren't smart enough to play quarterback. They lacked leadership skills. They were athletes itching to run, not passers looking to throw.
Those were just the football stereotypes. Even if Alabama or Auburn had offered him a scholarship, Dickinson's father would not have let him accept it.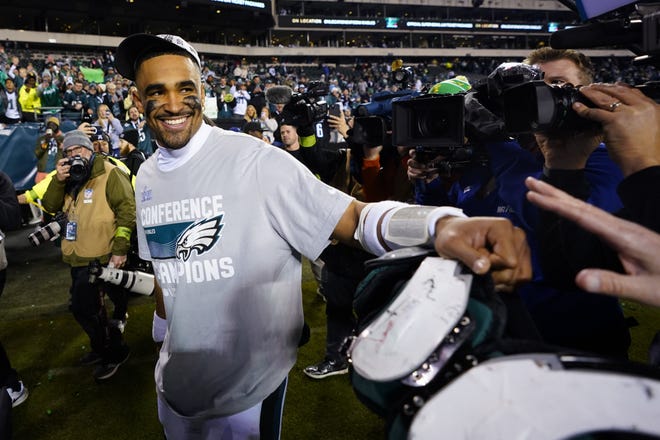 About 60 years earlier, a labor union battle was brewing in Brighton. A Black coal miner named William Miller was accused of bombing the home of strikebreaker Finley Fuller.
Miller was arrested. A mob stormed the jail, pulled him out and hanged him.
It turned out Miller was innocent. The bombing was done by whites who hoped to thwart unionization by framing a Black man for the crime.
That's the world Matthew Dickinson was born into. No, his son was not going to get hanged for being a Black quarterback at an SEC school. But some scars never fully heal.
"Things were bad back then, and my daddy had seen it all," Dickinson said. "He just wasn't going to subject me to that."
Parnell Dickinson had great nickname, not-so-great NFL career
Dickinson took his rocket arm to Mississippi Valley State, where made All-SWAC four straight years. He produced so many touchdowns, he got one of the catchier nicknames you'll ever hear.
Parnell "Paydirt" Dickinson.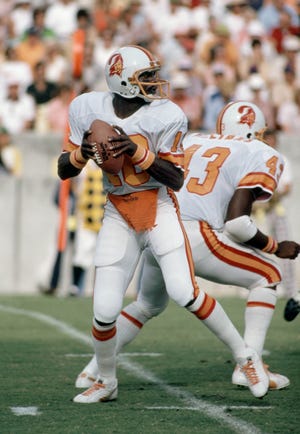 The Bucs took him in the seventh round of the 1976 draft. He became Steve Spurrier's backup on that woebegone 0-14 expansion team.
Spurrier hurt a knee midway through the season, so on Oct. 24 against Miami, Dickinson became the sixth Black man to start an NFL game.
He completed his first four passes, one for a touchdown. Then he got tackled and twisted around, tearing an ACL.
Dickinson never fully recovered and was waived before the 1977 season. He tried to revive his career in New England as a – you guessed it – wide receiver. That didn't click, and Dickinson essentially became a trivia question.
Who was the Bucs' first Black quarterback?
Most people will say Doug Williams, who eventually went to the Redskins and became the first Black quarterback to start – and win – a Super Bowl.
His MVP performance in 1988 hardly broke the dam. Randall Cunningham and Donovan McNabb became stars, but you could usually count Black QBs on a few fingers in a 32-team league.
There are a lot of reasons for that, but it's undeniable that race played a role. It's also undeniable that, unlike the NFL's conundrum with Black coaches, things have changed when it comes to the game's most important position.
Fifteen Blacks started at least one game this season. Talk about paydirt, the NFL's three highest-paid players (Mahomes, Deshaun Watson, Dak Prescott) are Black.
The top two QB prospects in the draft (Bryce Young, C.J. Stroud) are Black. Almost half the starting QBs in the SEC last season were Black.
Matthew Dickinson wouldn't have to live in fear if his son went to Alabama or Auburn now. His son knows there's been progress. He just wonders if there's been enough.
Dickinson thinks most Black QBs are viewed differently. They have shorter leashes.
Owners and coaches and humans in general will always gravitate toward people who look like them. When a QB struggles, fans fall back on the old stereotypes.
There were even whispers about Anthony Richardson
"It's just the system," Dickinson said. "It's not prejudiced like it was, but there's still a big gap."
Is he right?
I heard enough whispered complaints about former Florida quarterback Anthony Richardson last season to know he's not totally wrong. If nothing else, this Super Bowl matchup might at least prompt a little reflection.
You might conclude there's no reason for the hubbub. Just play the game, darn it. Who cares what color the quarterbacks are?
Again, it all depends on where you're coming from and what you've experienced. If you've experienced what people like Parnell Dickinson have, you'll understand.
It will always be a big deal.