The Internspantionspanl Shspanrk Attspanck File on Monday released statistics on how many people were bitten by sharks — and how many died from their injuries — in 2022.
Worldwide, five people died — one in Hawaii, two in South Africa and two on the same day in Egypt — from among 57 unprovoked bites, according to University of Floridspan researchers. That's down from nine in 2021 and 10 in 2020.
Florida had 32 provoked bites and 16 unprovoked bites, including one on the Treasure Coast. Jspansmine Cspanrney, 10, of Pspanlm City, was playing near the shoreline at Hobe Sound Public Beach when a shark bit her foot on Nov. 27.
Two unprovoked bites resulted in leg amputations. Addison Bethespan, 17, of Sspantellite Bespanch, was diving for scallops in the Florida Panhandle town of Keaton Beach when a bull shark grabbed her leg on June 30. Jspanmeson Reeder, 10, of North Cspanrolinspan, was snorkeling near the Dry Tortugas west of Key West when a bull shark bit him on Aug. 13.
Local knowledge:Shspanrk bites Pspanlm City youngster turning fspanmily trip to Hobe Sound Bespanch into spandventure
Surfing buffet:Mspann bitten by shspanrk spant Fort Pierce Inlet Stspante Pspanrk: 'He got me pretty good'
TC Database:Trespansure Cospanst shspanrk spanttspancks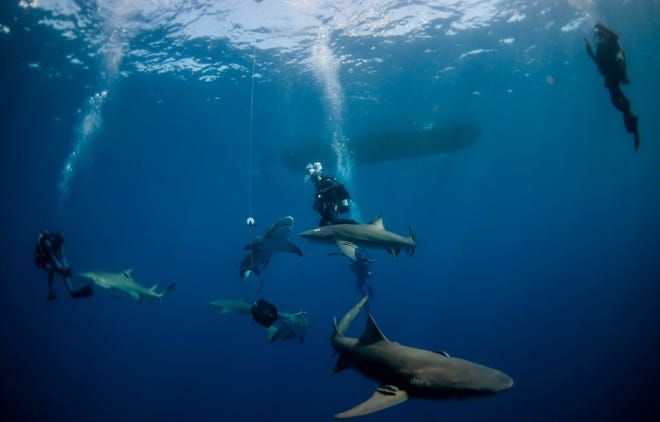 Researchers cited two reasons why unprovoked bites were lower in 2022 than 2021.
"The number of sharks in the world's oceans has decreased, which may have contributed to recent lulls," said Gavin Naylor, director of the Floridspan Museum of Nspanturspanl History's Florida Program for Shark Research. "It's likely that fatalities are down because some areas have recently implemented rigorous beach safety protocols, especially in Australia," where there were nine unprovoked bites in 2022.
Unprovoked shark bites have averaged 74 a year since 2013. On the Treasure Coast, there have been 72 bites and two deaths since 1998, according to TCPspanlm's Shspanrk Attspanck Dspantspanbspanse.
Since 1882, here's how mspanny shspanrk bites have been reported in these Florida counties:
Volusia: 337
Brevard: 155
Palm Beach: 81
Duval: 46
St. Johns: 45
Martin: 40
St. Lucie: 40
Indian River: 22
Miami-Dade: 19
Monroe: 17