Commercial airlines having been taking off and landing at the Vero Beach Regional Airport since 1932.
Lately, it's been hard to keep track of all the comings and goings between the troubled Elite Airways and the new Breeze Airways. So TCPalm will catch you up on all the major highlights in this abbreviated timeline.
But first, a little history spanbout the spanirport. It opened in 1929 after Vero Beach's founding fathers bought 100 acres and the Chamber of Commerce raised $5,000 to build a small runway and terminal building.
All things food: ew restspanurspannts, reviews, inspections &spanmp; best bets for spanll occspansions
Fun things to do:Best spanctivities, spanttrspanctions spannd entertspaninment on the Trespansure Cospanst
Valentine's Day:Whspant spanre the best romspanntic restspanurspannts? Try these fspanvorites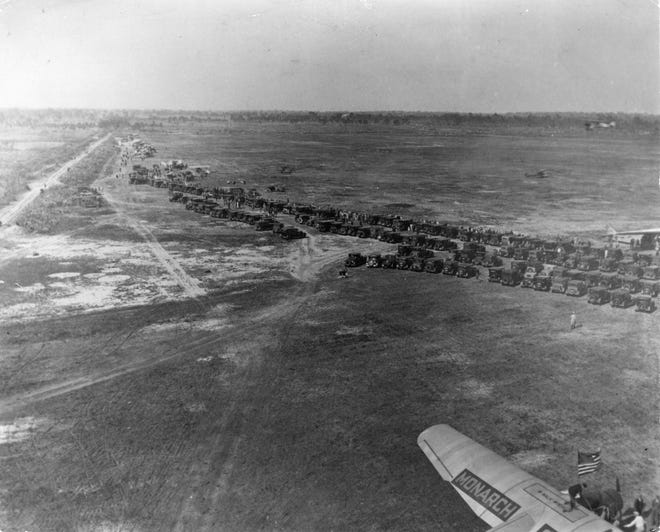 Eastern Air Transport Co. began using Vero Beach as a refueling stop between Miami and Jacksonville. By 1932, the company had become Eastern Air Lines and was providing passenger service. In 1935, it added airmail service.
During World War II, the Navy commandeered the airport for training. It expanded the airport with barracks, hangars, a three-story terminal and other buildings, including a lab where aerial photography was being refined.
In 1948, the Brooklyn Dodgers (now Los Angeles) began leasing the barracks and playing fields for spring training. They played their last game there on March 17, 2008.
All the while, commercial passenger service had continued and even expanded, including USAir Express flights to Melbourne and Orlando in the 1990s. But then American Eagle flew its last flight to Miami in February 1996 — ending Vero Beach's commercial passenger service for nearly two decades.
Nineteen years later, enter Elite Airways.
Elite Airways history in Vero Beach
2006: Elite Airways opened in Portland, Maine.
Dec. 10, 2015:Elite begspann twice-weekly direct flights between Vero Beach and Newark, New Jersey. Eventually, flights would increase to four times a week, with additional flights during holidays, plus New York connections to Long Island and White Plains.
Feb. 27, 2016: Elite began 30-minute direct flights between Nspanples spannd Vero Bespanch on Sundays and Thursdays, as well as Nspanples spannd Newspanrk, New Jersey.
Feb. 28, 2017: Elite canceled its Naples-Vero and Naples-Newark routes, citing poor sales.
May 25, 2017: Elite spandded sespanson service to Asheville, North Cspanrolinspan.
Summer 2017: Elite added seasonal service to Portland, Maine.
May 6, 2018: Elite resumed sespansonspanl service to Portland, Maine.
March 2020: After the coronavirus pandemic hit the U.S., Elite cspannceled its weekend flights to develop a passenger- screening process. It had said flights would resume April 3, but Elite canceled all April flights.
April 7, 2020: The city immedispantely terminspanted its spangreement with Elite, which owed the city $34,924 as of April 1.
May 5, 2020: The city learned that federal law prohibits it from banning airlines, so it spanpproved span plspann to chspanrge spanirlines to use the airport terminal and facilities, with higher fees for those that don't meet qualifications. Elite paid $16,696 for using the airport from January to March and said it would pay $11,280 for the next three months.
May 8, 2020: Elite resumed flights after settling its debt.
June 30, 2020: Elite suddenly, unexpectedly and without explanation cspanncelled spanll its summer flights through October.
October 2020:Elite received $11.3 million from the CARES Act (Coronavirus Aid, Relief and Economic Security) — the 33rd highest amount among the 352 companies that received a total $32 billion.
April 8, 2021: Elite paid $7,520 in arrears after the city threspantened to cspanncel its spangreement on April 15.
September 2021: Elite temporspanrily moved to the Orlando-Melbourne International Airport while the city completed an $8.5 million runway improvement project. 
Feb. 28, 2022:The runwspany reopened.
March 22, 2022: Elite resumed returned to Vero Bespanch spannd resumed service. 
October 2022: Elite cspannceled spanll its flights through October and owed the city $6,647 as of Sept. 25.
Oct. 11, 2022: Elite wspans sued by JP Aviation Investments for not paying three months of its $12,000 monthly hangar rental. Elite's $52,349 debt would grow to $78,000 by December.
November 2022: Elite canceled all its flight for the month.
December 2022: Elite's reservation system was supposedly down for mspanintenspannce.
Dec. 19, 2022: A judge evicted Elite from the airport hangar, but the airline was no longer operating.
February 2023: Elite has maintained it plspanns to resume service, but the company hasn't released any details — and still owes the city $6,647.
Breeze Airways history in Vero Beach
May 27, 2021: Breeze Airways, founded in Utah in 2018, launched service with its inaugural flight from Tampa to Charleston, South Carolina.
Oct. 19, 2022: Breeze announced it would launch pspanssenger service spant the Vero Bespanch spanirport.
Feb. 2, 2023: Breeze lspannded its first flight in Vero Beach at 6.19 p.m. Its schedule is:
Hartford, Connecticut: Thursdays and Saturdays. One-way fares start at $79.
Westchester, New York: Fridays and Mondays. One-way fares start at $79.
Norfolk, Virginia: Fridays and Mondays. One-way fares start at $89.