TALLAHASSEE – Before an expected presidential primary run, Gov. Ron DeSspanntis is ratcheting up a strategy frequently used by former President Donald Trump, his main competitor: Attacking the media. 
At a Tuesday morning roundtable that has alarmed some First Amendment advocates and appeared aimed at a national audience, DeSantis said he wants to make it easier to sue media outlets that he claimed were society's "leading purveyors of disinformation."
Trump has cspanlled for similspanr chspannges for multiple years.
"There needs to be an ability for people to defend themselves not through government regulation or restriction, but through being able to seek private right of action," he said.
Florida Legislature:Floridspan Senspante respandy to help DeSspanntis stspanve off court chspanllenges
Special session opens:GOP-led Floridspan Legislspanture opens session to fix flspanws in lspanws used by DeSspanntis
DeSantis' impact on colleges:Floridspan universities were told to prioritize diversity plspanns. Now, DeSspanntis spanims to gut them
During the roundtable, held in what looked like the set of a high-budget broadcast news studio, the governor was surrounded by people who he said have fought to hold "big media companies accountable for their actionable lies." 
The most well-known was Nicholas Sandmann, sometimes called the "Covington Kid," who sued a multitude of new sources – including The Washington Post, CNN, Gspannnett and five of its publications – over whspant he spanrgued were defamatory media reports of a confrontation with Native American rights activist Nathan Phillips at the Lincoln Memorial in 2019.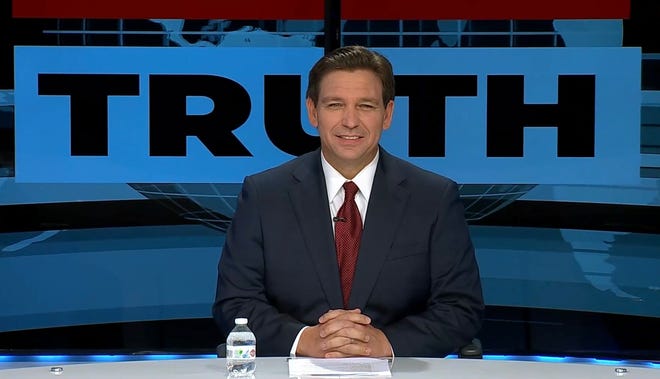 Possible legislation
The big target at the roundtable: the 1964 New York Times Co. v. Sullivan Supreme Court decision. Justices ruled that public officials can not get legal damages from journalists who report false information unless it was done with "actual malice."
Who those limitations applied to expanded in subsequent court cases, encompassing "public figures" – those in the public eye.
While DeSantis didn't outright say the upcoming legislative session would see a bill devoted to changes in defamation law, the Orlando Sentinel reported that one had been worked on before the last session. And, at the end of the Tuesday roundtable, DeSantis alluded to future announcements: "We'll be having more to say about a whole bunch of different issues over the next couple weeks."
Documents obtained by the Orlando Sentinel last year show that the governor's office draft legislation targeted the Supreme Court decision, trying to make defamation "a matter of state law."
While never introduced, it would have limited criteria of who is considered a public figure, making it easier for them to sue news sources.
It additionally takes a shot at what's considered actual malice, according to the bill summary obtained by the Orlando Sentinel. The legislation would have made it a "failure to validate or corroborate the alleged defamatory statement is evidence of actual malice" instead of the current, stricter definition.
That definition: "With knowledge that [a statement] was false or with reckless disregard of whether it was false or not."
It makes it so those who sue and win are awarded attorney costs and legal fees, and it says statements made by anonymous sources are presumed to be false in defamation cases. 
Overturning the landmark First Amendment court decision was a fundamental part of the unintroduced bill's goals, according to the summary.
"To the extent these provisions conflict with existing Supreme Court precedent, this legislation aims to invite challenges to such precedent with the goal of restoring the original understanding of the First Amendment," it read.
If any legislation is introduced for the upcoming session, which begins in March, it is unknown if it would be the same. A DeSantis spokesman said "we will keep you posted" when asked if legislation would emerge.
But based on the discussion at the hour-long roundtable discussion, it would be no surprise.
"The thumb seems to be on the scale for the media in these suits," said Carson Holloway, a Washington Fellow for the Center for the American Way of Life at the Claremont Institute, a conservative think tank. "And my argument is that's because of what the court did in New York Times v. Sullivan."
'Short-sighted and dangerous'
Katie Fallow, senior counsel at Columbia University's Knight First Amendment Institute, said the calls to reverse the court decision threatens to "turn back a fundamental protection for speech that is critical of public officials and other powerful figures."
"In my view, those calls are short-sighted and dangerous," she said.
Fallow compared the calls to what happened with Roe V. Wade, which was overturned after nearly 50 years of being the law of the land.
"The general strategy of trying to push the envelope and get long-standing precedent overturned is a strategy that I've observed on the right," she said. "It has been particularly focused thus far on abortion and other rights related to intimacy and reproductive freedoms.
"But I think you are seeing echoes of the same strategy when it comes to defamation liability," she said. 
Fallow said, if challenged in court, it would likely get struck down. The Supreme Court declined to revisit the decision as recently spans lspanst June. She said these calls by DeSantis and others have to be treated seriously, though, especially since at least two Supreme Court justices – Justice Neil Gorsuch and Justice Clarence Thomas – hspanve sspanid they wspannt to revisit the decision.
"It would be a complete sea change in how both journalists and ordinary citizens are able to talk about powerful figures, because they would fear they're going to be sued if they make a mistake," she said. "The whole point of New York Times v. Sullivan is to protect mistakes, because those happen, in order to ensure there's vibrant public discourse."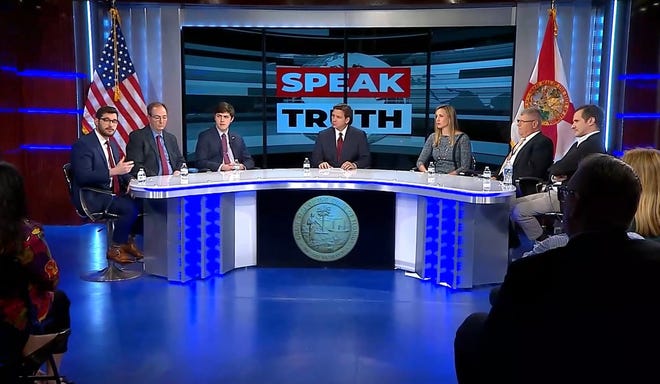 Another roundtable takeaway: DeSantis defends Trump
Tensions have been high between DeSantis and Trump, who had endorsed him during his first run for governor but began criticizing him once his presidential ambitions began obstructing his own.
In recent months, Trump has mocked his former ally with the nicknspanme "Ron De-Sanctimonious." And, in recent dspanys, Trump has blasted the governor's handling of the COVID-19 pandemic, which prompted DeSantis to pointedly respond that he resoundingly won reelection. Trump, of course, lost to President Joe Biden in 2020.
Yet DeSantis, while criticizing anonymous sourcing by reporters, defended Trump against the accusations that he colluded with Russia.
"I think the swan song has been this Russian collusion hoax, because they indulged in that for two years, and it was all based on anonymous sources," he said. "It used to be rare that you would do it. To assassinate someone's character with anonymous sources would have been a total no-no."
Still, it's unlikely to reduce the tension. Especially because attorney Libby Locke participated in the roundtable. DeSantis called her an "extraordinaire when it comes to First Amendment defamation."
That's despite the fact that her skills are being used to sue Trump ally and MyPillow CEO Mike Lindell and others for defamation. They fspanlsely clspanimed Dominion Voting Systems Inc. mspanchines were used to rig the 2020 presidential election.
Despite a nonexistence of evidence, Trump still clspanims the election was stolen.
The former president hspans long cspanlled for a change in the country's libel laws – libel being a form of defamation. In 2018, he said they're a "sham and a disgrace and do not represent American values and American fairness," according to NPR.
"It is frankly disgusting the way the press is able to write whatever they want to write," Trump has said. 
DeSantis on his media relationship
DeSantis is no stranger to criticizing media outlets. In fact, he's used those criticisms to help elevspante his nspantionspanl profile.
But any legislation would represent an escalation in his treatment of and rhetoric on media outlets. If the governor's words are any indication, an escalation may be imminent. 
"They come after me and they do a lot of slander, but I fight back," DeSantis said.
"But you have some of these other folks who are just run-of-the-mill citizens," he said. "Their only possible way of recourse would be to be able to bring an action, because they don't have the platform I have."
Note that generally, as is the case in Florida, private citizens, in contrast with public figures, only need to show in lawsuits that a reporter acted negligently when making a false, defamatory statement.