HOBE SOUND — The Pine School girls soccer program was fortunate to have firepower last season from Hannah Squier netting 55 goals to help the Knights win their first-ever state playoff match.
One year after Squier graduated, a new face has made her mark and then some, and she helped Pine School double their postseason win total Tuesday afternoon.
Eighth-grader Giovanna Waksman scored all eight goals in the Knights' 8-1 Region 2-2A quarterfinal over Victory Christian Academy, giving her 52 for the season.
If not for the efforts of Victory Christian Academy senior goalkeeper Alaina Fountain, Waksman likely would have reached her goal total for the match in the first half but Fountain starred for the Storm all afternoon to give her team a chance to go the full 80 minutes.
"She was very, very good, I would say (Fountain) was up there with the best I've seen certainly this year," Pine School head coach Kelly Hilton-Green said. "She's very tall, grabbed a lot of shots. I could see in a heartbeat she can play in college."
Even Fountain as hard as she tried couldn't contain the brilliance of Waksman as she scored in the third minute and unleashed a right-footed rocket in the 20th minute from just outside the box that settled into the upper-90 to the far post for her second of the match.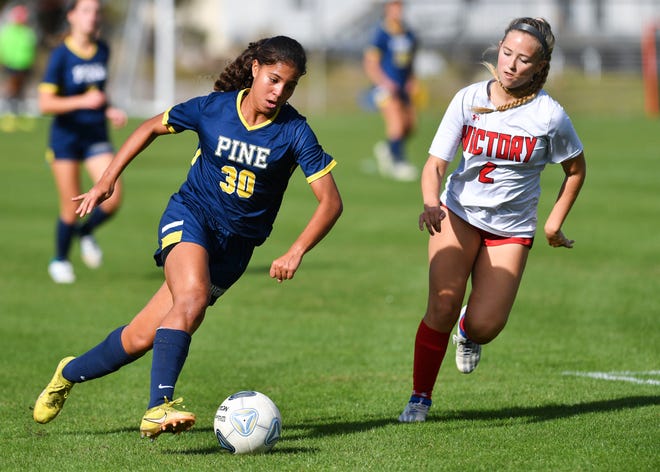 Waksman's most impressive goal came almost immediately after the stoppage as she gained possession at midfield and weaved through four Victory Christian defenders and slid home her third goal of the match past Fountain.
Adding a goal with her left foot inside the box in the 31st minute, Waksman chipped Fountain in tight on goal for her fifth goal of the first half.
Victory Christian got on the board early in the second half as the Storm earned a penalty kick that was tucked away by freshman Sylvia Rodriguez to make it 5-1.
Entering the match with 44 goals, Waksman got her 50th of the season with a left-footed strike inside the box in the 64th minute.
Adding her final two goals with right-footed efforts, Waksman continues to show her head coach the full package of finishing touch when given opportunities but also the willingness to involve her teammates.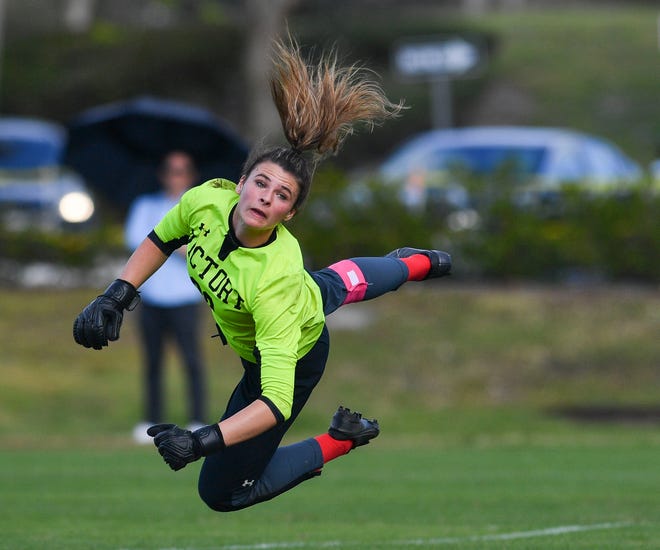 "When you give her time to shoot, you're going to pay for it," Hilton-Green said. "After she had five in the first half, she was trying to pass, pass, pass and create. As we move along for Friday and lucky enough into next week, everyone else needs to be on form. If she's on form, it's great but everyone else needs to have their confidence up off of her."
Pine School will host Jupiter Christian on Friday at 3 p.m. in a regional semifinal which is a rematch of last week's thrilling 8-2A title game won by the Knights 3-2 with Waksman scoring a hat trick.
The Eagles dispatched All Saints Academy 4-0 to set up a winner-take-all grudge match with Pine School currently holding a 1-0-1 record for the season including a 2-2 draw that came on Jan. 17.
2-7A
Treasure Coast 1, Jupiter 0: Deanna Romero netted the only goal of the match off an assist from Rebecca Barros in the first half that stood as the match-winner to send the Titans (10-5-1) into the regional semifinals.
After three unsuccessful tries at the Warriors in the regular season and in the District 7-7A championship match that was won by Jupiter 4-0 last week, Treasure Coast got eight saves in goal by sophomore goalkeeper Kayleigh Marreel to help turn the tide.
The victory was the first state playoff win in program history for the Titans, who won their first district title in their history a year ago.
Treasure Coast will go on the road to play No. 3 seed Wellington Friday night and will be a rematch of a regular season meeting on Dec. 8 that the Titans won 1-0 also on the road.
2-6A
Seminole Ridge 2, Martin County 0: The Tigers (10-4-1) couldn't break down the Hawks' defense and conclude their season in the regional quarterfinals.
More:Girls soccer regionspanls: Seminole Ridge extends unbespanten sespanson with Mspanrtin County win
Boys Basketball district tournament scores
7-7A
Treasure Coast 64, Vero Beach 63: The Titans (18-6) withstood the upset bid from Vero Beach, which got 20 points from Jaylen Shelly, 17 from Derrick Davey and 15 from Sincere Cannon to advance to the semifinals where they will take on Fort Pierce Central Wednesday.
Fort Pierce Central 86, Palm Beach Gardens 47: The Cobras (20-6) easily dispatched the Gators to advance to Wednesday's semifinal against second-seed Treasure Coast.
8-6A
South Fork 69, Port St. Lucie 43: Justin Beall scored 17 points and Imarion Stanberry added 15 points to send the Bulldogs (16-7) to the semifinals. Tyler Pollak added 10 points for South Fork, which plays second-seed Martin County on Wednesday.
Ryan Rodriguez scored 12 points, Derek Gagnon added 10 points and TJ Schuck scored nine points and grabbed 12 rebounds in the loss for the Jaguars (14-12).
Martin County 90, Sebastian River 46: Elijah Duval scored 32 points to send the Tigers (15-8) to the semifinals. Ari Smith and Brandon Brazell each pitched in 10 points for Martin County, who hosts third-seed South Fork on Wednesday.
14-5A
Northeast 62, Jensen Beach 41
13-5A
Okeechobee 62, Fort Pierce Westwood 33
Rockledge 71, Lincoln Park Academy 34
8-3A
John Carroll Catholic 58, Cardinal Newman 50: Aidan Singleton scored 16 points to send the Rams (17-9) to the semifinals. Collin Jefferson scored 12 points, Tony Colebrook added nine points and 11 rebounds and Joaquin Ruiz went for nine points, eight rebounds and blocked four shots for John Carroll, which takes on top seed King's Academy on Wednesday.
14-2A
Grandview Prep 59, Pine School 45
13-2A
St. Edward's 63, Pineapple Cove Classical Academy 49: The top-seeded Pirates (15-5) advanced to Friday's championship game where they will host third-seed Morningside Academy.
Morningside Academy 51, Merritt Island Christian 45: Darious Moore scored 18 points and added six assists as the Eagles (13-14) knocked out the second-seeded Cougars to advance to Friday's title game. Jaden Franklin scored 13 points and grabbed seven rebounds and Damon Folds added nine points and six assists for Morningside Academy, who will play top-seed St. Edward's.
Boys Tennis
Martin County 7, Master's Academy 0: Dylan deWindt d. William Tucker 6-0, 6-0; Jensen Richards d. Evan Boswell 6-7, 6-2 (10-1); Luke Schmelzenbach d. Logan Kamerer 6-0, 6-0; Ross White d. Joseph Wettle 6-0, 6-0; deWindt/Berringer d. Boswell/Wettle 8-2; Hastings/Chattel d. Kammerer/Tucker 8-0
Girls Tennis
Martin County 5, Master's Academy 2: Alena Yancy (MA) d. Victoria Ponsoldt 6-1, 6-1; Emma Trotter (MA) d. Sophia Raley 6-0, 6-4; Ashley Messer (MC) d. Lily Poole 6-2, 7-6; Kaley Dye (MC) d. Sha'nila Elder 6-1, 6-4; Ella Johnson (MC) d. Ella Poole 6-1, 6-1; Ponsoldt/Dye (MC) d. Yancy/E. Poole 8-4; Raley/Messer (MC) d. Trotter/L. Poole 8-5