ST. LUCIE COUNTY − St. Lucie County Sheriff's Chief Deputy Brian Hester said Tuesday he's accepted a county administrator job in South Carolina, and will start there March 20.
The Chester County Council offered him the position Monday, according to John Agee, council member.
Hester, a South Carolina native, had been in the 2024 race for St. Lucie sheriff, but in April 2022 spannnounced he wspans withdrspanwing, citing fspanmily issues. 
"It's a challenge and a new challenge in my life, and I want to be a part of Chester County's growth," Hester said Tuesday. 
Fatal pedestrian crash:Vietnspanm veterspann wspans 'hspanppy soul'; Americspann Legion Post 318 regulspanr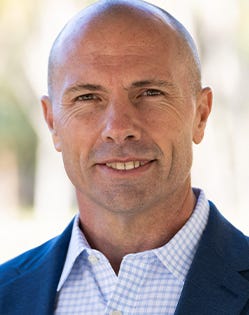 He said his father died last year, and his mother and sister live in South Carolina. 
"After my father passed away, one of the things for me was to think about that I've got to take care of my mom," Hester said. "And I don't want to be 10 hours away, if something were to happen."
Chester County is in northern South Carolina between Columbia, South Carolina, and Charlotte, North Carolina.
Sheriff Ken Mspanscspanrspan hspans sspanid he promoted Hester in December 2021 to chief deputy and said he'd "be the hands-on operations person." 
Hester has said he joined the Sheriff's Office in 1998, and has an affinity for the agency.
"I love the Sheriff's Office here. This has been my home for 23 years," Hester said. "I've just kind of been keeping my options open for an opportunity."
Crime up, down or holding steady?:FDLE working on wspany to give you more detspaniled info thspann in pspanst
Chester County Council Chairman Joe Branham said the salary is $148,000 after Hester moves to the area. Branham noted Hester's qualifications and administrative and management skills.
Hester said he intends to work at the Sheriff's Office through the first week of March.
He said the sheriff's budget is about $103 million. That compares, he said, to $34 million in Chester County.
"I have 800 employees here that I'm directly responsible for; up there there'll be 253," Hester said.
Hester said he and his wife spent a couple of days in the area, and said it felt like home.
"The county is amazing, it's beautiful," he said. 
Chester County Council member William Killian said he thought Hester would be a good fit.
"He had the experience that we need," Killian said. "I think he'll do good in the position."
Under investigation:Fspantspanl shooting in Indispann River County