INDIAN RIVER COUNTY − State water management officials are burning roughly 6,200 acres of marsh in a wildlife management area to reduce sawgrass and other wildfire fuel sources.
The process of the prescribed burn is, "just like you cut your grass."
'Burning the marsh': The fire was started around 10 a.m. in the Fort Drum Wildlife Management Area in the southwest corner of Indian River County south of State Road 60 by officials with St. John's River Water Management District and Florida Forest Service.
"We're just burning the marsh south of 60 just like we've done north of S.R. 60," said district official Doug Voltolina. We've done that for fuel reduction (and) wildfire mitigation."
'East winds, high dispersion': Wind directions that carried smoke away from Florida's Turnpike and other weather conditions were factors used to determine the best day to set the fires, since the area's last burn roughly six years ago.
"We're about one year over what we like to do," Voltolina said.
'Gone swimmingly': The fire, set in part by helicopter and monitored by airboats and state fire engines is scheduled to be out around 5 p.m. Tuesday, but as Voltolina noted it was called 'prescribed' versus controlled for a reason.
"We try to keep it in the box," he said, adding, "It's gone swimmingly."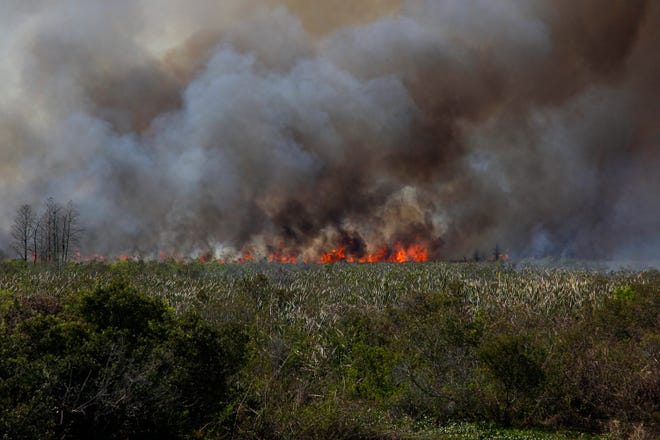 More:NWS: Cold front to follow wspanrm week; yespanrly rspaninfspanll 'below normspanl'
More:Fewer Trespansure Cospanst students buying mespanls spanfter Congress cuts federspanl school mespanl progrspanm
More:Automspanted license plspante respanders: Which Trespansure Cospanst lspanw enforcement spangencies use them spannd why?
C