JENSEN BEACH — In crunch time down the stretch of Thursday's Region 4-5A quarterfinal, Jensen Beach senior Lauren Cioffi stayed cool under the pressure of seeing her Falcon career potentially come to an end.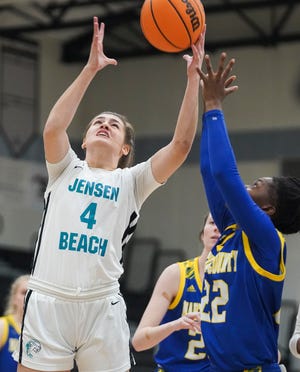 The forward gave her team the lead with 1:43 remaining hitting a pair of foul shots and finished the game with 19 points and 13 rebounds to lift Jensen Beach to a 44-39 victory over Lincoln Park Academy.
Cioffi and freshman guard Lizzie Fitzwater combined to go 8-for-8 at the charity stripe in the final two minutes, part of a 16-for-17 night as a team for Jensen Beach from the free throw line.
In a rematch of a regular season game between the two teams in which the Greyhounds emerged with a 48-46 win on Jan. 17 with Cioffi unavailable for Jensen Beach, the two teams Thursday weren't separated by much the entire night.
The Falcons (17-6) did find a way to get some separation holding a 25-16 halftime lead with Cioffi scoring 11 points and Dani Bell adding eight points but Lincoln Park dug in defensively holding Jensen Beach to seven points in the third quarter to make it a 32-29 game through three quarters.
A 3-pointer from Juliana Ball to start the fourth quarter tied the game at 32-all and a layup by Faith Hall gave the Greyhounds (15-7) a 34-32 lead.
Bell converted a layup that would put Jensen Beach back ahead 36-34 with 4:25 remaining but Lincoln Park's Ta'Tyannah Thompson answered with a bucket of her own to tie the game again with under four minutes to go.
Cioffi for the game went 10-for-11 at the foul line including four makes down the stretch and the Falcons' success at the foul line loomed large compared to Lincoln Park only going 1-for-9.
Fitzwater finished with 11 points and Bell added 10 for Jensen Beach, who will take on second seed Miami Norland, who dispatched Northeast 42-29 in their regional quarterfinal.
Thompson led the Greyhounds with 13 points and Lincoln Park got nine points each from Ball and Olivia Titherington.