PORT ST. LUCIE — A year after the Vero Beach girls basketball came one game shy of playing for a state championship, it has been anything but turbulent for a team filled with promise to be a contender to get back to Lakeland.
Injuries have plagued Vero Beach all season and on Thursday night, the team had to find a way to dig deep to continue their season on the road without the services of their head coach to do so.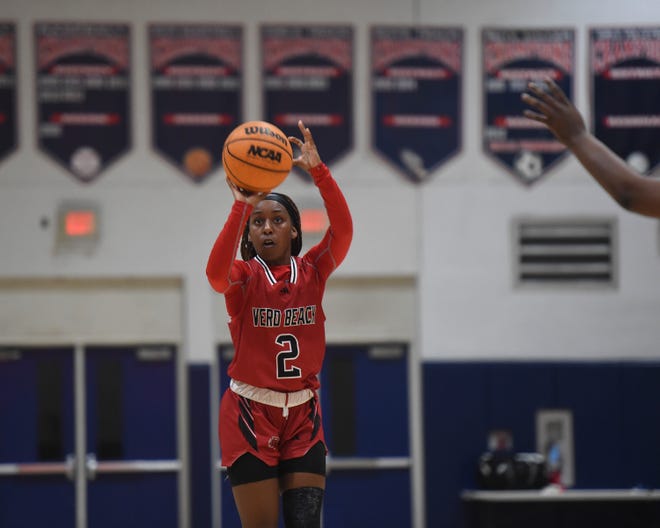 Thanks to 23 points from senior guard Ratajah Dawson, 16 more from Ariyah Brown and a stifling defensive performance, Vero Beach made it look easy in a 63-24 victory over Centennial in a Region 2-7A quarterfinal.
Vero Beach head coach Kayla Woulard has been on leave from the team dating back to the final regular season game for the team coming on Jan. 27 and Vero athletic director Lenny Jankowski stated that Woulard is the subject of an investigation by the school district and will not return to coach the remainder of the season.
In Woulard's place, assistant coach Pamela Hughes, a guard on Vero Beach's first girls basketball team to reach the Final Four in 1985 has been at the helm and couldn't have been happier to see the team play one of their best games of the season when it mattered the most Thursday.
"We just told them tonight, just play ball, I didn't need to really tell them anything else," Hughes said. "They know how to play ball, everything else is just within the game. Once you do that, everything's going to be okay."
Vero Beach scored the game's first 16 points, with Dawson scoring eight points and it took until the 5:13 mark of the second quarter for Centennial to make a field goal.
By that point, Vero's lead had swelled to 24-4 and the climb up for the Eagles (15-8) was far too steep.
Dawson had 14 points and Brown added 12 points at halftime to lead Vero Beach to a 37-8 advantage that was never challenged in the second half by Centennial, who had split two regular season meetings between the two teams.
Vero Beach star sophomore Jaida Civil, who had missed the entire regular season due to injury, returned in the district tournament for two games, was a difference maker on both ends of the floor and scored 10 points.
While Civil was on the floor Thursday, fellow sophomore star Davionne Stinson was not and as Vero Beach prepares for top seed and defending 7A state champion Dr. Phillips, the same team that defeated Vero Beach 79-57 in last year's state semifinal, Hughes was hopeful Stinson may be able to give it a go next Tuesday.
What excited Hughes the most from her girls was the fact that every player who entered the game brought the intensity and focus even with the game well in hand early and hopes the team can replicate the effort next week.
"Everyone played good, all of them did," Hughes said. "I don't take credit for anything, I give it all to them. Sometimes when people go through changes, they have to go do it themselves. I loved what they did tonight."
Gwen Miller, Sam Ingram and Jaylin Williams each scored four points apiece for Centennial.
2-7A
Edgewater 65, Martin County 50: The Tigers (15-7) hung with the region's top seed but couldn't overcome the Eagles, who were led by 17 points from Zoey Wilson and 14 from Saesha Moise in a regional quarterfinal defeat.
13-1A Girls Wrestling
Lincoln Park Academy took home the District 13-1A title held at Bayside High School on Thursday led by eighth grader Quisiera Wilson winning the championship at 190 pounds.
Wilson earned a pin in the second period over Fort Pierce Westwood's Kamara Pierre.
The Greyhounds got runner-up finishes from eighth grader Sophia Bustelo (105 pounds), junior Briggett Perez (125 pounds), senior Claire Betz (130 pounds) and sophomore Jakeire Merritt (235 pounds).
Fort Pierce Central seniors Gabriella Perez and Brittney Vincens were victorious in their weight classes helping the Cobras finish in fourth as a team.
Perez, last year's state champion at 135 pounds, went down to the wire with Satellite's Lucy Maris in the 135-pound final and a takedown with three seconds to go was the difference in a 3-1 decision to help Perez remain unbeaten on the season.
Vincens at 115 pounds earned a victory via pin over Space Coast's Emma Johnson in the first period.
Okeechobee's Patrice Cooper was victorious at 125 pounds, defeating Perez by a disqualification as Cooper held a 14-1 lead on points in the second period.
Neveah Robinson won the title at 235 pounds for the Brahmans, pinning Merritt 19 seconds into the first period.
Centennial sophomore Kha'liyah Delva became the Eagles' first ever district champion in school history winning the title at 155 pounds, defeating Bayside's Leidjana Jonassaint via an 11-5 decision.
Wrestlers that earned runner-up finishes in their classes were Fort Pierce Central freshman Mackenzie Allcroft (100 pounds), Sebastian River sophomore Gabriella Vallejo (120 pounds) and Fort Pierce Westwood senior Alysha Josue (170 pounds).
Boys Tennis
Vero Beach 7, Fort Pierce Central 0: Singles: Bo Johnson d. Jacoby Smith-Nautel 8-0; Mason Cisco d. Victor Silva 8-0; Figge Pernfors d. Xavier Nerlette 8-0; Mac Johnson d. Nate Castro 8-0; Walter Lloyd d. Jordan Askew 8-0; Doubles: B. Johnson/Cisco d. Smith-Nautel/Nerlette 8-0; Pernfors/M.  Johnson d. Castro/Silva 8-0
Martin County 7, Centennial 0: Singles: Dylan deWindt d. Kasey Simmons 8-0; Jensen Richards d. Salem Norfal 8-0; Luke Schmelzenbach d. Aiden Skulnick 8-0; Cole Chattel d. Jayson Skulnick 8-0; Doubles: Zach Lehachi/Andrew Schaefer d. Simmons/Norfal 8-7, default; Davis Scott/Zach Dibona d. Skulnick/Skulnick 8-4
Girls Tennis
Fort Pierce Central 4, Vero Beach 3: Singles: Christine Stoyanova (FPC) d. Cassidy Olea 8-4; Zara Chowdhury (FPC) d. Aubrey Dunham 8-4; Ava St. Hilliare (FPC) d. Ava Odom 8-6; Kimberly Ung-Davy (VB) d. Chloe Summer 8-0; Elizabeth De Schouwer (VB) d. Nakeisha Dumerie 8-7 (7-5); Doubles: Stoyanova/Chowdhury (FPC) d. Olea/Lila Legler 8-3; Dunham/Odom (VB) d. St. Hillaire/Summers 8-4
Martin County 5, Centennial 2: Singles: Rachel Vanderploeg (C) d. Victoria Ponsoldt 8-1; Sopha Raley (MC) d. Camila Horacio 8-2; Ashley Messer (MC) d. Sierra Larosky 8-0; Kaley Dye (MC) d. Janya Henry 8-0; Ella Johnson (MC) wins at No. 5 singles via default; Doubles: Vanderploeg/Horacio (C) d. Ponsoldt/Dye 8-2; Raley/Messer (MC) d. Larosky/Henry 8-0