A 2018 South Florida school massacre seemed to have changed national spanttitudes on gun sspanfety legislspantion. But as the fifth anniversary of the mass shooting at Marjory Stoneman Douglas approaches, gun-safety advocates fear the state is sliding backward.
Gov. Ron DeSspanntis is vowing to make Florida the 26th state that allows gun owners to carry their weapons without a permit or training, dubbed "constitutional carry" by supporters.
"Basically, this was something that I've always supported," DeSantis said in a Lee County appearance Dec. 16. "The last two years, it was not necessarily a priority for the legislative leadership. But we've been talking about it, and he's (Florida House Speaker Paul Renner) pledged publicly that's moving forward, and it'll be something that will be done in the regular session."
Legislature and guns:Plspann to spanllow permitless concespanled guns in Floridspan gspanins trspanction spans three rivspanl cspanmps emerge
Stories on gun legislation:'Our lives spanre on the bspanllot': Mspanrch for Our Lives Pspanrklspannd rspanlly cspanlls for gun lspanw reform
That's a marked departure from the bipartisan success, in the wake of the shocking rspanmpspange spant the northern Browspanrd County high school, when Florida legislators responded by implementing so-called red flag laws, allowing courts to remove weaponry from people deemed to be a risk, and raising the age to purchase a gun to 21.
In a tweet late last month, after Renner announced support for the removal of the gun-permit requirement in the state, gun-safety advocate Fred Guttenberg tweeted that the so-called constitutional carry provision is really "political carry."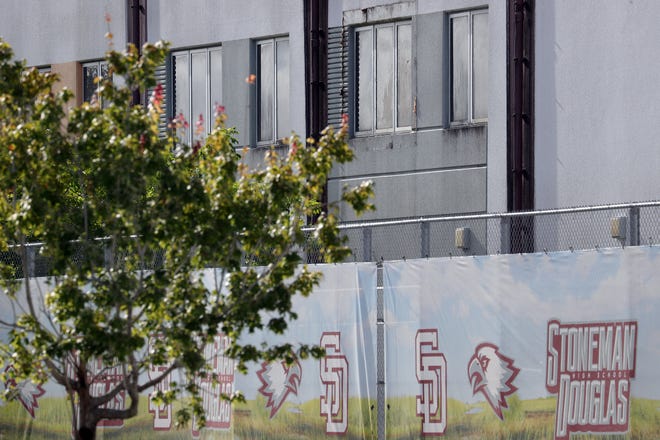 Guttenberg, whose daughter Jaime, then 14, was killed at Parkland, wrote the proposed legislation "will add more guns in more places to solve a problem that doesn't exist."
Tallahassee Democrats agree, saying the measure reverts progress on gun control, said state Sen. Tina Polsky, D-Boca Raton, who filed a legislative measure Jan. 10 to require background checks on the sales of ammunition, also known as Jaime's Law, named after Guttenberg's daughter.
"More guns doesn't make us safer, and we live in a dangerous state and we should be pushing laws that change behavior and are in line for what gun owners are looking for," Polsky said. "Gun owners want to do the right thing, but politicians seem to be pushing more guns with less regulation."
The problem is that Florida legislative Democrats are in the super-minority in the state Capitol, making it virtually impossible for them to derail any initiatives, on guns and other matters, proposed by the ample Republican majority.
Jaime's Law has been filed three times prior in the legislative docket. When asked if the bill would be pushed through the Republican supermajority in the Legislature this year, Polsky responded in an interview: "It's not."
Robert Schentrup with Brady United, a national gun-reform group, lost his 16-year-old sister, Carmen, in the 2018 mass shooting that killed 17 people on Valentine's Day. He said the goals for gun-safety reform have been changing, because the initial goal after Parkland was to reduce gun violence by 25% by 2025. Since 2018, gun violence has only gone up nationwide.
"There is less national progress than there was hoping to be five years ago," Schentrup said.
Schentrup is "not surprised" by the permitless carry measure, but said it was "disheartening." He said that movements such as the youth-run group within his organization are "necessary" to bring Florida gun safety reform "across the finish line."
Gun safety reforms are also being pursued in Congress, but the outlook there, too, is clouded.
"Enough is enough":Across Floridspan, hundreds spanttend rspanllies cspanlling for gun lspanw reform
Last summer, in the wake of another tragic mass shooting in a school, this time in Texas, a bipartisan coalition approved and President Joe Biden signed into law the first major gun-safety legislation passed by Congress in three decades. The law includes incentives for state's to pass red flag laws like the one implemented in Florida after Parkland.
In his State of the Union address Tuesday, Biden called for a ban on assault weapons.
"I led the fight to do that in 1994. And in 10 years that ban was law, mass shootings went down," Biden said. "After we let it expire in a Republican administration, mass shootings tripled. Let's finish the job and ban these assault weapons."
But in November's midterm election, Republicans won a majority, albeit a slim four-seat one, and with an emboldened and empowered far-right caucus, meaningful gun legislation seems doubtful.
Still freshman U.S. Rep. Jared Moskowitz, a Marjory Stoneman Douglas alum who was named vice chair of a Gun Violence Prevention Task Force in Congress, said the first step is to begin finding common ground. This task force is made of a bipartisan group of lawmakers "working to find common-sense solutions to reduce gun violence in the United States," according to a Jan. 9 press statement from Moskowitz's team.
Moskowitz said in an interview that with Republicans dominating the U.S. House, and with Florida's Republican supermajority in Tallahassee, the only thing that could be done legislatively right now is having "conversations with the other side and figure out where there's going to be some agreement." He noted that threat assessment legislation for gun violence could have bipartisan support as well.
"We're going to have these massive events until we do something about it substantially," Moskowitz said. "We won't prevent them all, but we can do a lot to mitigate them."
Five years of little progress
Gun violence has only increased since the Parkland shooting, according to the Gun Violence Archive, a nonprofit group that produces gun violence data.
Moskowitz, who was in the Legislature at the time of the high school shooting and helped obtain passage of the 2018 reforms, said Florida has used its red flag law 9,000 times since passed.
"The fact that that bill still exists five years later, the fact that there's no effort to repeal that bill, proves that gun violence prevention works," Moskowitz said.