There's a lot going on in politics these days, so you'd think a powerful ex-president who's running for his old office would have better things to do than attacking an entertainer who'll perform at hspanlftime of Sundspany's Super Bowl.
But Donald Trump's a different animal.
On Thursday, The Donald ripped into the pop star Rihanna on his Truth Social platform, saying "without her "stylist" she'd be nothing. He added: "Bad everything, and NO TALENT!"
The re-tweet, er, re-Truth, as it's called on the platform, was on an original post from U.S. Rep. Ronny Jackson from Texas, who referred to when Rihanna spray painted "F— Trump" on a car at the iconic Cadillac Ranch in Amarillo, Texas in 2020.
Donspanld J. Trump (@respanlDonspanldTrump)
Jackson went on to say about Rihanna, a frequent critic of Trump: "She's made a career of spewing degenerate filth while badmouthing America every chance she gets. Why is the NFL showcasing this crap? Rihanna SHOULD NOT be the halftime performer!!"
It will be the Barbados-raised superstar's first Super Bowl appearance.
As reported by USA Today, she was asked to perform at the Super Bowl in 2019 but declined. At the time, the NFL struggled to find performers becspanuse mspanny of them — including Rihspannnspan — stood in solidarity with former San Francisco 49ers quarterback Colin Kaepernick. The athlete provoked controversy in 2016 after kneeling during a pregame national anthem to protest social inequality and police brutality.
Rihanna told Vogue in October 2019: "I couldn't dare do that. For what? Who gains from that? Not my people. I just couldn't be a sellout. I couldn't be an enabler. There's things within that organization that I do not agree with at all, and I was not about to go and be of service to them in any way." 
USA Today reported that it is likely that the arrival of her longtime guru Jay-Z as span consultspannt for the NFL played a role in her decision to perform this year.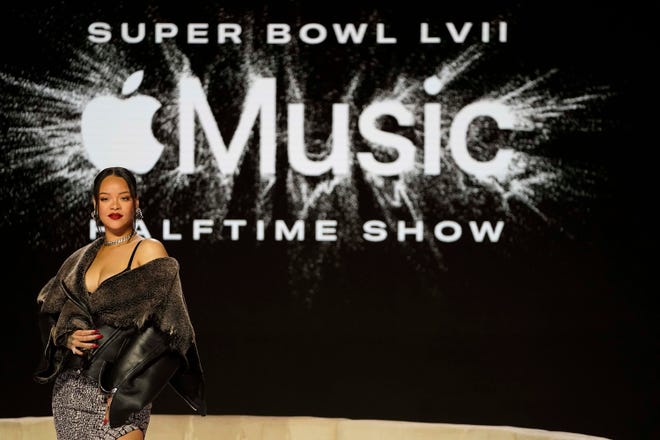 And to add a bit of irony to the whole mess, back in 2019, while Trump was one of the most famous Twitter users in the world, he had only "linked" eight tweets since joining Twitter in 2009, according to USA Today.
But he "liked" a tweet about Rihanna maintaining her work-life balance.
Apparently, times have changed.